I'm finding the message!
Through the years, I've tried many approaches – those suggestions people gave:
"Have your devotions first thing in the morning,"
or
". . . right after the kids leave for school,"
or
". . . start with prayer – then read a daily devotion – then, close with prayer,"
or
"follow a guide to read through the Bible in one year."
(I rarely got any further than Isaiah with that plan!)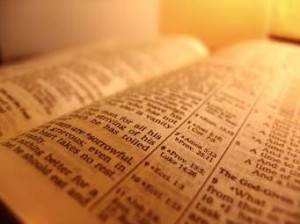 So I quit!
I quit following others' advice. And I approached it on my own – with no plan.
I got into the Word (the Bible) whenever I could – during the day.
And I let that Word
speak to me.
I find that the time of day doesn't matter. As my schedule varies, so does the time of my devotions. But as a result, His Word is in front of me  – in my mouth and in my heart (Romans 10:8) more than ever before. Why? Because I've put it in my mouth by
speaking
 the Word aloud – as instruction to myself and often as my prayer to God. In turn, that practice puts the Word in my heart. I re-read it. I underline it. I highlight it. I reference it to and from other passages. I post the Word on notes around my house.  
Today, I'm reading Joseph Prince's short devotion, "Don't Look to Your Faith – Look to Jesus" – the author and finisher of my faith (Hebrews 12:2). I "subscribe" to the Joseph Prince daily devotion in my email. Yesterday, it was a reminder that my battle is God's (2 Chronicles 20:15). Most days I also study the daily devotional, Pursuit of His Presence, by Kenneth and Gloria Copeland. It's the third year I've gone through this paperback! The pages are falling out. I look back to my notes from the previous two years and remember the burdens I carried at the time. I remember how that day's devotional message, and especially the Bible passage that accompanied it, spoke to me and got me deeper into God's Word. I remember the comfort and wisdom and understanding His Word brought.
I no longer stop with the accompanying Bible passage. I delve deeper. Deeper into the study of my faith – deeper into the study of my God who fights my battles – deeper into the language: the language of God, my Father. And what am I finding? I am finding words and verses and passages I've read many times throughout the years to be fresh and new; insightful and rewarding; encouraging and promising. I'm asking, as Joshua did,
"What message does my Lord have for his servant?" (Joshua 5:14)
and I'm finding message after message after message!
  It's not religion. It's not structure. It's simply the story of a woman who's being renewed by messages from God's Word – a woman who's found evidence of His unmerited grace – and a woman who relishes in learning more about it and growing closer to the One who gave it.