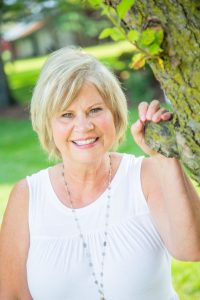 Hello new friend!
Thank you for entering my site, for stepping into the shelter of my scripts, for  wondering who I am and why I write the things I do.
Let me tell you about the word of faith that is now in my mouth and in my heart.
To decipher my writing, you need to know a bit about my background:
My husband, Ron, and I live in a ranch home on 30 wooded acres in southern Michigan where we've spent most of our lives. In fact, I have spent my entire life in this area,  growing up in the old Victorian home next door, attending the country church around the corner, and being baptized in the nearby creek.


As a young, stay-at-home mother of three, I began speaking at Christian Women's Clubs and ladies' banquets and retreats.


While the children grew up, I earned my Bachelor of Arts Degree from Olivet College and my Master of Arts from Spring Arbor University. I've taught English at middle school and high school levels, as an Adjunct Professor at Miller College, and an Adjunct Instructor at Kellogg Community College. Now our three children are grown and married, and we are blessed with eleven of Michigan's most awesome grandchildren and one darling great granddaughter.


We  founded North Woods Coffee Co., a coffee shop/restaurant/retail store, and worked it from pre-dawn until post-dusk for years.


We ate North Woods.
We drank North Woods.
And we breathed North Woods!


Ron became southern Michigan's best barista, and  in a short time, we were both addicted to black coffee in a diner mug. North Woods developed my love of ordering and displaying retail – particularly vintage and cottage style décor and gifts.


The children were raised, and when our business was sold, Ron and I looked toward retirement, but the plans we had made for ourselves were not fulfilled as we had hoped. Throughout the confusing and troubling times, I have found God's grace to be sufficient and my faith in Him to be strengthened! His Word and His promises became greater than I had ever known:


" The righteousness that is by faith says . . . 'The word is near you; it is in your mouth and in your heart;
that is the word of faith.'" (Romans 10:6,8)


 And that, dear readers of my transparent soul, is the word of faith I am proclaiming to you:


– a faith that has been strengthened through joy and trial

– a faith that has developed through God's Word

– a faith that is in my mouth and in my heart!


The Word is near me! I invite you! Your faith can be strengthened by God's Word. The Word is near you!

I am honored when you read my writing (click here) and I would love to speak to your group (click here) and share God's Word with you! Click here to Contact Me by email.

While you're on the site, I hope you'll subscribe to receive my articles. Click here.