When we travel to a location, we don't consider that location to be our "destination."  Instead of a "place," every mile, every jaunt, of the trip itself is our destination.
This is a practice I had developed as a youngster and Ron seemed to come by naturally. 
When I was growing up in Michigan, my Daddy and Mama took our family on vacation every year – never across the country or to another continent – but to northern Michigan many times and to Virginia once. Daddy always reminded us that our vacation began as soon as we left home. The destination was never our focus. The trip itself was our focus.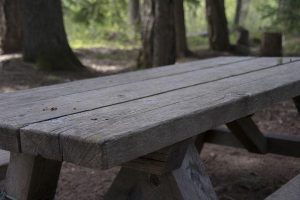 We stopped along the way at roadside picnic areas where Mama tossed a tablecloth across the table and set out cold fried chicken and homemade lemonade carried in a glass gallon jar that had previously held apple cider vinegar. As we travelled, my brother, sister, and I played games in the car and occasionally fought like cats and dogs, while Daddy and Mama discussed sites we passed. My little ears and mind must have picked up their conversations, as I remember such things as The North Begins at Clare. I learned in those years that the trip itself was the destination. 
Then, after Ron and I married, whenever we took our three kids, Matt, Kristen, and Amber, on trips – camping in the Upper Peninsula or the long drive to Florida – we tried to make the trip itself our focus, too. Our vacation began when we left home!
One of our first trips was to the Upper Peninsula. On that first night, we had crossed the bridge and settled into a campsite at St. Ignace State Park. I set up a bed for us in the back of our first big station wagon. I expected a few comforters laid beneath us to be a sufficient mattress for Ron and me, but that first night proved otherwise. The kids slept well! Matt across the front seats; Kristen at our feet, but Ron and I tossed on the hard surface all night. Thank goodness we had cottages reserved for the remaining nights of our trip.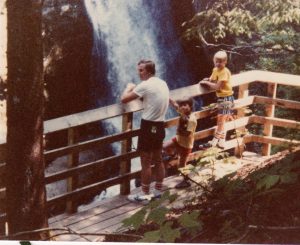 Oh, how we loved the U.P.! On that trip, our purpose was to visit every waterfall we possibly could. With no particular destination, the trip itself was our vacation, and it created a myriad of memories.
Station Wagon camping didn't work for us, so we decided to tent camp after Amber was born. I'll never forget quietly singing to myself "Trust and Obey," as three thunderstorms raged through our campground at Silver Lake State Park along the dunes of Lake Michigan. I hadn't yet fallen asleep after the first storm when I heard the second storm in the distance. I said, "Ron, let's take the kids to the car." Ron said, "No. It's going around us." But it didn't. It brought thunder and lightning and heavy rain. The same thing happened with the third storm. As it started to rage, I lifted the kids, one by one, from their sleeping bags – the baby from her playpen – and carried them to the nearby station wagon and zipped the door of the tent. No more "trusting and obeying" his decisions! As daylight broke through, we discovered water up to the seats of the picnic tables. We drove to a restaurant for breakfast, then packed the wet tent and sopping sleeping bags onto the cartop carrier and went home – dripping all the way. That ended tent camping for me!
Of course, we sometimes vacationed in motels, as well. I remember getting a super-good deal on a room at a motel not far from Cedar Point Amusement Park in Ohio. We pulled in and got settled, looking forward to a good night's sleep before hitting the park early the next day. Wow! I thought. Very few cars are here. This is a nice, quiet location. 
The first train went through shortly after we got the kids all settled in bed, had shut the lights off, and fallen asleep. The second followed suit about 20 minutes later and the pattern followed. All. Night. Long. The track was a short distance behind the motel – maybe 100 yards. The walls rattled, along with our teeth. We cancelled our second night at the motel.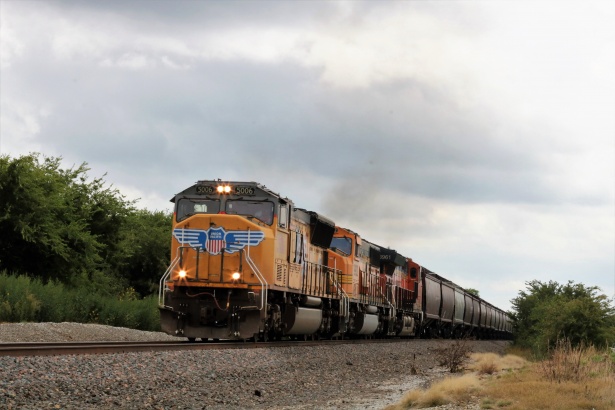 We had tried station wagon and tent camping, as well as overnights in motels. But our hearts still yearned for camping adventures, so we purchased our first travel trailer, a used 20′ 1971 Holiday Adventurer.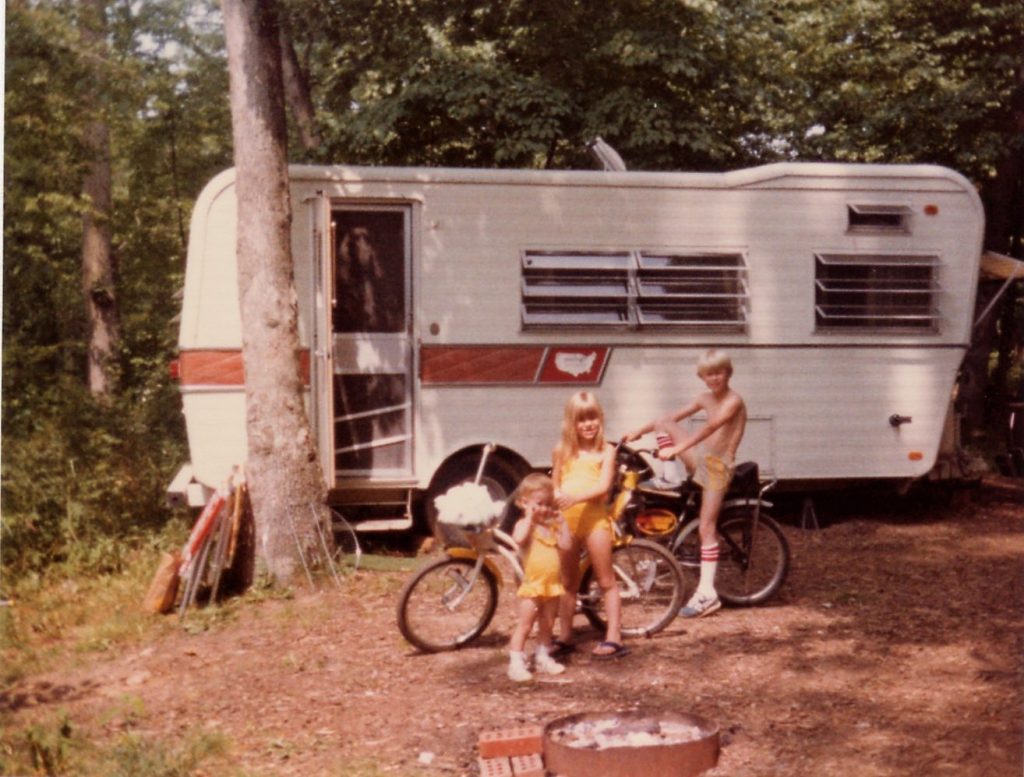 That spotless, like-new but 10-year-old trailer probably remains our all-time favorite – undoubtedly because with it,  we created our first fun camping memories with the kids.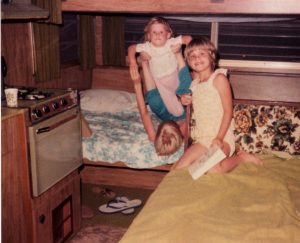 We loved our little trailer, its cushions covered in a green flowered print,  coordinating with the avocado green appliances. (I wish I had it today!) We had some great experiences in that trailer. The first time we took it out, our two new bikes fell from the new bike carrier Ron had put on the back, and a tree limb took the antenna off the roof when we backed into the campsite. Camping was always an active adventure, from Kristen falling out of the upper drop-down bed – kerplunk – in the middle of the night, to Ron and I yelling at each other nearly every time we backed into a campsite at a State Park!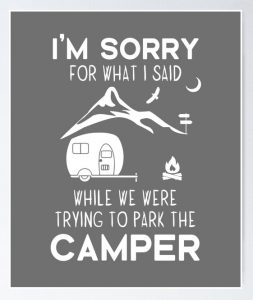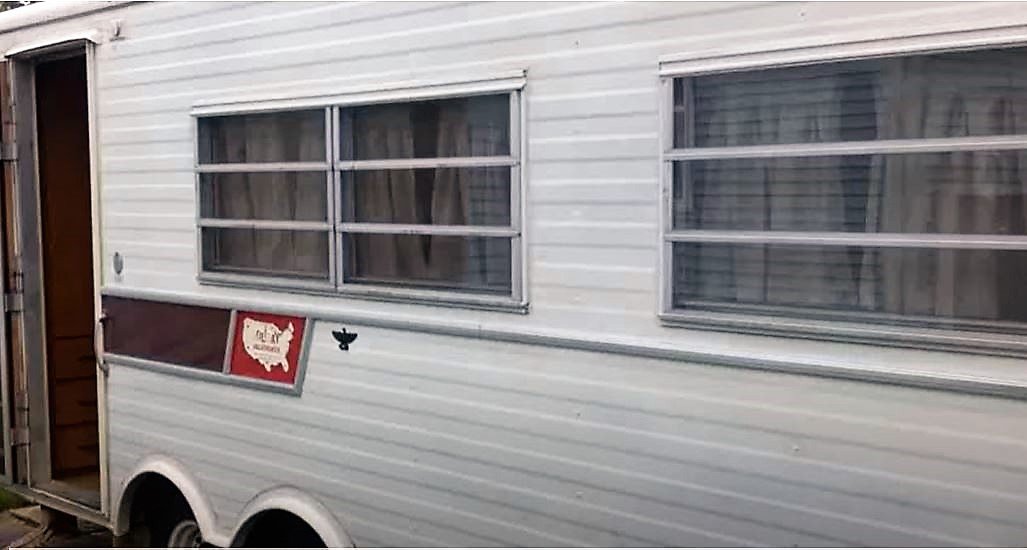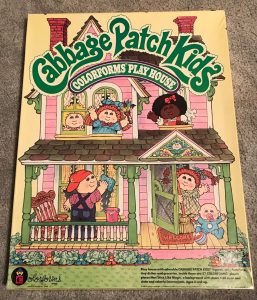 In addition to camping, the hours spent on the road throughout two days  of driving to Florida hold special memories, as well, continuing our tradition of our vacation beginning as soon as we left home. I wrapped small gifts to keep the kids busy in the car: new crayons and coloring books, small  magnetic checker boards, or my favorite – Colorforms.
The fascinating thing about those long drives was our mode of transportation . I particularly remember traveling in a 1976 Chevy Caprice Estate Station Wagon. Ron and I had driven a couple hours away to buy this used wagon, a few years old but in excellent condition. We lovingly referred to it as The Tank.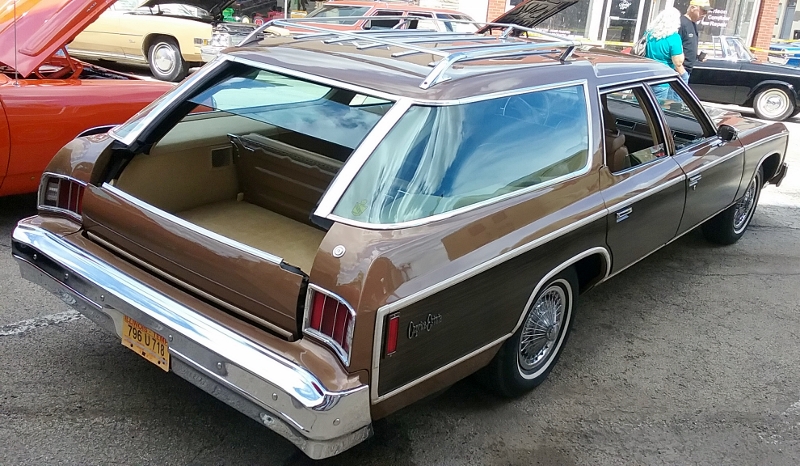 The Tank was huge – three full seats, each with plenty of leg room. Behind the third seat was a huge cargo area. The back gate rolled under and the back window rolled up (see the pic). Everything was automatic. It was all decked out with power options. When we went on vacation, we put the second and third seats down flat and placed a full-size foam mattress in the back and let the kids "have at it" (it's a redneck term). I placed a suitcase beside each back door so the kids didn't get near the door handles or automatic windows. Lunches and snacks were packed in shoeboxes, so we only stopped when necessary and for an overnight at a reasonable motel. It was in that wagon that Matt, by chance looking out the back window at the precise moment, said, "Dad, a suitcase just fell off." The orange suitcase – the "borrowed from Aunt Becky orange suitcase!" – having loosened from the rooftop luggage carrier, bounced along the highway behind us! 
The kids played all the way to Florida and napped only occasionally! It was a joyous trip – one for which we would be chastised today – but in those days . . .

Regardless, whenever we left for a vacation – either pulling a travel trailer or in a big old station wagon, my Daddy and Mama reminded us, "Remember now, your vacation starts when you leave home."  It was a statement they had made all those years ago when they took my bother, sister, and me on family vacations; they repeated it those years later to Ron and me and our kids as we left home for vacation. And Ron and I now repeat it to our grown, married children with families of their own, as they leave for vacation.

Our vacations with the kids are in the past now, but Ron and I, as empty-nesters, still have the same mindset to this day: the destination isn't the focus of our travel. Each mile of the trip itself is the focus.
 So it was recently for us on June 30, 2021.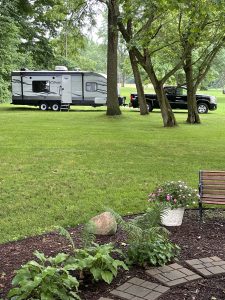 On that day, our vacation began when we left our home in Michigan for our exciting out-west Adventure. Now pulling our "cute little travel trailer," as I call it, we covered thirty nights, eleven states, over 7,000 miles and many National and State parks, yet the trip itself, not any single location, was our destination. We especially noticed the journey during days 21 and 22, when we "headed" from the Redwoods in Northern California toward Yellowstone National Park in the northwest corner of Wyoming, with no particular destinations along the way.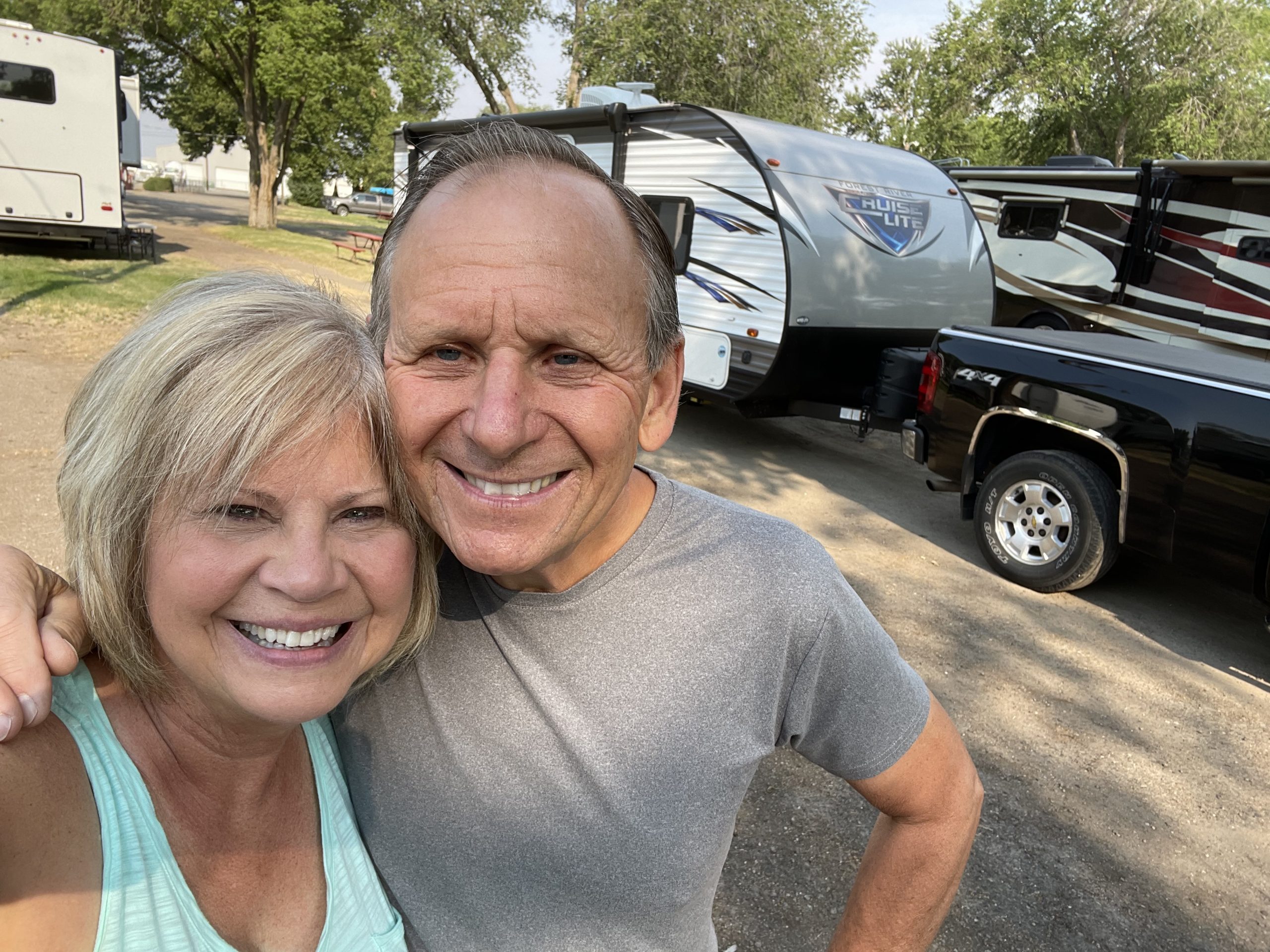 During the trip itself: Ron stopped along the road occasionally to cool the truck in the heat, with temps over 100 degrees each day.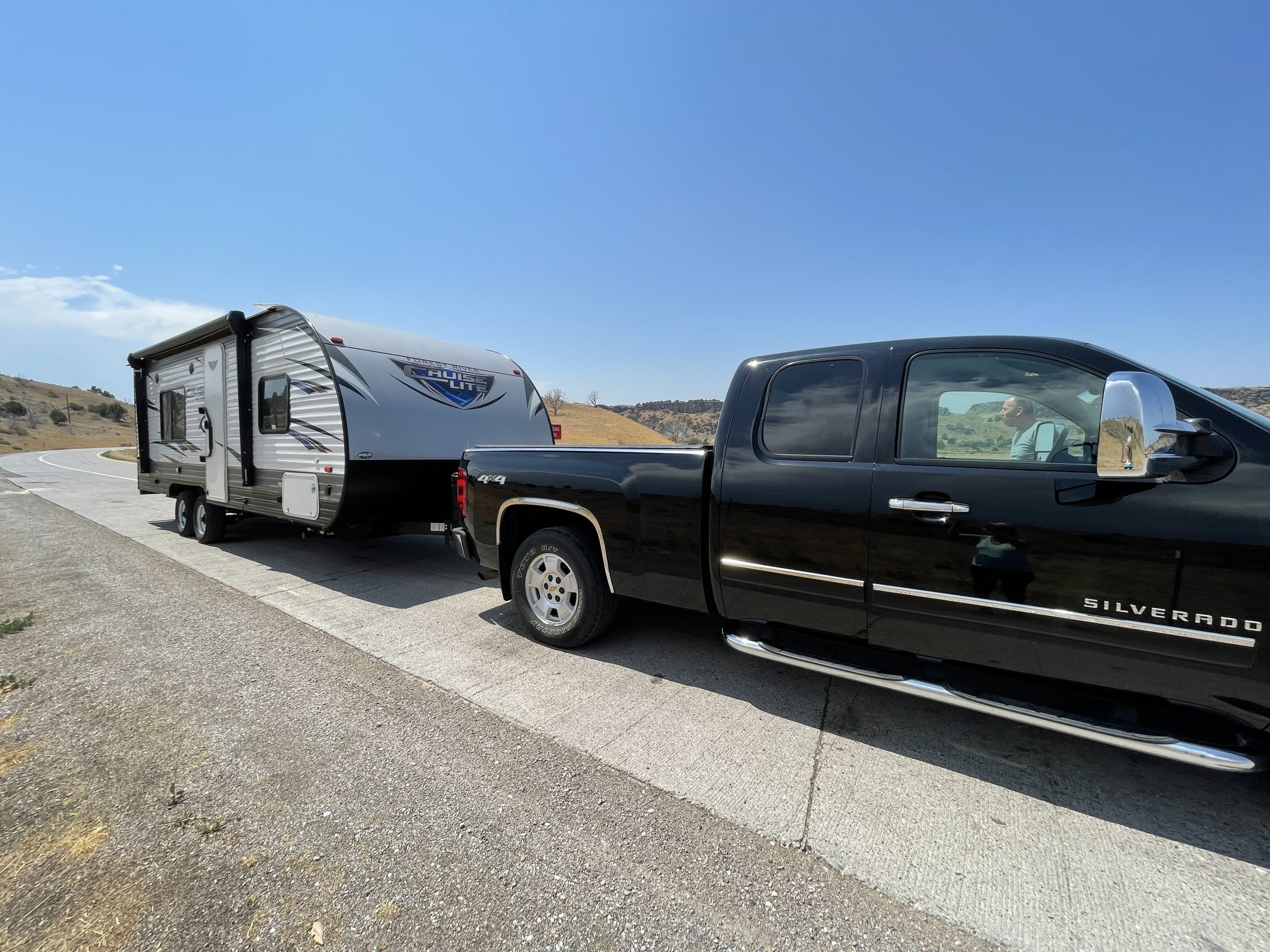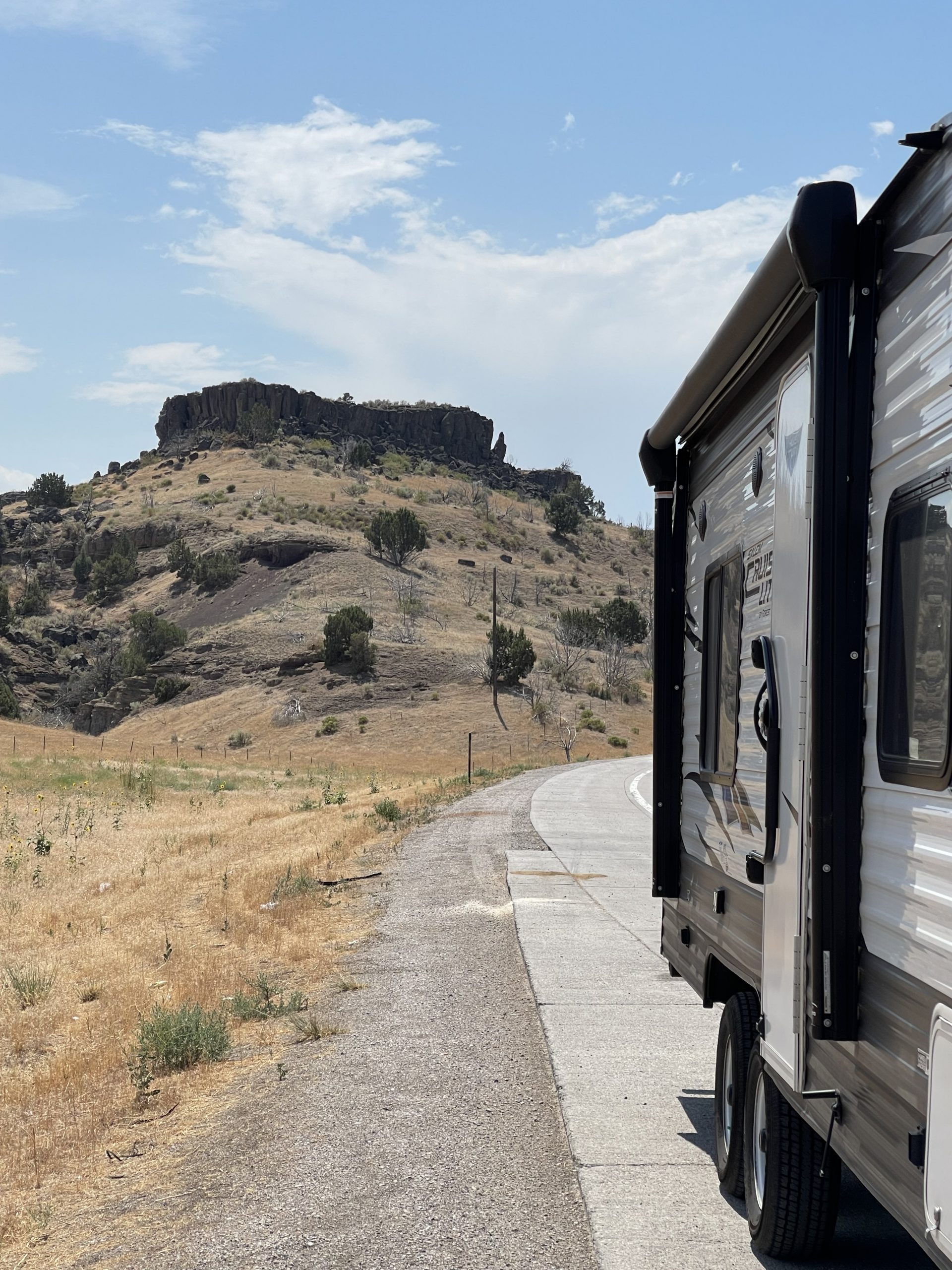 The landscape was fascinating. In spite of the heat, I was thankful for these two days of the trip itself in varied countryside through Oregon and Idaho.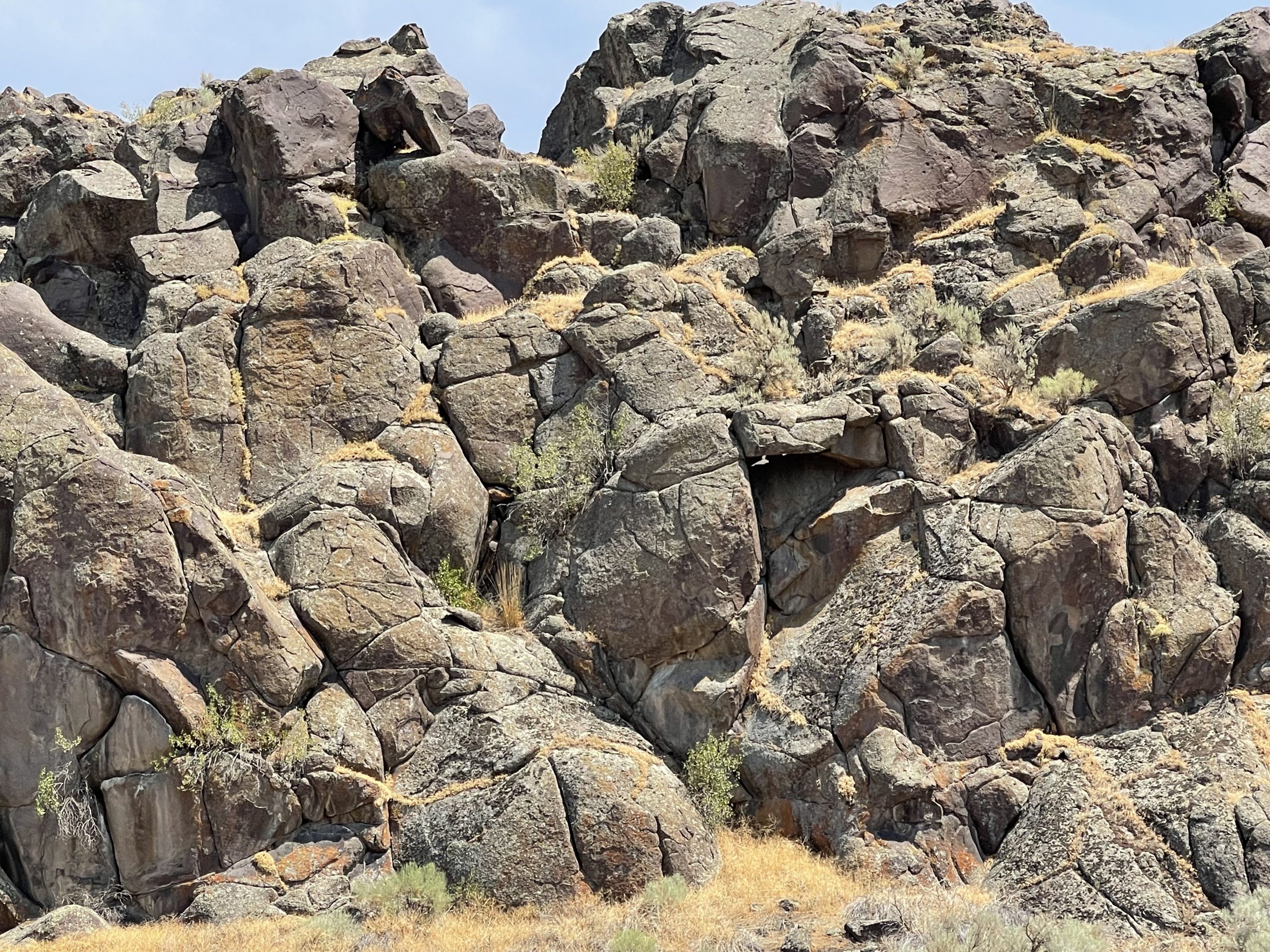 Late on the 22nd day, the Tetons loomed to the east as we turned north toward Montana.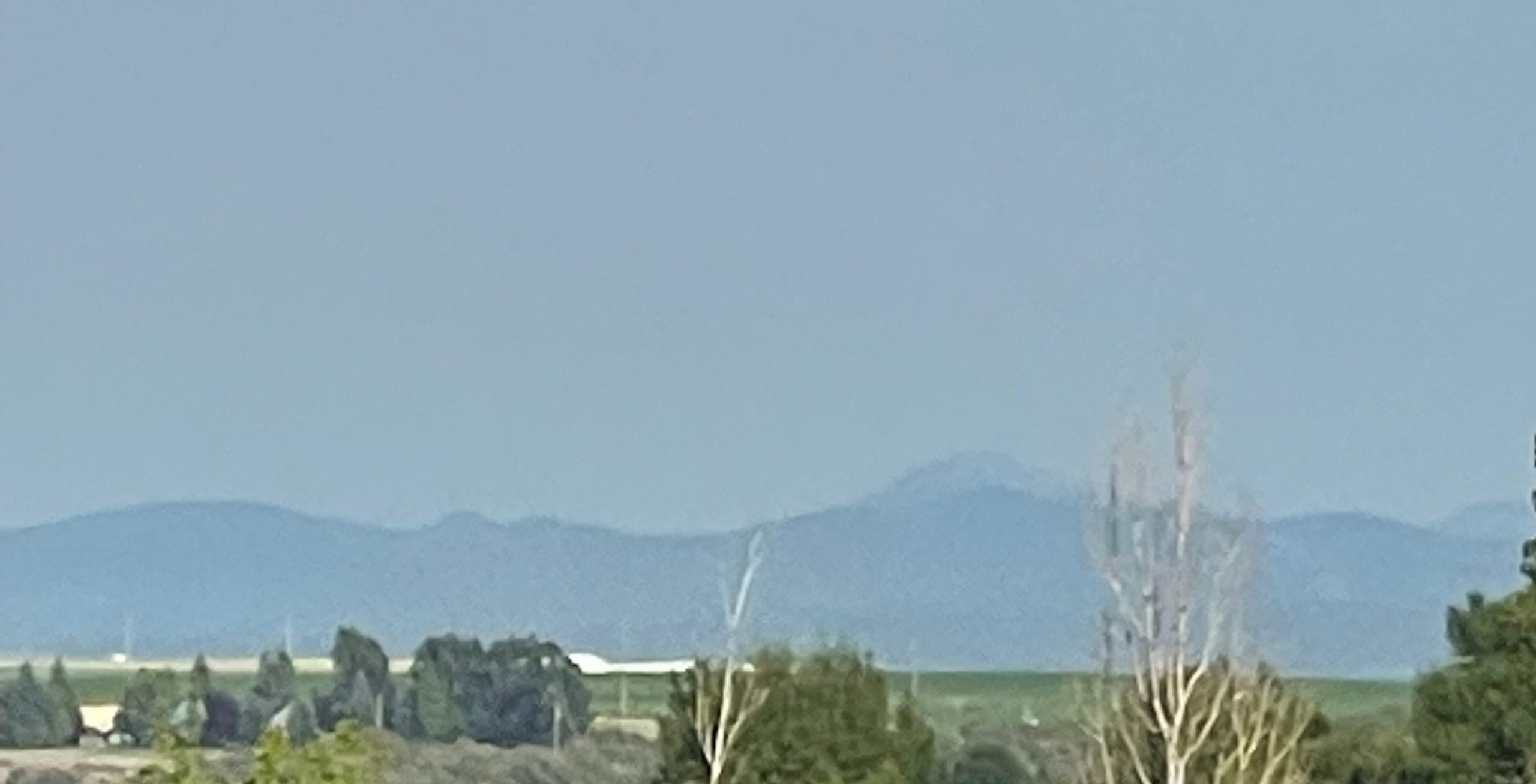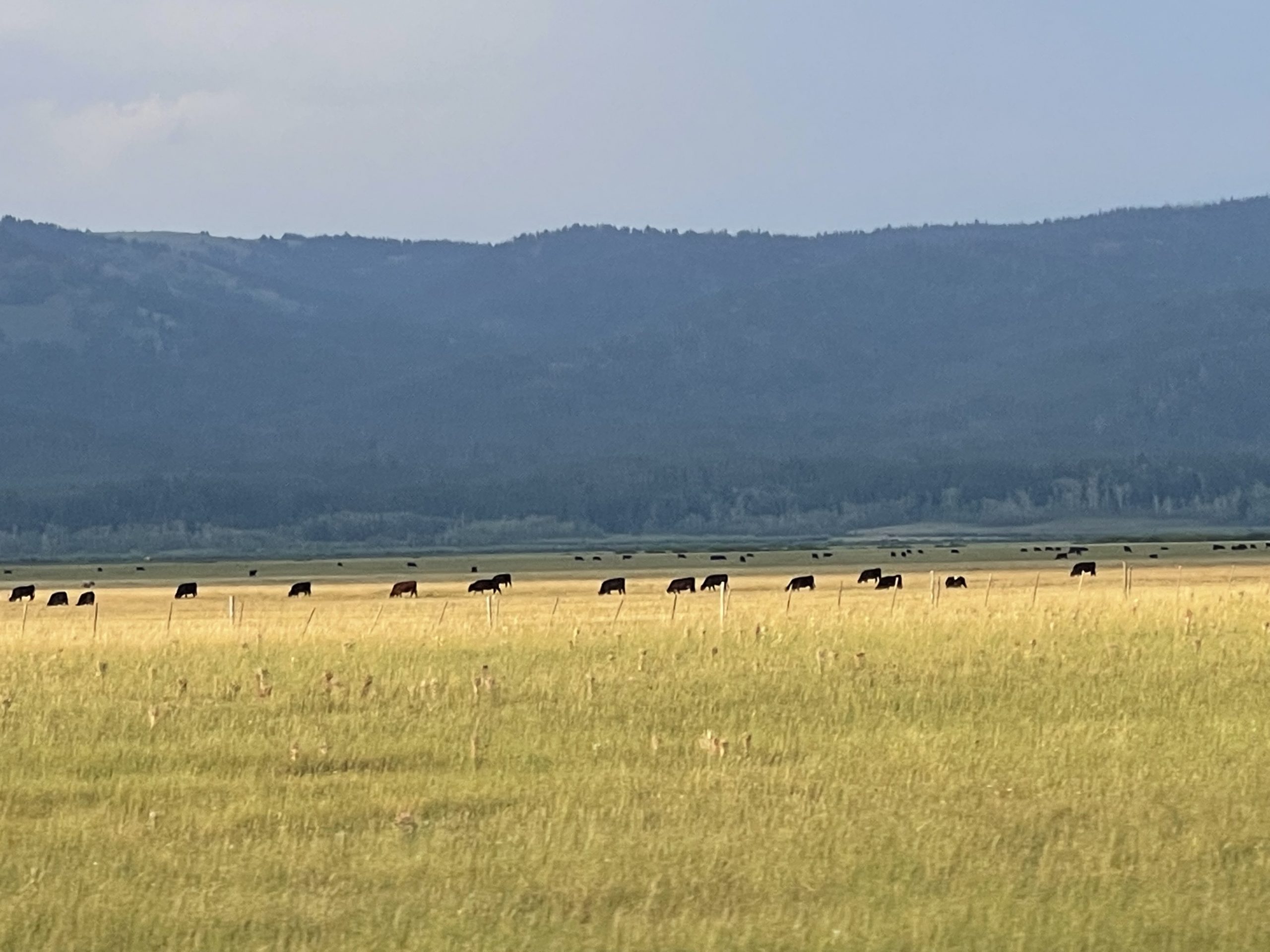 Shortly before dark, we settled in to our campsite just south of West Yellowstone. Behind us, chalets dotted the mountainside. To the west, the sun set, the end to another beautiful day. 
Tomorrow, our destination would actually be Yellowstone – during these few days of the trip itself!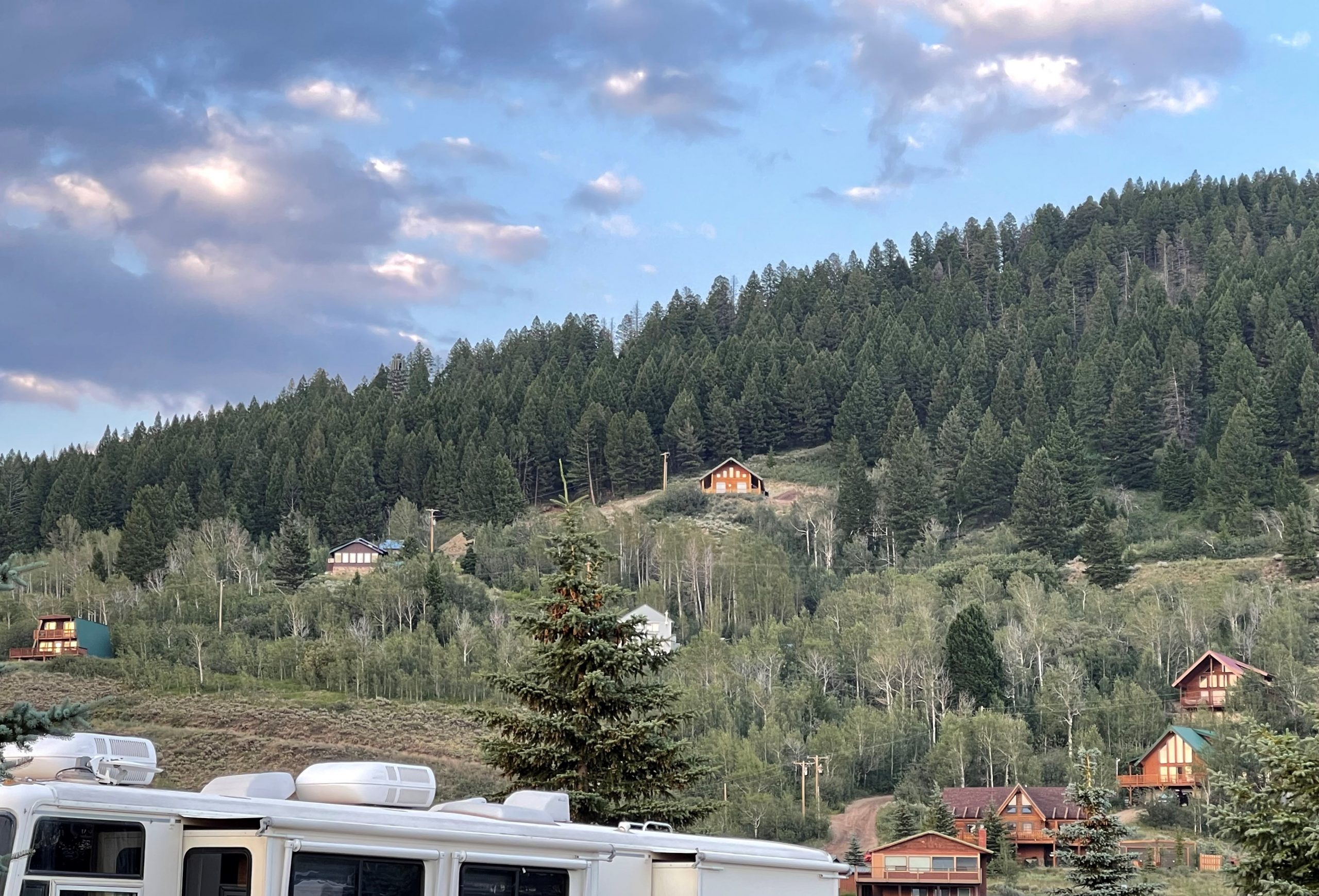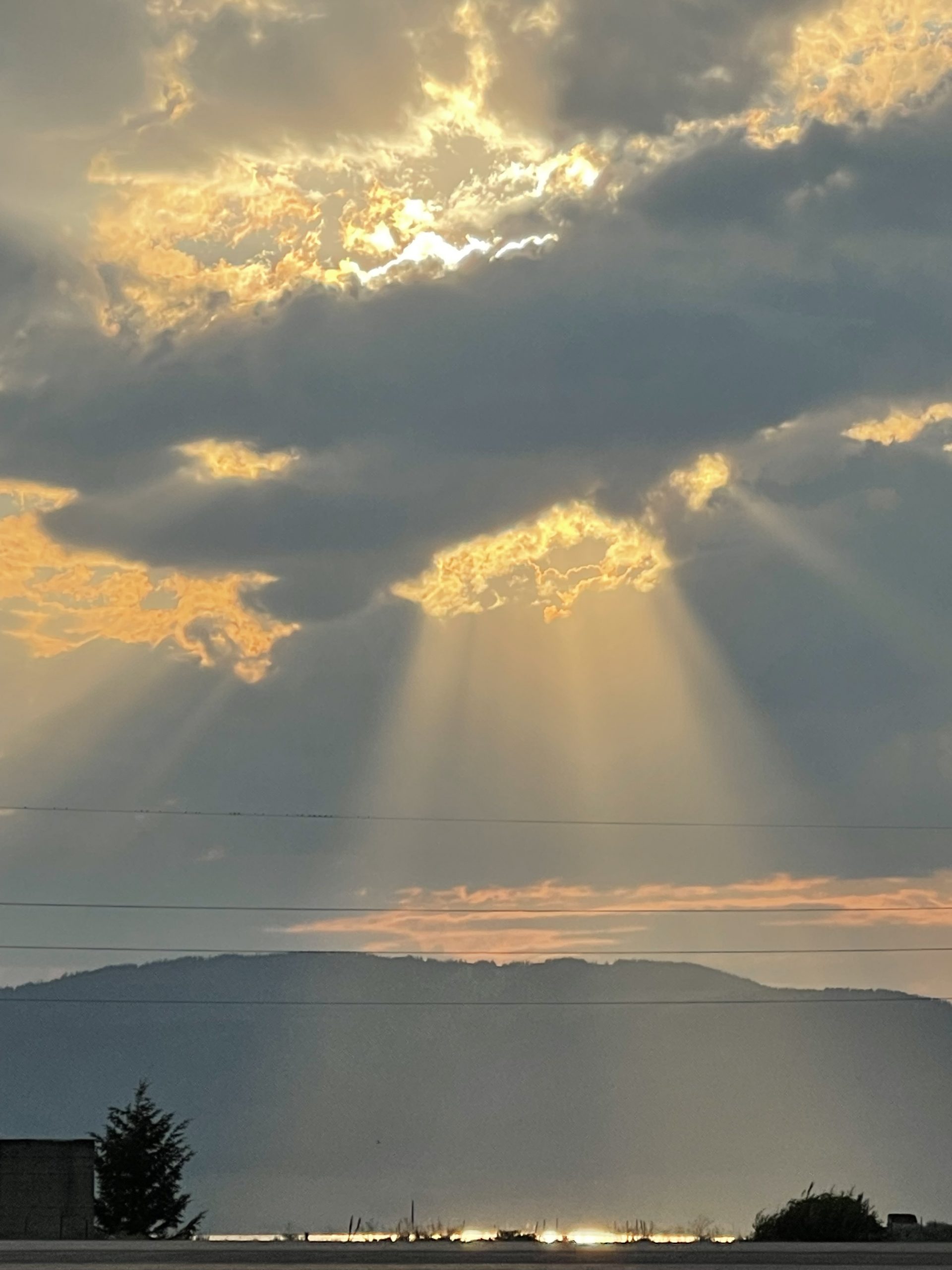 Click here to read the next post in my series, Adventure Awaits! #21 Mi tse a-da-zi