In every walk with nature, one receives far more than he seeks.

~ John Muir
Oh yes. John Muir is spot on.  We are receiving far more than we had expected in today's "walk with nature" here at Yellowstone National Park.
(I hope you have the music audio turned on! It might be located at the bottom of the page.)
We stand before Excelsior, once the largest geyser in the world. Its boiling water bursted 300 feet high and just as wide before the 1900's, but with the exception of a two-day eruption in 1985, is now dormant as a geyser. One can only imagine what those monstrous  earlier eruptions must have been like. But I am fascinated  with simply observing it as it is today – a massive, boiling spring:
(Did you know that you can click on each pic to enlarge it on most devices?)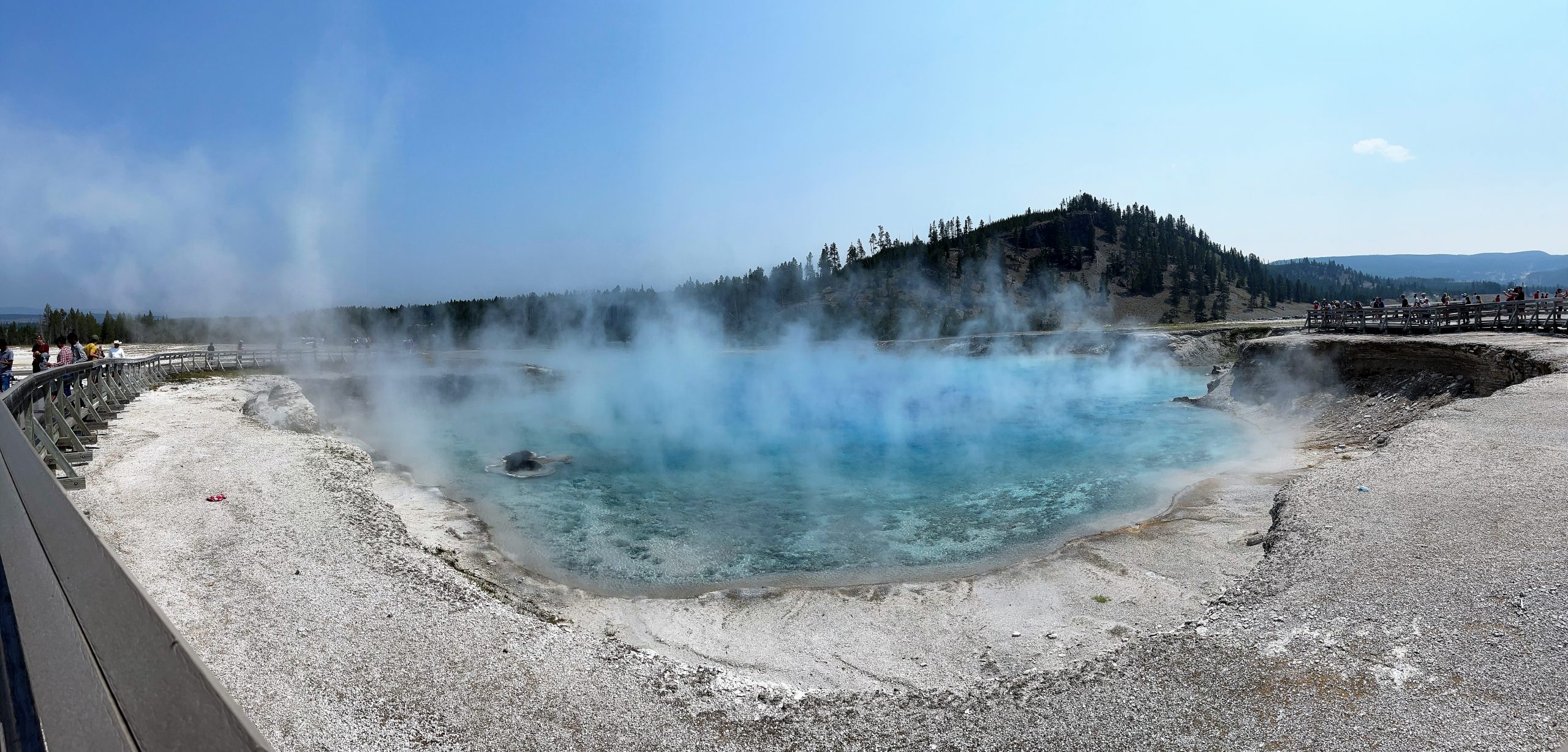 In his book, Our National Parks, John Muir wrote,
"Near the Prismatic Spring is the great Excelsior Geyser, which is said to throw a column of boiling water 60 to 70 feet in diameter to a height of from 50 to 300 feet, at irregular periods. This is the greatest of all the geysers yet discovered anywhere."
As he continued, Muir referred to Excelsior as "incomparable" and that "nothing in the world" could match it.
Now we are watching the boiling  turquoise water of Excelsior spring up from deep within this crater and discharge 4000 gallons per minute into the Firehole River. It is amazing to think of the volcanic atmosphere underground.
Yes, John Muir, this Excelsior Geyser Crater is "incomparable."
As we entered the park today, we had again followed the Madison River, but unlike yesterday, today we  turned south. It seems every road in the figure-8 loop of Yellowstone and those extending beyond the figure-8 loop follow rivers. Our ancestors and those original peoples of this area did the same – traveled beside the rivers. Today, we travel along the Firehole River, suitably named for the boiling water that feeds it. Here and there, a short distance below the boiling discharge from Excelsior, we see people wade and swim in its waters. Yesterday, we had seen men fly fishing in the Madison. (Click here) Not only does this park belong to its wildlife, it also belongs to us – the people of this country. And I am honored.
You'll see today's route in blue:
When you travel this area of Yellowstone, hot spots of this Yellowstone Volcano are even more visible than in other areas of the park. You can see them on either side of the road – for miles.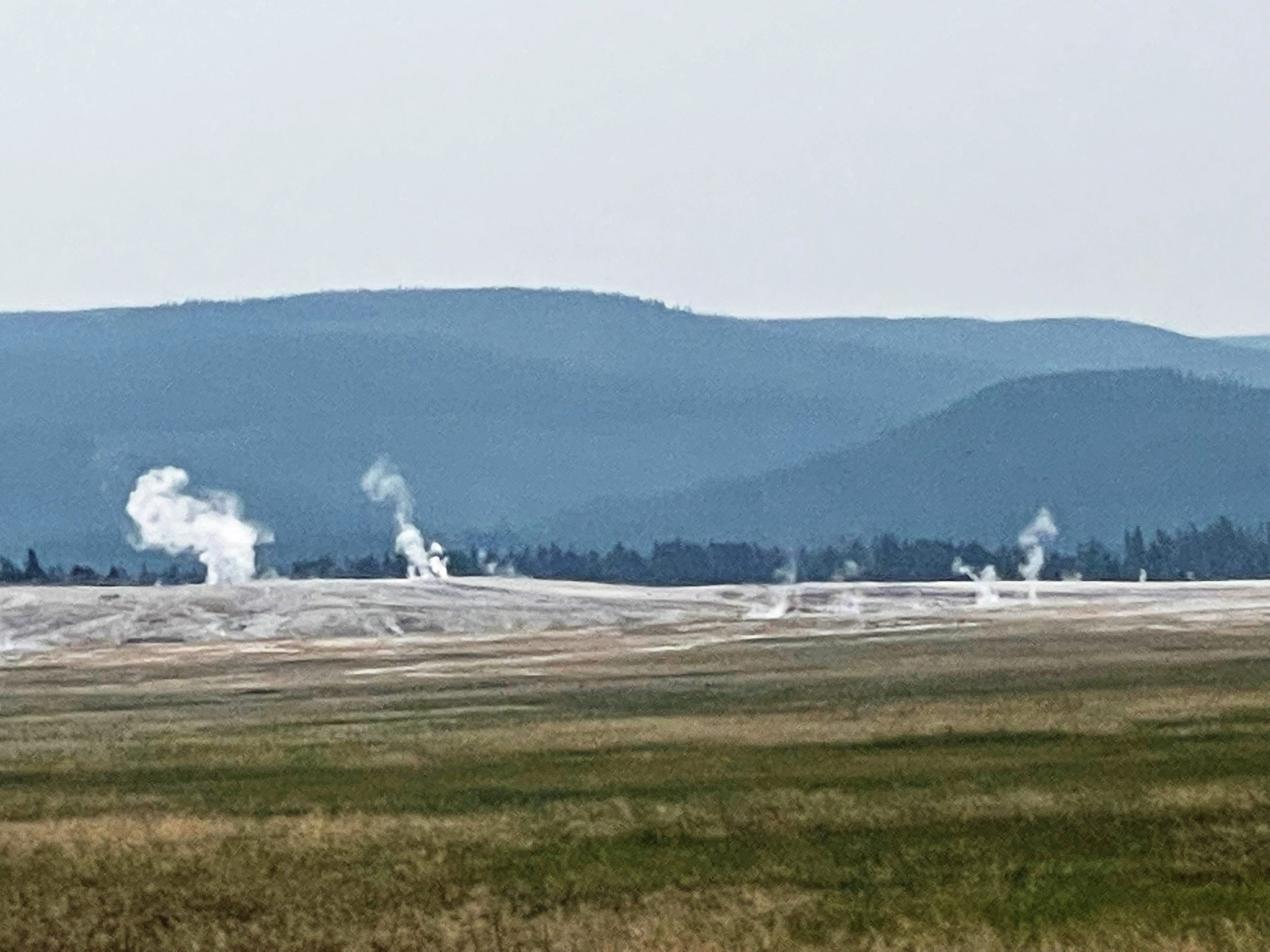 Planning for Yellowstone, Ron's greatest desire was to see the Grand Canyon, which we had done yesterday. (Read about it here.)
Today,  we will view my greatest desire at Yellowstone – what I've most been looking forward to. And as awesome as I find Excelsior Geyser to be, I am most enthralled with the beautiful, colored spring behind it: Grand Prismatic Spring:
The center of the spring is near-boiling, and as the water reaches out to the edges and cools, colorful bacteria fill its waters. It is 300 feet long and 160 feet deep. The water in the center is 188 degrees! "The hot spring has bright bands of orange, yellow, and green ring the deep blue waters in the spring. The multicolored layers get their hues from different species of thermophile (heat-loving) bacteria living in the progressively cooler water around the spring."
It's not surprising this spring is called a living rainbow. 
We have arrived mid-day. Having read that the colors are best if the sun is shining, we've pretty much hit it perfect! I am blessed.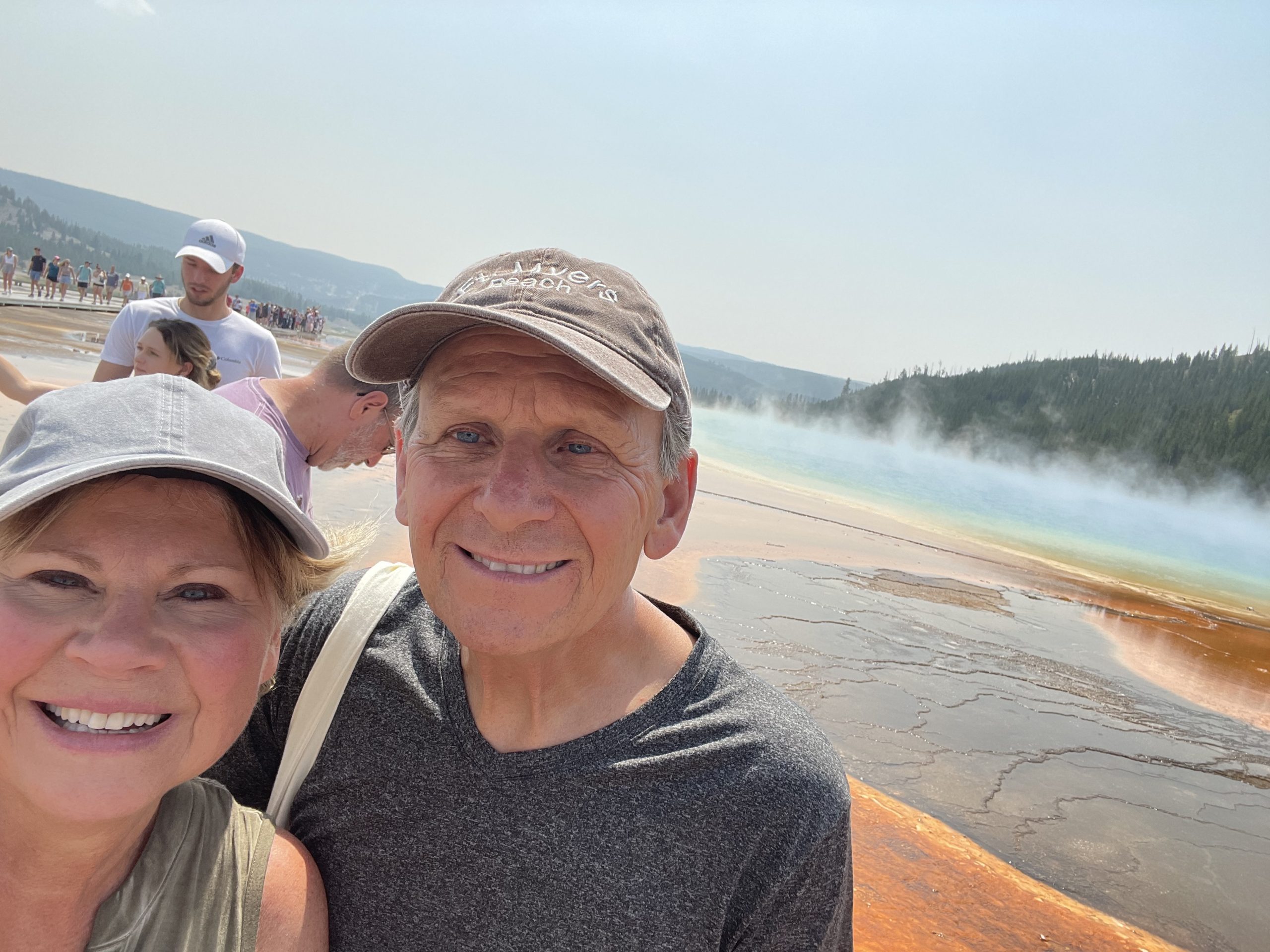 Ron spots buffalo prints and a "cow pie" it left in the crusty geothermal area between the boardwalk on which we stand and the spring itself. We humans are forbidden to step in this area, for our own safety. Temps had dropped to 40 degrees last night, and a buffalo had come here to warm up. The few rules of Yellowstone do not apply to those who call it home – its wildlife. 
Before we leave, we stand and stare. Others move past us, but I am still, standing and basking, trying to push this scene of the Grand Prismatic Spring deep into my long term memory. The photos will help me to remember, and later I am pleased by their quality.  
When we finally leave, we drive just a bit further on this road, around a curve to the trailhead that will take us to a lookout point of the Grand Prismatic Spring. And along the short distance, we see one single buffalo – between the huge hot springs and the trail to the lookout. This is the big boy who visited the hot spring in the night – I am sure!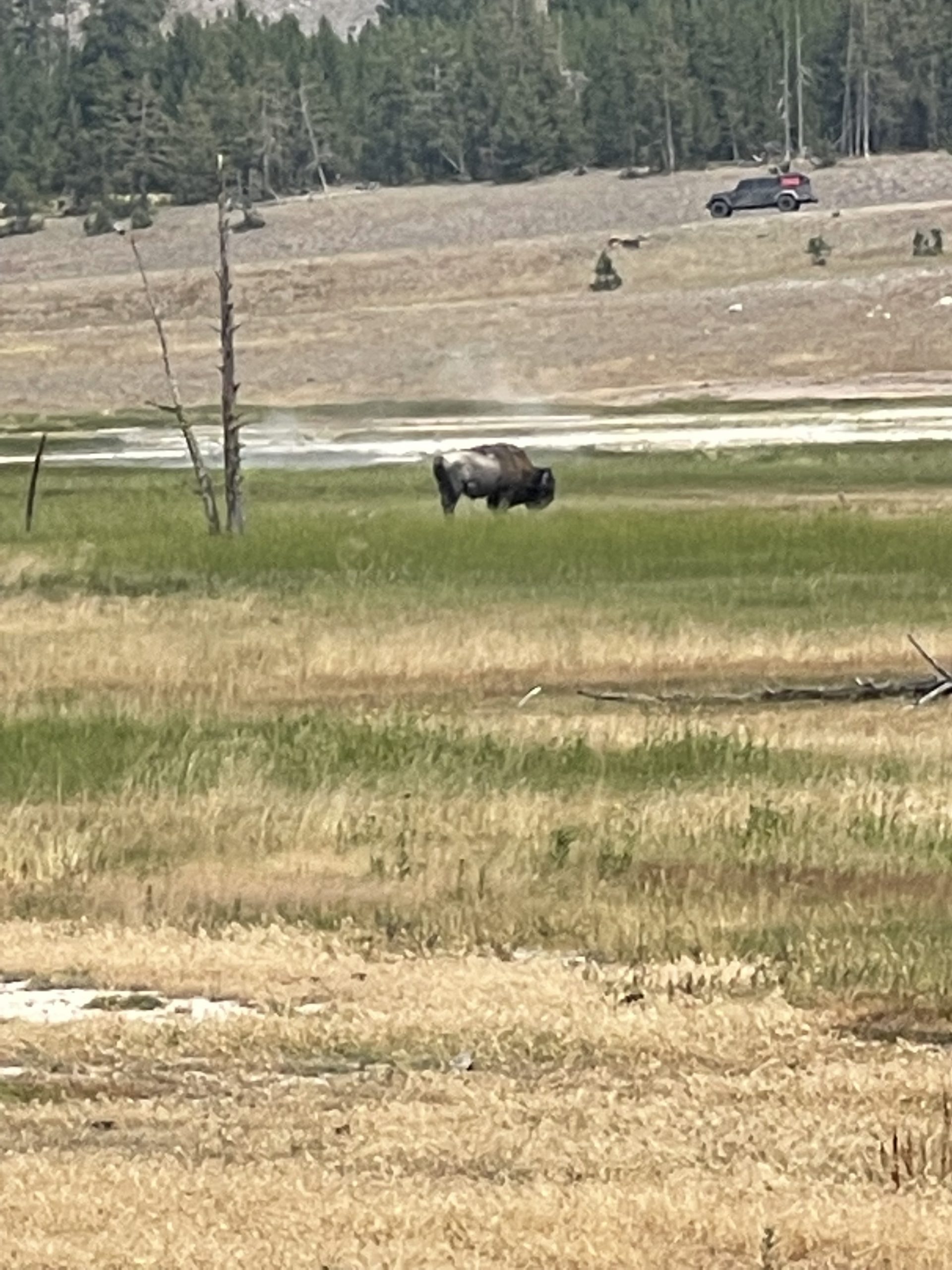 We hike a half mile uphill to see Grand Prismatic from the overlook. It's challenging on this hot day, but oh so worth it. Can you tell from the looks on our faces? 
Finally we hike back to our truck, parked along the road. We enjoy a few minutes of air conditioning as we drive further south on this Grand Loop, following the signs for Old Faithful. Amazingly, we find shade in the outer area overlooking the geyser.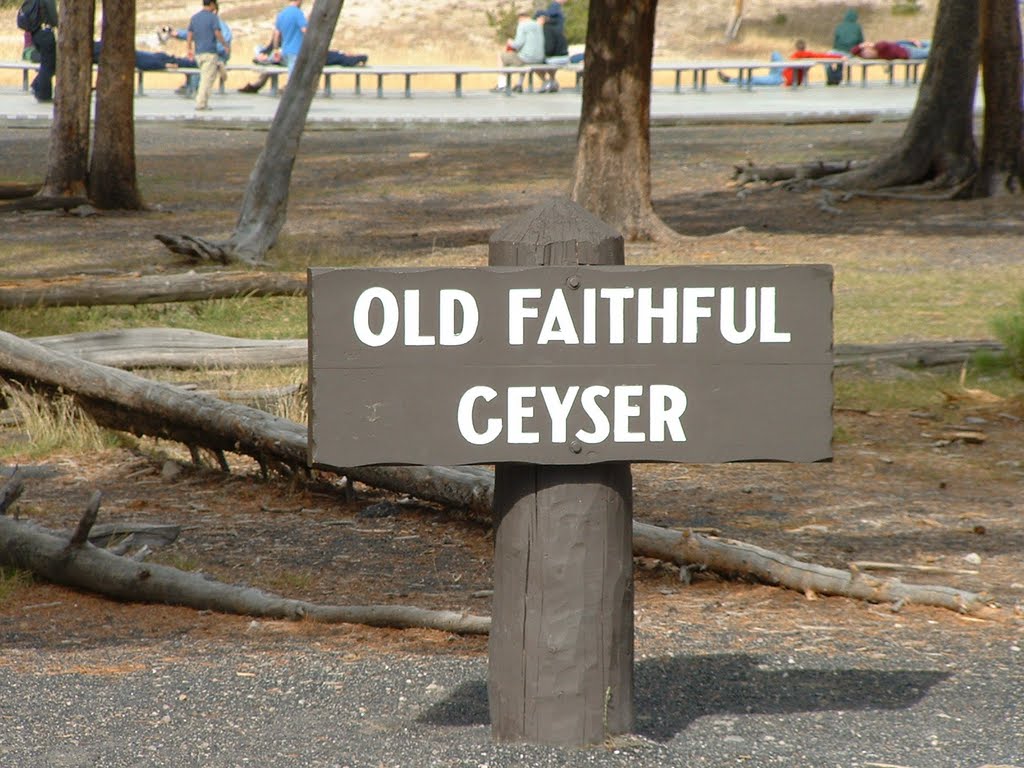 So we sit on a log to picnic, awaiting the eruption, and within the time frame predicted, Old Faithful erupts! Afterward,  we browse the buildings in this "tourist attraction" – both old and new – and have ice cream on the porch of the Inn.  Old Faithful most obviously attracts thousands of people a day. At least that many are here for this one "faithful" eruption. The number of people makes this spot so different from others throughout the park. Throughout the afternoon, we see smaller geysers erupting in this area.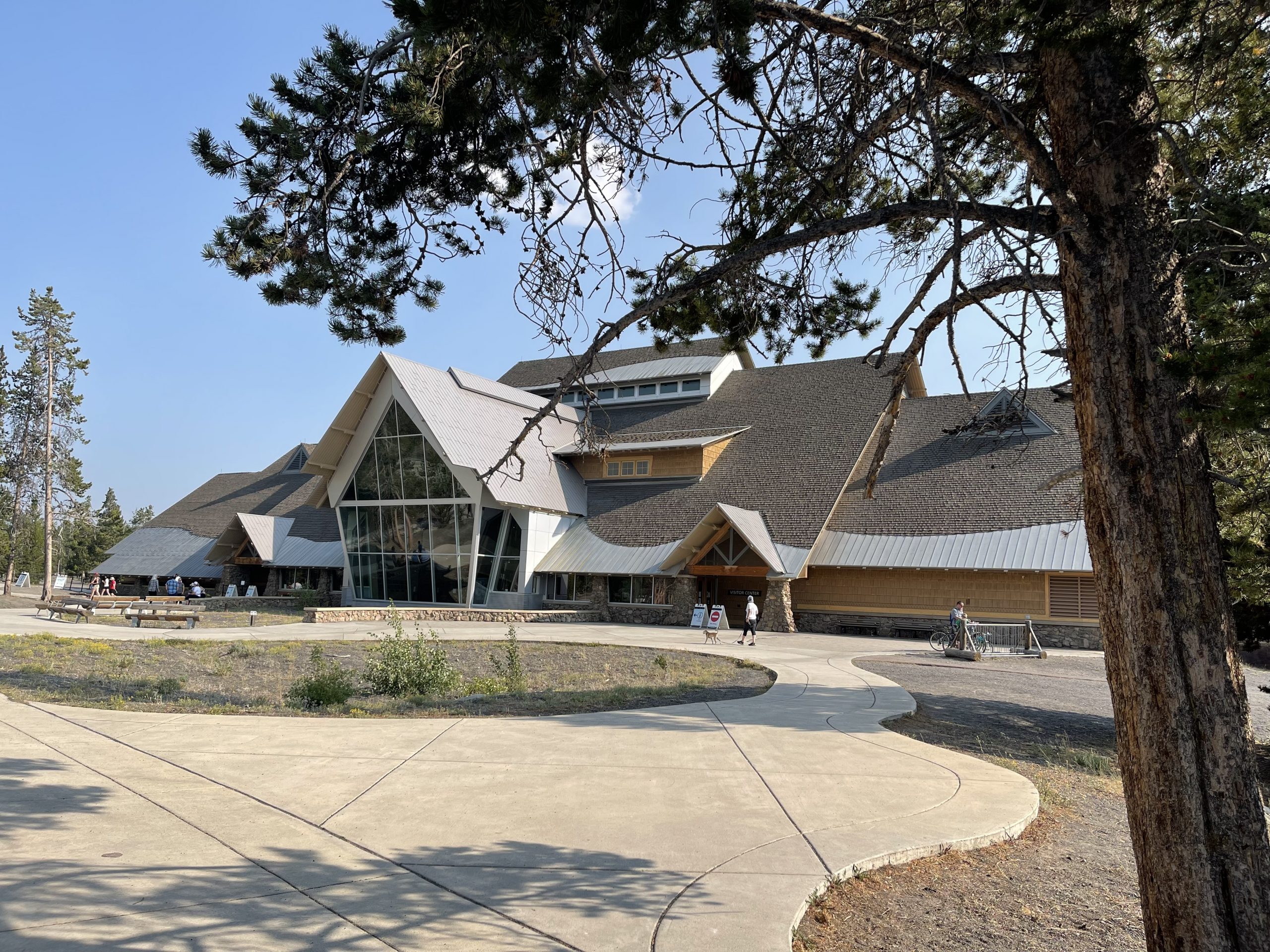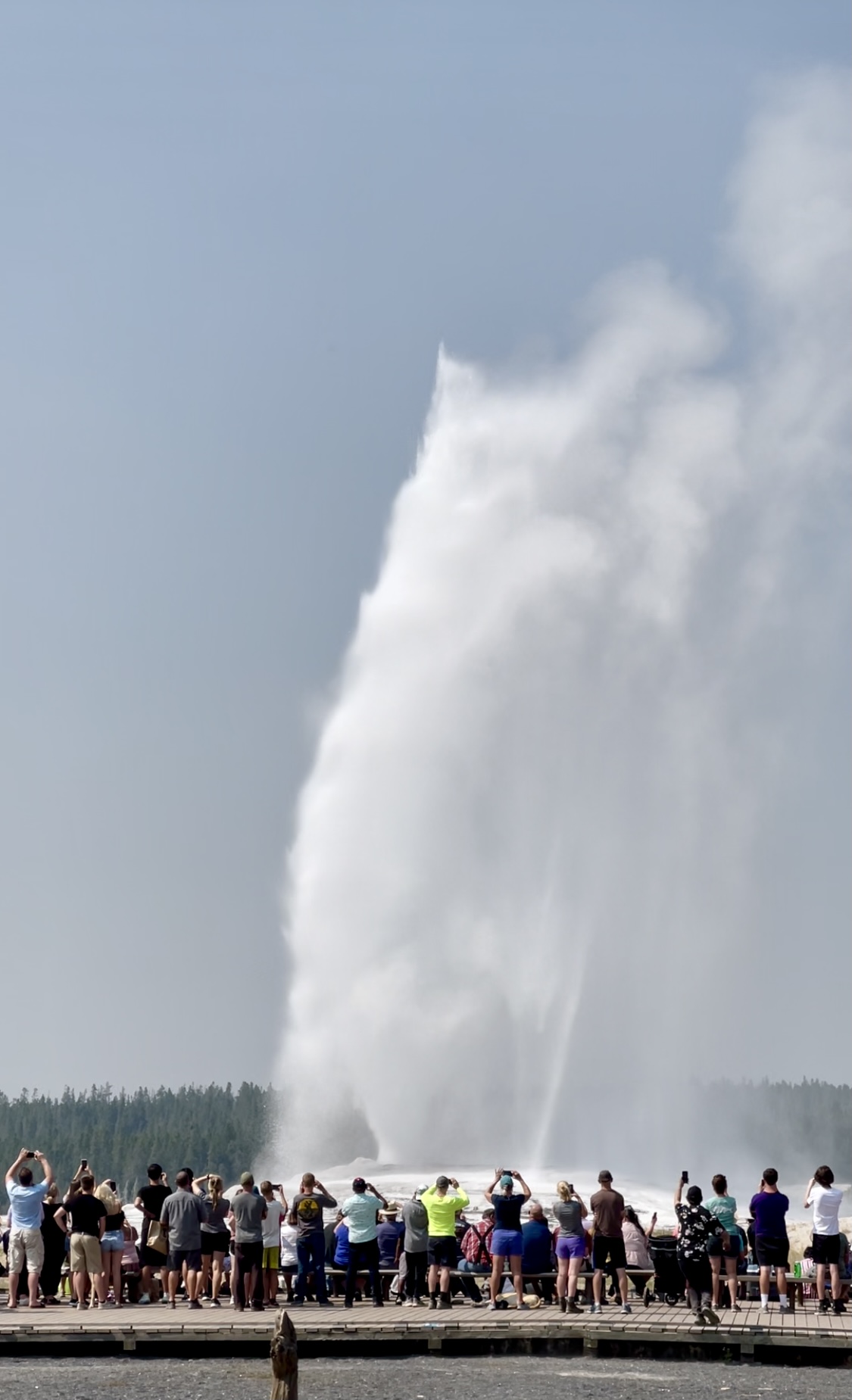 All day, I thank God I am here in this place of the yellow rock,  Mi tse a-da-zi , which I wrote about yesterday. I thank God for the opportunity to be here and for the good health He has given Ron and me to hike these paths. I thank him for my travel mate of 50 years, my Ronnie. But most of all, and continually, I breathe spoken prayers of praise to my Father, for His amazing creation and this tiny bit of the original magnitude of that creation and a foretaste of what I will see in heaven. 
At the end of this second day, we again follow the Madison River toward our West Yellowstone exit, and today, our eyes are fixated on Mt, Haynes, named for the first official photographer of the park.  Mr. Haynes might be appalled at the quality of my photos, but I am thankful for each one. I am already reviewing them with joy as I send them to our children, while we drive back to our sweet little travel trailer for the night. Tomorrow is another day in Yellowstone!
Click here to watch a video from the National Park Service : Yellowstone's Restless Giant