This is certainly a different season than usual for me and for my family.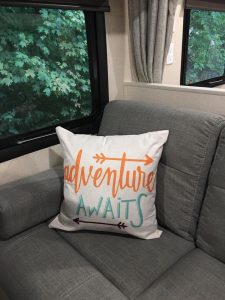 It is strange. Just months ago, I wrote a series of posts on my website titled "Adventure Awaits,"
the theme for our big trip. How exciting it was for me and for my husband, Ron, to venture 32 days across the Northwest US, 11-states, 7323 miles, hauling our cute little travel trailer – just the perfect size for the two of us.
Our adventure took us over 10,000 ft. mountain passes, sometimes our truck and trailer slowly climbing  miles up steep grades along hot, winding highways cut into the sides of mountains, with cliffs dropping beside us thousands of feet. Mountain goats climbed rocky cliffs beside us. Trails led us to bear nibbling berries and pasture grass. and buffalo stepping alongside us, close enough to touch. Coastline roads took us to bobs of barking seals in colonies on small islands; large walruses, like granite rocks lay amongst them. Green ferns the size of men and Redwoods towering like skyscrapers, demanded our attention and created an awe in our inmost spirits, which will not soon be forgotten. The heat poured out of the atmosphere like an open oven door in the July western climate, and wildfires trailed us as we turned from our southernmost point and headed northeast during the last days. The dictionary defines "adventure" as an "exciting undertaking," and that it was indeed! It was amazing and we loved every minute.
(Click here to read the first of the "Adventure Awaits" posts about the trip.)
I had prepared for our July "Adventure Awaits" trip for  months, diligently planning our route and reserving campsites, booking boat trips and National Park entrance passes, preparing meals ahead, and finally, packing the trailer. The preparation and anticipation were nearly as exciting as the trip itself.

Now the Advent season is here. "Advent Awaits" has become our next theme. Advent is normally an exciting time, too, filled with joy! Preparing for Christmas is a blessed. Buying gifts for those we love. Decorating the house – the tree. Cherishing memories of Christmases past – sometimes bringing joy – sometimes bringing tears to our eyes. Contemplating the manger scene. Recognizing why Jesus came to Earth. Hearing carols – "O Holy Night  . . Truly He taught us to love one another . . . Chains shall he break, for the slave is His brother." We sing our favorite Christmas carol. I listen to a recording of my mother's – "It Came Upon a Midnight Clear." But this year is different. I've done very little shopping. I haven't yet placed a single piece of Christmas decoration in our home. I'm not sure when the Christmas gathering with our beloved three grown children's families will actually take place. Our son is ill. My heart breaks.
Advent, however, invites us to prepare our hearts, broken or not, no matter our present circumstances –  for Bethlehem. For Jesus. Advent opens the door – unveils the opportunity to look to Bethlehem. Because of Jesus. And with Advent comes Hope!
Louis Giglio recently wrote, 
"The word 'Advent' means expectation. What advent can do for us is provide a sense of hope."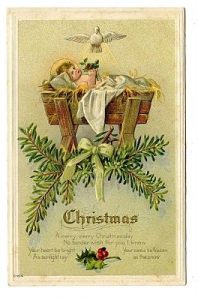 So, this Advent season, I look ahead. There, in the manger, lies the Hope of the world – the Savior. I've always needed Him – and the Hope He offers! And I've always found that Hope He promises and brings. I've written about Hope – in fact, an entire chapter – in When Life Roars, Jesus Whispers. This excerpt speaks of just one of the many times God brought us Hope:
God was renewing us through hope. We were fixing our eyes on what we could not see. As I read the Bible, I saw things that I had never before seen while reading the same words many times throughout my life. Was this the "Spirit of wisdom and revelation," for which I had prayed, so that I could "know him better"?[i] Was it God highlighting the words I needed to see at this time? I believed it was. What a loving God I had, who would give me this wisdom and revelation so that I could "know Him better"[ii] and "know the hope to which He had called"[iii] me!
The Advent season invites us to Hope. Hope of a bright future. Hope of healing. All because of Bethlehem. Let's prepare our hearts! And I'll start the shopping! Join me. "Advent Awaits!"
Click here to learn about and/or order When Life Roars, Jesus Whispers.
[i]  Ephesians 1:17 NIV
[ii]  Ephesians 1:17 NIV
[iii]  Ephesians 1:18 NIN