During this season of Lent, some of us are trying to get more time alone with God – or to make more time with God. As I've shared before, I don't find it easy to do so. My excuse is probably a lifetime of multitasking. Reading and watching TV at the same time. Using my bluetooth to talk on the phone while doing dishes or completing household tasks. Writing while watching the children play. Always something – rather two or three somethings going on. Not sure how or why it came about – how I got this way. I observe others quietly reading for hours at time, napping on the back porch in the summertime, leisurely humming while fixing dinner. I covet that contentedness.
So today, I've made the effort to be alone with my Father, to read His Word, and to listen as He speaks to me. The lesson I learned today was a bit about family love, a lot about compassion, and a reminder about the importance of occasional solitude. Here's what His Holy Spirit taught me today:
I call him John the Baptist. I'm sure Jesus just called him John – His cousin, John. A cousin like none other, I assume, for while both babies were yet in their mother's wombs, cousin John leaped noticeably when he heard the voice of Mary, his mother's cousin, whom John's mother Elizabeth referred to as "the mother of my Lord." Mary responded to this honor by singing and glorifying the Lord God. Both baby boys heard their mothers' voices magnifying God. Both baby boys were sent from God for specific purposes. John's father was Zechariah. But Jesus' father was Almighty God. A beautiful familial bond was set. The baby boys were born just months apart.
John the Baptist "prepared the way for the Lord," baptizing people in the name of the Lord, whose "sandals I am not worthy to untie," John said. Unlike those people John called to baptism, Jesus went to John for baptism.
Shortly after Jesus was baptized, John was imprisoned for his message. Scholars believe it was about 15 months later that John was then beheaded. When the Lord Jesus heard this news, He was undoubtedly grief-stricken: "When Jesus heard what had happened, he withdrew by boat privately to a solitary place."
Have you ever done this? In grief or in sorrow or in exhaustion, you've withdrawn to a place of solitude. Jesus did. But the Bible tells us that when he had arrived at the place of solitude, he discovered that He wasn't really alone at all. A large crowd of people had followed him, along the shore. They were desperate for Him. I understand. Do you? I've been desperate for Him in the past. And I am desperate for Him now, as I write. a desperation I've had for over five years now. I do understand. And so does Jesus. I know this because of His response to the people who interrupted His desired solitude.
The Bible tells us that when Jesus saw this large crowd, he had compassion on them and healed their sick. Then he fed them by multiplying five loaves of bread and two fish. That's my Jesus,!. That's your Jesus, beloved! Compassionate. Loving. Healer. Bread of Life.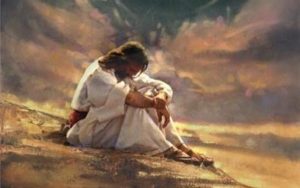 After He met the needs of the people, He again sought solitude, this time succeeding. He went up on a mountainside. To pray, the Bible says.
To pray. I let those two words "sink in" to my desperate, multitasking mind today.
I don't know how long He was alone in prayer, but I assume it was through the evening and most of the night. We read that along toward morning, He went out, on the lake, walking on the water during a storm, to meet, comfort, and teach His disciples who were in a water-drenched boat, tossing to and fro, thinking they were going to die. That's my Jesus! That's your Jesus. Teacher. Comforter. Savior. The Great I Am! The Son of God!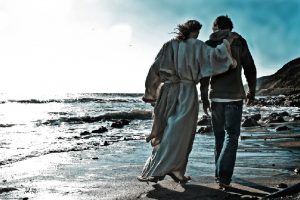 And it didn't end. His ministry didn't end when He was crucified. He's still compassionate. He still comforts me. He's still loving and healing. My teacher. My Savior. The Great I Am! The Son of God. The Bread of Life. That's my Jesus. That's your Jesus.
He's the one who becomes family.
He's the one who is compassionate.
And He's the one who teaches me that occasionally I need to get to a place of solitude ~ to pray.
Click here to contact me to speak to your group – or at your event. I would be honored!