"The phone call came shortly after Ron and I were both sound asleep, early in the night, between a normal Tuesday and a wretched Wednesday. I jumped out of bed to answer. With Mama and Daddy in the nursing home, I was accustomed to receiving phone calls – day or night. 'Doctor ordered a different medicine,' or 'Your mother had a fall.' But I could see on the phone ID that this call was different. It was Jesse's dad, Jake. I knew something was wrong – desperately wrong.

            'Kathi, this is Jake. Amber and Jesse have been arrested.'

            Please, God, let this be a nightmare. Let me wake up now." 
It was a nightmare – a living nightmare, culminating  years of heartache and despondency. I couldn't shake this nightmare, as I had those of my childhood – with splashes of cold water on my face and by walking around the house.  This nightmare persisted, and at first, I had no strength to fight it.
Within those first days, I spoke with my beloved former pastor, pouring out my broken heart, with the news of our daughter's arrest – news that had shattered my world. He now lived across the country, but he prayed for me on the phone that day.  I still remember some of those words:
"In five years, Lord, may this be nothing but a bad memory."
In my deepest despair, those dozen words encouraged me. Was it possible that a day might come when this pain would no longer permeate my soul – when only a memory of the pain would exist? 
That living nightmare occurred well over five years ago! And today, it is nothing but a bad memory!
It's a long story, and you'll have to read my book to understand how the Lord lessened my anguish, bit by bit, miracle by miracle – how the Lord broke through chains – my chains, my daughter's chains. It's an awesome story!
 Pastor Mills passed to heaven recently. I thanked him here on earth, and I'll thank him again when I see him in heaven:  Thank you for hope – a hope I've come to know – a hope I now instill in others.
Friend, as I write this, I pray Ephesians 1:18 for you – that you might know that hope – that your worst nightmare will soon be nothing but memory, a memory God has healed. You can know the God who breaks away the chains, breaks down the gates of bronze, and cuts through the bars of iron!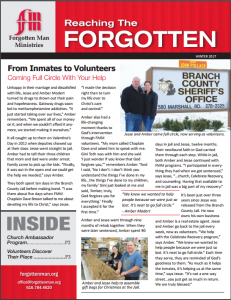 Click here to read the Forgotten Man Ministries' article about Amber and Jesse's experience.
Click here to order When Life Roars, Jesus Whispers to read this amazing story and to learn how to find hope and encouragement in your troubles.
God bless!
Kathi
Contact me through this website. I would love to speak to your group and encourage you!