The call came.
'Seriously? Me? Now?
The prayer began. Asking the Lord. Should I? Show me.
He did.
So the work begins – just days before school starts. It may be a brief stint, but I pray it's a potent one.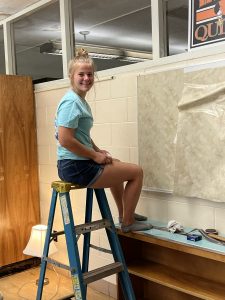 The work starts with the room. It's been a thing with me since my first day of teaching so many years ago. Part of myself. The room must be ready before I begin the lesson plans. Kaylee spends a day helping – really helping! Little do we realize that her schedule will change a few days later and she will actually be a student in one of my classes! How many people get to teach their granddaughter about Literature? It's just the first of many blessings.
The room takes on a Coffee theme, filled with puns. It's my room for this time, and I'm loving it more than any other right now.
Alone while I work, I pray over this empty room – day after day. Praise music fills this space that will soon be filled with noise and commotion and whispering and laughing and reading and writing and questions and answers and ~
~ soon it is! The long days and short evenings begin.
I meet happy kids and I meet sad kids. I see kids hiding the pain of broken lives. My Mama heart aches. My Nana heart aches. I try to patch the brokenness with a touch on the arm, a card sent in the mail, a compassionate voice, a caring word.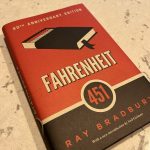 Ray Bradbury is introduced. I'm hoping connections and insights are discovered. I see kids learning.
The last bell rings but I stay. For hours.
I leave exhausted but filled ~ "Filled to the brim!" ~ yet another coffee pun. Yes, my heart is full. I never question why I'm doing this.
Make that two. I love the English Language.
Make that three. I love those kids. I love each one God has put in front of me for this short time: the girl with barn-red painted hair and spider web stockings; the boy with his head hung down and sad face; the big kid with a big smile and the small one who can't sit still; the dark one and the light one; the bushy-haired one and the bald one; the one who is angry I changed her seat and the one who sits in the front and follows every direction.