I've screamed at the enemy – the devil – many times in the past and will many times again, I'm sure. But on a recent Tuesday morning, June 13, shortly after midnight, in a hospital parking lot, I raised my voice in anger and authority against the thief who was trying to kill my husband:
"You have no authority over Ron. He does not belong to you – Ron belongs to our Lord God Almighty, and you are NOT going to take him now."
Then I went to our Lord in prayer and supplication:
"Father, Your Word says that the thief came to steal, kill, and destroy, but YOU, Lord Jesus came to give abundant life. I ask – and I trust – in that abundant life for Ron. Lord, restore to Ron all that the enemy has taken from him. Restore to Ron seven times what the enemy has taken. . .  In Jesus' name."
And it was in Jesus' name that the unceasing prayer continued as our daughter and I followed the ambulance carrying Ron from Oaklawn to Borgess.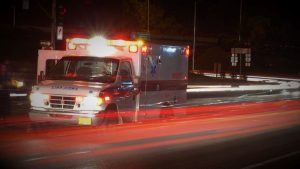 The flashing lights and siren were far ahead of us by the time I had lugged the plastic bags of Ron's clothes across that parking lot, tossed them into the back  of our daughter's car, and jumped into the passenger seat. She drove – both of us shaken but confident in God's love for Ron – and for us.
The next days were a flurry of cardiac care within the hospital setting. Ron and I and our adult children and their spouses were in a "blender," so to speak, tossed about in the elements of tests, surgery, "ups and downs," fears, prayers, questions, answers, anger, distrust, thankfulness, protectiveness, exhaustion, worry, relief . . .
And as the hours went on, I looked back upon those days prior to that midnight heart attack and realized that the hand of our Father, had moved in ways of which I had been unaware at the time, in the midst of a situation of which I was unaware, all to spare Ron. My Ron. His Ron. God was at work behind the scenes.
I had previously posted those very words, and as most often occurs, I looked in the electronic folder that holds those memes – those posters – those photos with words, which I post on social media, hoping to encourage others. Now I found the truth of the words exactly played out in our lives, and  now I was encouraged to realize. Let me explain how I evidenced God's leading, unknown to us at the time:
For quite some time, Ron had been restless, exhausted, fretful, unable to sleep night after night, back and forth from bed to recliner, to sofa, and so on. His heart was experiencing a decline, of which we were unaware – undetected and untreated, recently misdiagnosed and ignored by two doctors. He was experiencing A-Fib, a dangerously high heart rate, and congestive heart failure. Many recent nights, as he paced, I had fallen into an exhaustive sleep shortly before midnight. But our Father, more loving and protective than ANY earthly father (and far more perceptive than I, Ron's wife!) had led Ron and me to a superb Emergency Room on that Monday evening, where shortly after midnight, his heart began to give out. Remember, friend, that many nights previous to this, I was sound asleep at midnight. Had Ron been in our own home, he would have had the heart attack alone, possibly unheard by me and unknown to me. Yes, our Father, who loves Ron, was moving and leading Ron to the right place at the right time. For this, we are forever thankful.
This is the first I've written about my precious husband's attack – it's been difficult to write – and private – and strange. But soon I'll write more on this blog, and you can follow my Facebook Author's page for some updates, as well: https://www.facebook.com/KathiWaligoraAuthorSpeaker/
But for now,  join me in thanking our Abba Father for His favor to us, His children, those of us who have put our faith and trust in Him. Thank Him that He is working in your behalf, as well as mine; His Holy Spirit is advocating for us before the Throne; and our Lord Jesus is ever faithful and teaching us through His Word. Yes, our Loving Triune God "is at work behind the scene