"Though you walk in the midst of trouble," God says:
My purpose will stand, and I will do all that I please. . . I summon a bird . . . or a man to fulfill my purpose. What I have said, that will I bring about. What I have planned, that will I do. It is my purpose that prevails. My word goes out and achieves the purpose for which I sent it. Though you walk in the midst of trouble, I will preserve your life; I will save you; I will fulfill my purpose for you. (Is.46)
We all have been walking in this "midst of trouble" since early Spring 2020, and probably well before.
He says He will "fulfill" his "purpose" for us. What is His purpose for me? For you? His Word has gone forth and He is speaking to us through His own creation. Are you listening? I am. And I am strengthened in faith as I contemplate.
Especially throughout the tumult of 2020, in the midst of all the pain and frustration, agony and isolation, more photos were posted on social media than ever before. Photos. Of nature. Of sunrises and sunsets, beautiful birds, spring flowers pushing up through the cold soil, budding bushes, flowering trees.  Super moons. The tumultuous year changed seasons. Summer brought photos of green fields, late evening sunsets,  and bountiful fruit and vegetable harvests. Autumn's beauty yet surpassed our expectations with its changing leaves of abundant color and "Frost on the Punkin." The beautiful Northern Lights. We entered yet another winter. It began with our own "Christmas Star," followed by ice-covered trees, weighted with heavy wet snow. 
All of nature. God's own creation.
I enjoyed the photos on social media throughout the last year(s) and especially these last months, didn't you? In the "midst" of divisions over political candidates and policies, wearing or not wearing masks, and taking or not taking the controversial Covid Vaccine, I, nonetheless, have sensed a unity among those of us, the people of His creation, who have discovered or recognized or cherished these elements of nature more than ever before. And that unity – the common love of nature – is brought about  because of our God.
What is His purpose we read about in Isaiah 46?
This spring, I sat at my old table by the window, facing the storm-battered Maple beside our Michigan home. I looked  up at its small budded leaves, which increased in both size and depth of green each day. I observed both male and female Baltimore and Orchard Orioles. Woodpeckers, Chickadees, Goldfinches, Cardinals, Blue Jays, Robins. Mourning Doves. Rose Breasted Grosbeaks.  Varied species, each illustrating our varied circle of human community. Each beautiful in God's eyes. Each placed here with purpose.
In Michigan, we delighted in the resurgence and arrival of the birds that had months ago left the cold for the warmth of the south. Now they have returned, and we are listening to their song, amazed by their color, enraptured with their beauty.
What is His purpose?
I look further, to the patio and into what we call Matt's little woods. I have planted a few bulbs, such as the daffodils or tulips, that surround the edge of the growth of small maples, but I didn't plant the Umbrellas and May Flowers, the Adder's Tongues and Blood Roots, or the Cowslips that carpet the floor of the spring woods. They were planted by their creator, and they rise to Him.
What is the purpose?
I remember my walk through the woods a few days ago. Morels camouflaged amidst the dried leaves carried over from fall.
What is the purpose?
Yellow forsythia. Crab apple. Flowering bushes and towering trees that appeared dead through the long winter have budded in renaissance.
What is the purpose?
Could it be that the purpose of the great beauty of Spring, the most noticeably striking in years, one which has captured our every physical sense, is poured upon us as a reminder from our God that He has not forsaken us as we walk through the midst of trouble. He is the same yesterday, today, and forever. It is He who has created everything good. It is He who has created the beautiful nature we see and enjoy. It is He who has created the depths of the deep waters and the waves in the Great Lakes surrounding our state and in the oceans surrounding our country. No person or entity can control those bodies of water – not a scientist – not a country – not a leader or ruler.
My word goes out and achieves the purpose

for which I sent it.

~ The Lord God
I believe that He sent that Word out all those years ago, in the beginning, speaking into being these elements of nature, knowing that their display in this anomalous Spring of 2021 would bring joy to our lives – at a time we would need it most. I believe that His purpose for us is to be encouraged, to know that He is God, that He is in control, and that we can trust Him. His presence revealed in nature reassures us of His promise –  that He will never forsake us.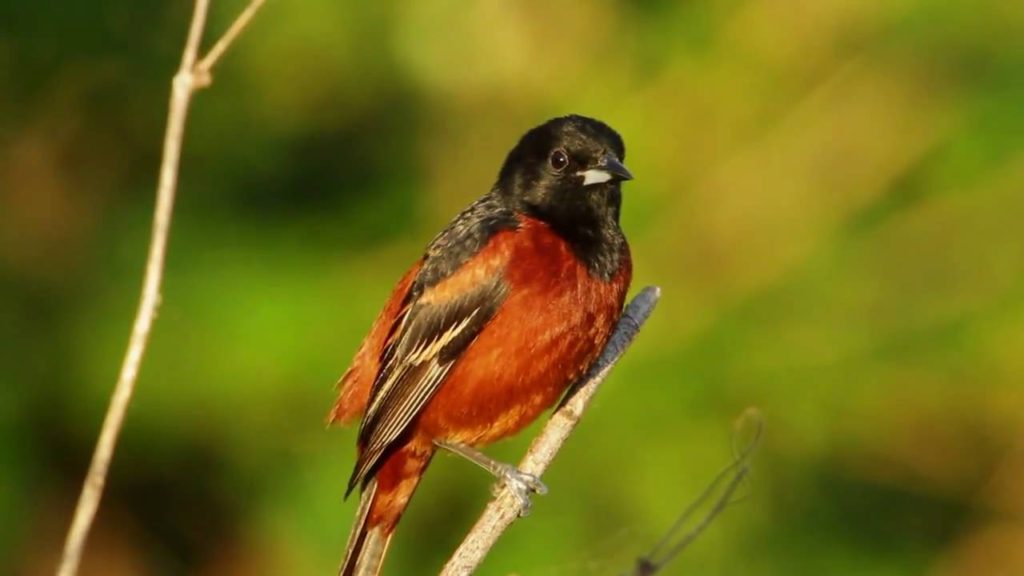 Did He summon that bird that delights us or that budding element of nature to fulfill His purpose. I think so. Take it personal. Listen to Him speaking. Let your heart be renewed in the knowledge of His faithfulness. Yesterday, today, and forever.
Further Reading:
Isaiah 46:10; Proverbs 19:21; Isaiah 55:11; Psalm 138:8; Hebrews 13:8
Thank you to Wayne Riley for your beautiful photo of the Oriole in flight!
(May 7, 2020 Flower Moon Photo from CNN.com)
Click here to subscribe to my writing: https://kathiwaligora.com/subscribe-to-kathis-writings/
Click here for contact information to book a speaking engagement at your location – Michigan, Indiana, Ohio, Florida!