Daddy bought a new Kodak 3 mm in 1955, so my family, including my brother and sister, inherited a plethora of photos, most preserved in slide format. Some years ago, I transferred these slides to digital form, saving them on disks for my family.  I'm nostalgic, to say the least. I thrive in a mid-century décor shop. Program my TV to record 40's and 50's  movies on Turner Classic. So when I view those digital photos or browse through my mother's photo albums, I seem to "go back in time." And I love it!
You've read my posts about times past, I'm sure.
On this getaway trip, Ron had been gracious to help me revisit and recreate scenes and moments from 1955, when as a little girl, I had first visited these sites in the Porcupine Mountains and the surrounding areas of Michigan's Upper Peninsula with my family. For instance, in a recent post, you might have seen photos of my family at The Lake of the Clouds in 1955 and Ron and me in the same location on this trip. So now on this last day at the campgrounds, we packed up and hooked up our little "home away from home." As we left the Porkies, we stopped one last time at the Welcome Center to pick up a souvenir in their gift shop. We encountered two young women who had just entered the park, coming from the two waterfalls to which we were headed: Bond Falls and Agate Falls. I showed them the photo on my phone – the one I wanted to "recreate," taken of me at Agate Falls 65 years earlier!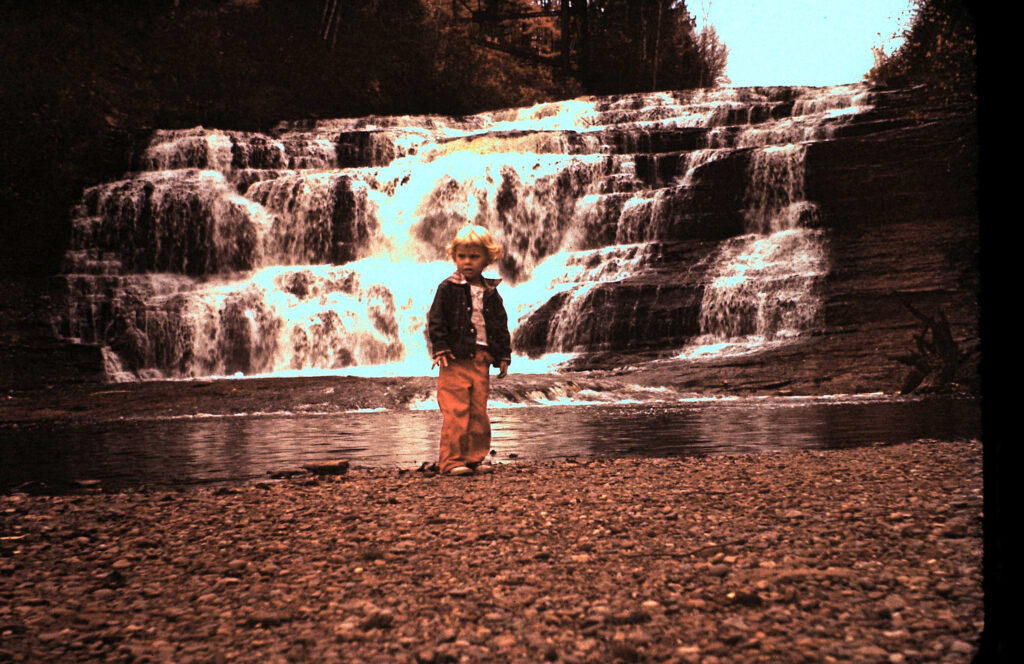 "Oh," one of the young women said, looking at my photo. "That's not Agate Falls – it's Bond Falls. We were just there."
"Oh thanks!" I replied, thinking I must have incorrectly marked the photo. 
"Ron, we need to be heading to Bond Falls," I suggested.
So we left the memorable Porcupine Mountains en route to one of the most beautiful falls in Michigan: Bond Falls, discarding our plans to also visit Agate Falls.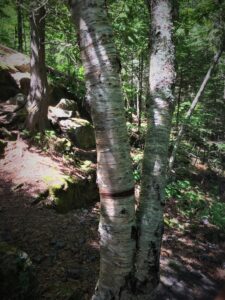 It was a lovely drive. The parking area was full. Even during this time of dreadful Covid, people ventured out – eager and desirous to seek beauty in nature. It took a bit of time to find area to park our vehicle and trailer, but we found shade on this hot summer day!
We discovered the turbulent waterfall just a short distance up the trail, where we began our effort to find the exact location of the 1955 photo my Daddy had taken of me.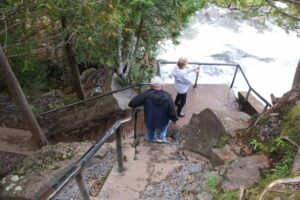 Back and forth, up and down the old cement steps along the shaded east side we hiked, stopped, and photographed, always looking for just the "right spot" from 1955. But it just never seemed right. Had the direction of the water changed in all those years?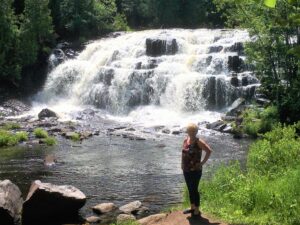 We followed a trail over a footbridge and across the river to the opposite side – the west side. On that west bank, I stepped down to the riverside and placed my feet on what I hoped might be the exact ground upon which I had stood as a tiny girl in 1955. I hoped the scene was recreated, but it just didn't seemed right.
By this time, as you can imagine, after days of hiking in search of waterfalls, Ron and I were nearly "waterfalled out." Bond Falls was beautiful. We had seen it, the mosquitoes were swarming us, and now we were ready to trek back to our pickup and travel trailer and continue our venture. But still, in my mind, the recreated scene just hadn't seemed right! 
The sun was lowering when we left Bond Falls, and having no purpose to visit nearby Agate Falls, we instead drove on to L'Anse at the base of the Keweenaw Peninsula, to visit more once-familiar sites and recreate yet more photos from those years ago.
It wasn't until weeks later, in making the final revisions to this article that I reviewed online photos of Agate Falls and suddenly realized my mistake: The original photo was indeed taken at Agate Falls – not Bond Falls. My childhood pic and another photo of Agate Falls reveal the obvious: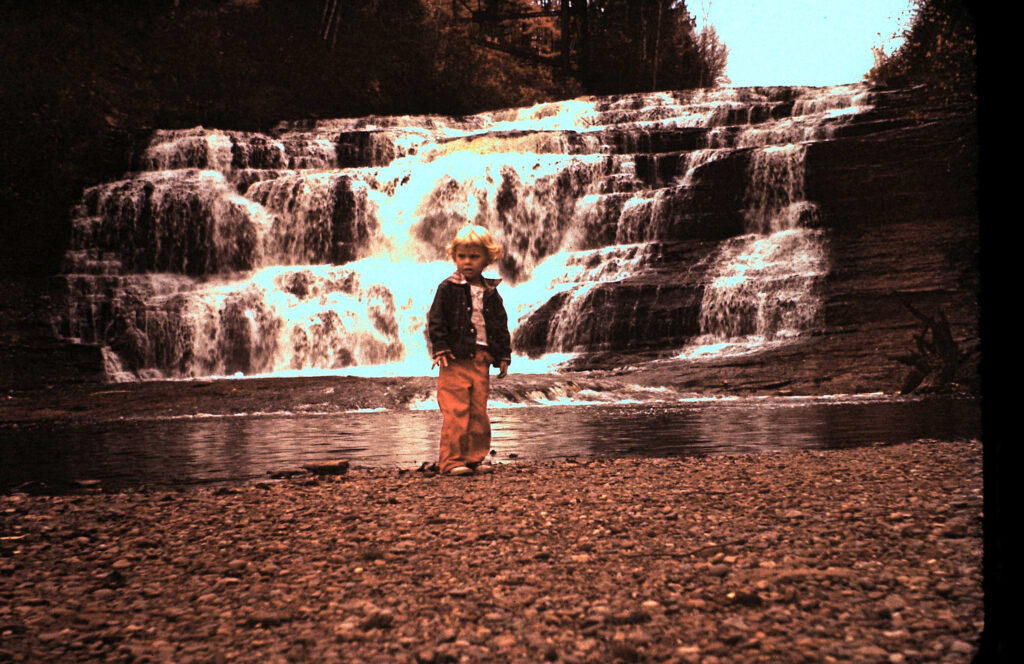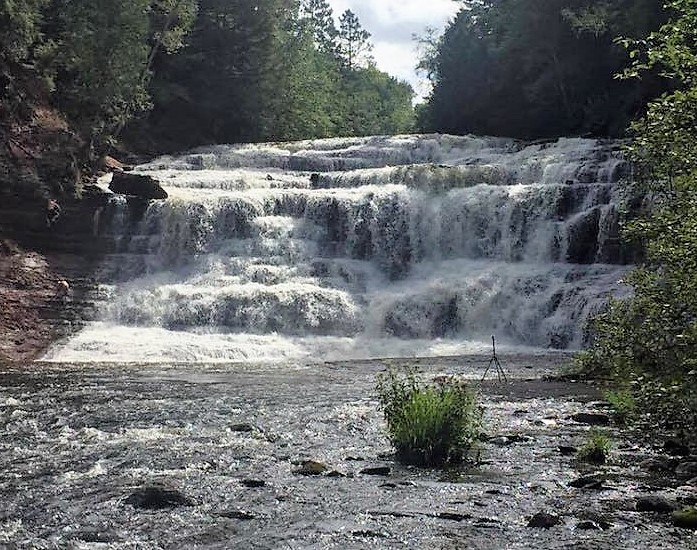 I had missed the true waterfall – Agate Falls, a most important memory. I realized my mistake:
I had quickly taken the advice of a well-intentioned, kind young woman, rather than double-checking my own photos and plans. I had accepted her statement instead of following my own instinct and knowledge.
I was saddened but not surprised. It wasn't the first time I had practiced poor judgment and had been unwise in my decisions! And of course, it brought about regrets. Once again on this "Getaway – Seeking Sounds of Silence, the Secret Place, and Wisdom,"  I had learned a lesson about wisdom in a most unexpected manner.
Proverbs speaks much about wisdom:
There is a way that seems right . . . (But it isn't!)
He who walks with the wise grows wise. (Obviously the young women weren't wise regarding waterfalls)
. . . and perhaps most important or applicable to my situation, in Corinthians:
my faith must not rest upon the wisdom of others, but upon God's power. . .
Of course the lesson is much greater than finding the correct location, the correct waterfall. It's in finding God's will, in following God's plan instead of following people. People will never have the answers for me, but God will. He will lead me, if and when I seek Him. And I can always seek Him in prayer and through His Word.
The good news for me regarding Agate Falls is that there's a possibility that Ron and I will be in the area again next summer. It will be our first stop on our journey. As we walk the path to Agate Falls and hear the rush of water, my eyes will feel a bit of rush, as well, and a mist will roll down my cheeks,  knowing I'm finally in the right place. Ron will hold the camera. I'll step close to the water's edge, the beautiful falls in the background. I'll  squint a bit, looking at Ron but seeing my Daddy holding his Kodak 35 mm.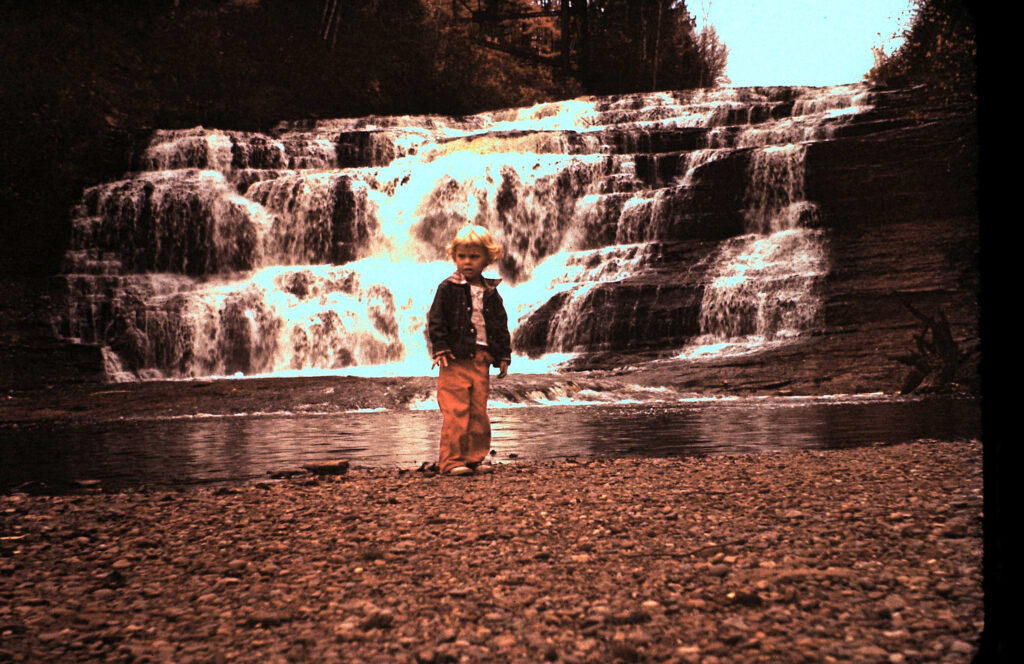 If you haven't yet subscribed to receive my article postings by email, please click here to do so.
And, thank you for reading my writing! Click here to read the next and final post in this series: Post 10.