Once through the Bighorn Mountains, we continued east toward South Dakota, definitely wanting to see more of the Black Hills on our way to the Rapid City area. Oh my word! This land is stunning! We took Hwy 14 north to Devils Tower.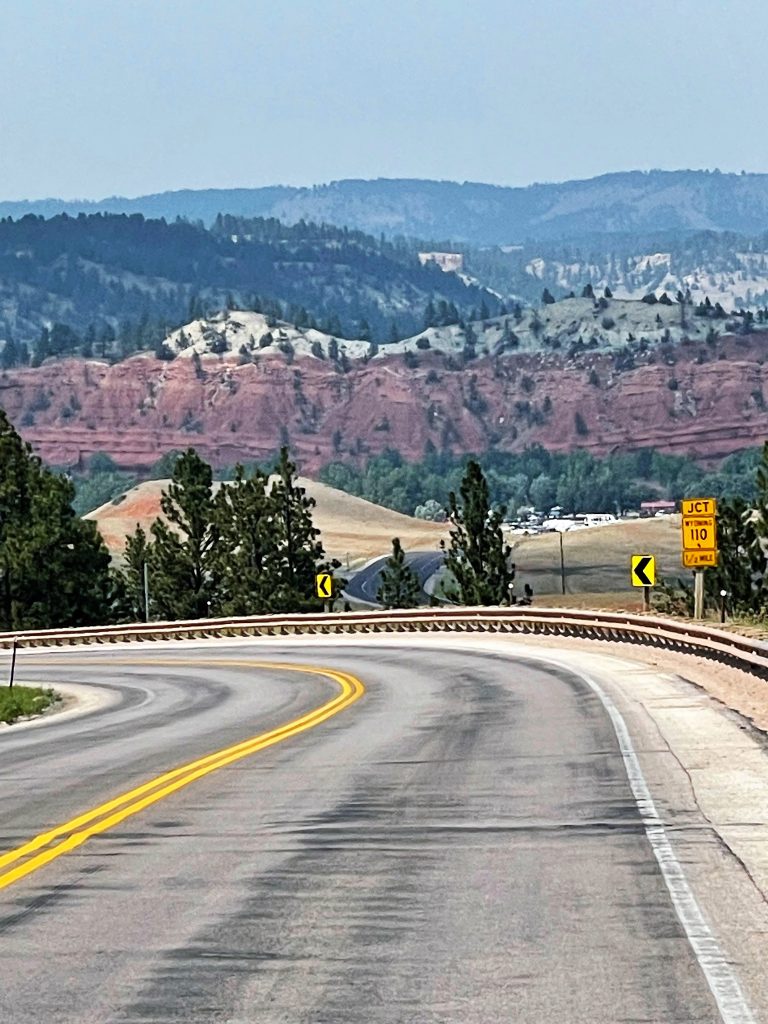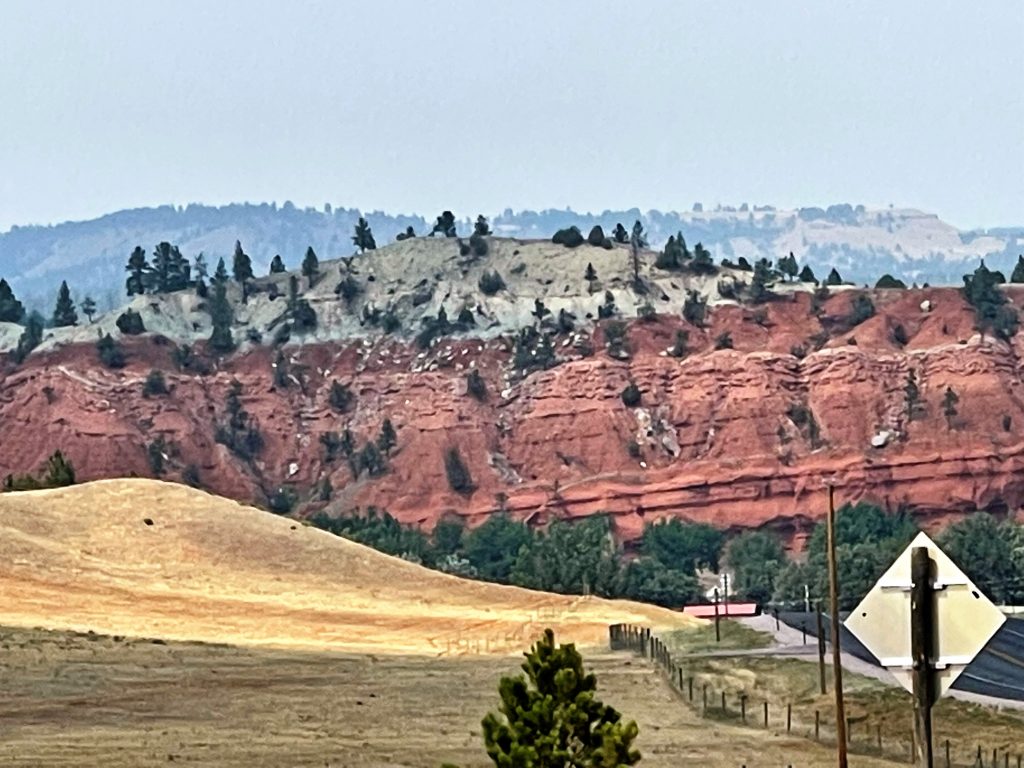 If you are a rock climber, you've probably heard of Devils Tower, as it's  a well-known climbing butte. Climbers shimmy their way up its many parallel cracks. It's also been made famous as the landing spot for the space ship in the 1977 movie,  Close Encounters of the Third Kind.
Located in the Black Hills of northeastern Wyoming, this massive butte stands 867 feet from its base.  It was established as the first national monument in our country in 1906  by Teddy Roosevelt. It was named by Richard Irving Dodge in his expedition through Wyoming in 1875. Dodge's interpreter botched the translation as Bad God's Tower, which later was shortened to Devils Tower. But it wasn't always called Devils Tower.
The Arapahoe called it the Bear's Tipi. The Kiowa called it Aloft on a Rock. The Lakota called it Mato Tipila meaning Bear Lodge. The tribes have similar legends as to how the rock was named, each legend referring to the "claw-like" lines on the sides of the butte, which appear to be left by an enormous bear. Indigenous peoples often use the site for ceremonial rituals.  And they want the name changed.
An online article  states, "In recent years, Native tribes have petitioned to officially change the name of Devils Tower to Bear Lodge, as they find the current moniker offensive. Meanwhile, other locals argue that changing the formation's name would cause confusion and harm regional tourism." 
Um, I don't think it would harm tourism. In fact, I suspect it might increase tourism. I, for one, was hesitant to even visit Devils Tower – all because of its demonic name. I also made a quick and invalid assumption that the site was a place of demonic worship. Until I did some research and soon discovered the opposite.
Chief Arvol Looking Horse, spiritual leader of the Great Sioux Nation says the name is offensive  – that it infers the cultural and spiritual practices of the indigenous peoples in the Black Hills were – and are –  forms of devil worship. He wants it changed.
I don't blame the native tribes for wanting this name change. A name is important. Very important. 

We can recognize the significance of a name from the very beginning. Our Father God gives His chosen people His name. He calls us His holy people, expecting us to keep His commandments. He says we will be called by His name, and He promises us prosperity. Why? Because we have His name.
He reminds us that we have responsibility to humble ourselves, pray, and seek His face. Why? Because we are His people, who are called by His name.
He keeps us. He has compassion on us. He will never leave us. And He will never forget us. His word assures us that our names are written on the palm of His hand. Why? Because we are His. We are called by His name. 
He knows us by our names. Each one of us. We are His sheep, and Jesus, our Shepherd, calls us by our names., He leads us. We follow Him.  Our names are written in His Book of Life.
But I'm referring to those of us who are believers in Christ Jesus – to those of us who have trusted Him for salvation. Are you called by His name? Are you following Jesus? He's calling. Do you hear him?
Click here to learn more about following Jesus.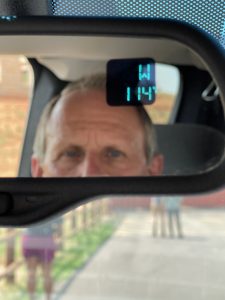 The sky was clear, the sun was shining, and the Black Hills stunning when we arrived at Devils Tower. We were  astounded with the towering structure and coarse, "claw-like" vertical rock sides of Devils Tower. We wanted to see it more closely. Our hope had been to follow the trails and walk around this mountain – this butte, but it was "hot as the daylights" when we stepped out of the vehicle today. In the last weeks, we had more than tolerated temps of 103-106 degrees, but today's temps of  114-116 degrees "stopped us in our tracks."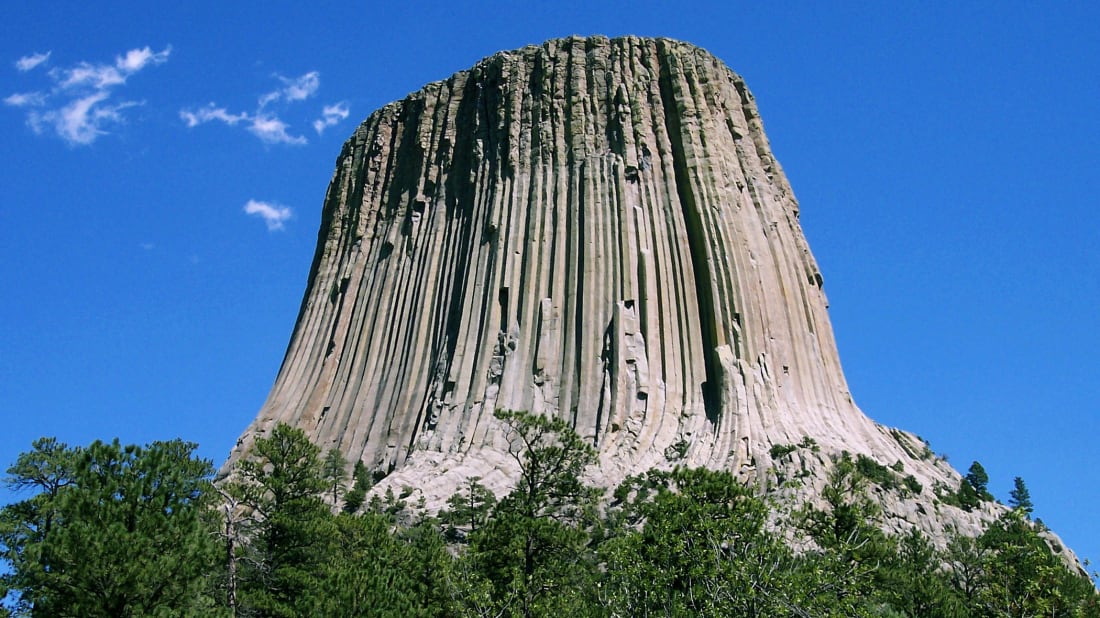 Being way too hot to eat in our trailer, we instead had lunch in a small air conditioned restaurant on site, took some photos of Devils Tower, and moved on.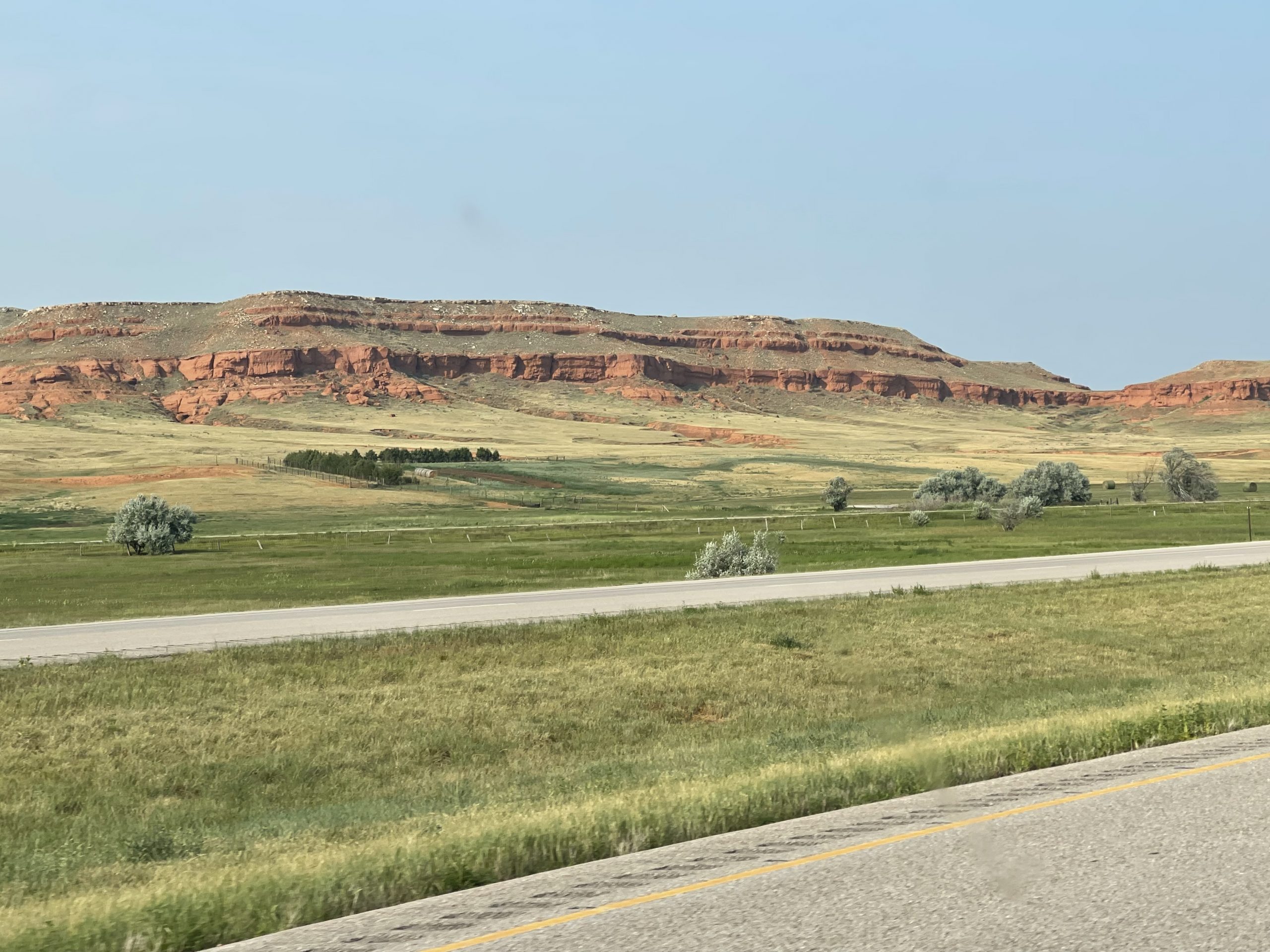 One day we'll return for a more extensive visit to this impressive national monument. Hopefully, by then, the name of Devils Tower will be changed to Bear Lodge, or whatever more closely represents the original name the Indigenous Peoples of our beautiful west choose. 
After all, a name has great significance.
And hopefully, the temps will be a bit cooler on that day!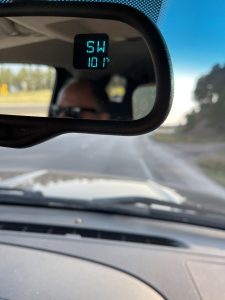 Today, by the time we pull into our campsite in Keystone, the temps have dropped to a mere 101 degrees. Mt. Rushmore can be seen in the distance. Another national site awaits us tomorrow! 
Click here to read the next post, The Patriot.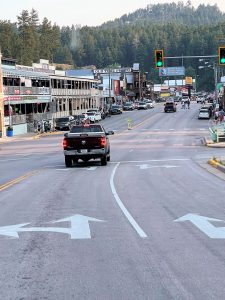 Further study: Verses / passages used in today's article: Deuteronomy 28:9-11; 2 Chronicles 7:14; Isaiah 49:16; John 10:3