I usually rode the school bus home, but when I needed to stay for 7th grade cheerleading practice, Mom picked me up after work at 3:30. The inside  of the old car had soaked up the warm sun of the fall afternoon, and I immediately relaxed as I slid onto the fabric seat. Although far more exhausted than I, having worked all day in the shop , Mom greeted me with a hug and a smile. As she drove, I pulled out my book, Little Women, read all the way home,
and continued reading after she pulled in the drive and had gone into the house to start supper.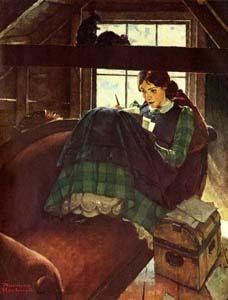 I read – and I dreamed – about Jo. When Mom called me in for supper, the crisp air of the late autumn afternoon refreshed me, and my mind was suddenly spinning, trying to concoct a plan for a writing area for myself – like the attic in which Jo wrote – the one on the cover of the book. I wanted to be an author. 
   During those days, I discovered the perfect place to do my writing:  a small loft in the "woodshed" at the back of our big yellow house.  It was packed with broken fishing poles and worn window screens, and it was coated with 60 years of grime. I worked diligently – for a short time! But cold weather soon arrived, and my plans were thwarted. Time passed. 
   As that time passed, dreams of writing and publishing were pushed to the back of my mind and replaced with high school activities – then of marriage and children and of summer vacations and golden retrievers and music and home décor and .  . . many beautiful and wonderful occurrences – along with many sad and disappointing experiences –  the typical unfolding adult reality, which differed so drastically from the secure reality of those early years of my childhood. 
   One day, the laptop making it so much easier to get those ideas into print before my eyes, my dream of writing materialized.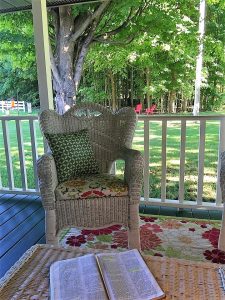 I had desired to write a Little Women – type novel, but instead, my first publication was what they call a Christian Living book – a genre designed to help one flourish in the faith, to bring encouragement and inspiration to others and to help one in his or her spiritual growth.  In addition to desiring to write – or needing to write – or feeling one must write, the Christian Living writer also has most often endured those unwanted, unavoidable, unfolding realities of life, but one has discovered resulting hope – a hope that does not disappoint but encourages. 
. . . suffering produces perseverance; perseverance, character; and character, hope. And hope does not disappoint . . .(Rom. 5:4,5a)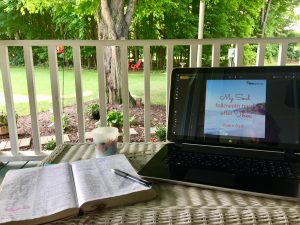 Hope has not disappointed.
   Writing is now a daily practice for me. Instead of the attic I had once yearned for, my private writing space is a Michigan porch or a Florida Lanai.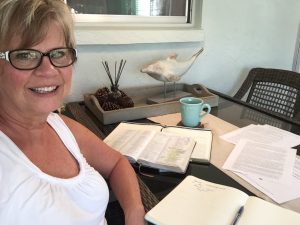 It's a "Kathi" space instead of a "Jo" space! It's a space where I spend time in the Word and listen to "Jesus Whispers."  In this "Kathi" space, additional genres and styles develop: Studies, Devotionals, Blogs, and articles – and one day, perhaps a novel! 
So, I invite you to read my writing – to browse my website and social media pages – to slide into the quiet warmth of my scripts and to discover the many commonalities between us. 
I would love to share my stories and help your group learn to listen to "Jesus Whispers." Click here to contact me to speak to your group.
Click here to purchase my published books and look for upcoming publications this year!
May God bless and speak to our hearts.