His Whisper to Me ~~
Kathi, I've chosen you – I've adopted you through Jesus. I've redeemed and forgiven you with the riches of My grace. I've enlightened your heart so that you might know the hope I give you, and the riches of my inheritance, and my incomparably great power. It's for those of you who believe.
He has chosen you, too! Click here to learn more about becoming a believer.
Pray:
Father, thank you for choosing me.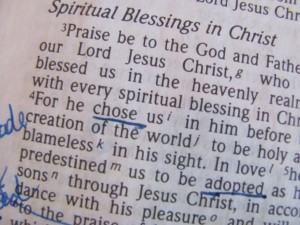 Read:
Ephesians 1