Her husband has full confidence in her and lacks nothing of value. She brings him good, not harm, all the days of her life . . . Her husband is respected at the city gate, where he takes his seat among the elders of the land. . . her husband . . . praises her.
Oh, yes! It's difficult to believe today – that a woman would take such good care of her husband! But she did! And yes, he had full confidence in her; and yes, she brought him good all the days of her life; and yes, he was respected and an elder; and yes, he praised her! When I was young, I never heard my mother argue with my dad. She didn't slam the door in his face or yell at him. She never spoke about separation or divorce. Faithfulness.
As a result, he cherished her. He respected her. He opened doors for her and was openly affectionate with her. He gave her gifts. I observed. It taught me much. And all by example.
He praised her for 65 years – even into the last stages of his dementia!
She loved, honored, and served him for 65 years – even unto his last breath!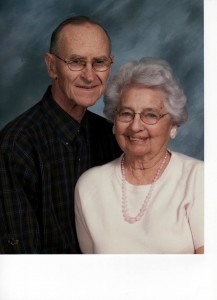 ~~  ~~  ~~  ~~ 
She watches over the affairs of her household and does not eat the bread of idleness.
She knew everything that was going on in the house and was always busy, whether working at the school, at the factory, or at home.
~~ ~~ ~~ ~~
She speaks with wisdom, and faithful instruction is on her tongue.
As an adolescent, I argued with her – repeatedly! I had little confidence in her wisdom or instruction. But amazingly, years later, I looked at her and saw a woman who spoke with wisdom and faithful instruction! My, how she had changed during those years I grew up!
~~ ~~ ~~ ~~
Her children arise and call her blessed.
Oh, yes. I began singing her praises, especially after I became a mother!
~~ ~~ ~~ ~~
. . . but a  woman who fears the Lord is to be praised.
So now, when I praise my Mama, I also pray the very last verse of Proverbs 31:
~~ ~~ ~~ ~~
Give her the reward she has earned, [O Lord], and let her works bring her praise at [heaven's] gate.
Amen. Happy Mother's Day, Mama!