Shortly before our anniversary, Ron surprised me. He had made arrangements for us to attend an overnight marriage conference (Celebrate your Marriage) at the Grand Hotel on Mackinac Island! Wabba! We hadn't had special time together, or any time away in well over a year – and never at the Grand Hotel! It sounded great!

The day before our anniversary jaunt, I opened my Bible to the Old Testament book of Joshua where I've turned many times in my studies, especially since I read of Joshua, who, facedown in reverence before the Lord, asked,
What message does my Lord have for his servant? (Joshua 5:14).
This has become a question I try to remember to ask God every day.
What message does my Lord have for his servant?
On this day,the message lay boldly before me:
I will begin to exalt you in the eyes of all Israel, so they may know that I am with you . . . (Joshua 3:7).
I didn't know exactly what it meant for me, but I believed it included and involved my family. And I was excited to see what God was going to do and how He was going to do it! Sometime in the past, beside those words in my Bible, I had written the location of a coordinating passage, which I had underlined in the next chapter:
That day the Lord exalted Joshua in the sight of all Israel . . . (Joshua 4:14).
I knew that day was coming soon.
And so we spent a night in Mackinaw City, went across to the island, and spent another night at the elegant Grand Hotel, laughing through the conference sessions and truly celebrating our marriage. On Monday, after the last session and after an elegant lunch, our time at the Grand Hotel was over, so the horse-driven carriage transported us, clippety-clop, to the dock.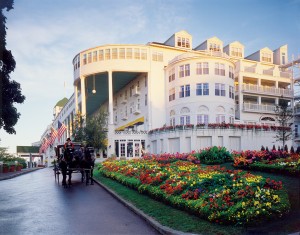 Have you ever had a dream that you are going somewhere, perhaps running away from something, but you seem to be moving in slow motion – getting nowhere? This dream became real as we left Mackinac Island and headed south toward Kalamazoo.
We had allowed ample time to drive to Kalamazoo. (Mapquest shows it as being a 4 1/2 hour trip.) We were excited to meet our Kristen and Josh and the children. Somewhat last minute, Valley Family Church of Kalamazoo had slated Tim Storey for a special healing/miracle service. Kristen and Josh were taking Baby Luke, and we didn't want to miss it. We wanted to be open to the filling of God's Holy Spirit. And we were trusting God for continued manifestation of Luke's healing in this journey our family had been on since his birth in December.
What message does my Lord have for his servant?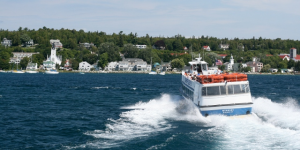 So, we left the island on a ferry, of course – Shepler's Ferry Service – supposedly the smoothest of all. And I suppose it really was the smoothest service, under normal conditions. But you see, a wind was blowing across the Straits of Mackinac on Monday; a storm was brewing. Our little ferry was packed with people carrying boxes of Murdick's Fudge or handled bags stuffed with souveniers. The interior cabin soon became quite "stuffy." The little ferry tore across the waters coupling the island and the mitten, the experienced captain darting between the massive Lake Huron waves capped in white. By mid-strait, I was watching those waves through the back end of the ferry, joined by one passenger after another, making their way along the narrow aisle like drunken travelers toward the promising fresh air. Each drop of cold lake water, pelleting our faces, served simply to keep us from losing our elegant lunches to the boat's rocking bottom!
Once ashore, the wind whipped the awnings covering our awaiting luggage and drove the claim cards from our hands, across the rocks, into the waves, and back toward the island; our keys, although mislabeled "Dan Hutchinson" instead of "Ron Waligora," did actually open our car doors, and finally we were tucked inside our little Buick Enclave, nauseous and glad to be back on land.
Heading south, the outside temperatures increased a degree with each mile we traveled until we were finally sailing down I-75 in 82 degree weather. Little did we know the southern stretch of the storm lay ahead us.
So as we traveled south on I-75, toward Clare, toward Lansing, and toward Kalamazoo, the sky darkened. Every time we thought we were "driving out of it," the road curved and we drove deeper into it. The sky rained on us in violent downpours. Time and again, we pulled off the road – onto the medium if we could not decipher an exit – under a gas station overhang if we could. Local power outages resulted; parking lots flooded;  and each time we pursued the highway venture, the wind agitated the little Buick and standing water propelled it as though it were a diecast model.
What message does my Lord have for his servant?
He answered:
Be strong and courageous. Do not be terrified; do not be discouraged, for the Lord your God will be with you wherever you go. (Joshua 1: 9)
Finally I realized that this was not just a spring rainstorm. I thought perhaps the enemy did not want us to attend this evening's healing / miracle service – did not want us to invite the Holy Spirit to indwell and work within us – did not want us to share in the manifestation of Baby Luke's healing. So I prayed to our Awesome God, and I rebuked the enemy, and on we went, through the storm, into the sunlight, and on to Kalamazoo, entering the huge church just in time to begin worship with a thousand others.
Consecrate yourselves . . . (Joshua 3:5)
The Lord had been telling me this for quite some time, as He had told Joshua and the Israelites. And the two-hour service was indeed a time of consecration within my own heart and soul. The worship stirred my heart to confession and repentance. Ron and I sat and we stood and we praised and we worshipped in absolute amazement! The Holy Spirit was most obviously in this place. I stood between my husband of 42 years and my son-in-law, Josh, who was holding our little Baby Luke – the child who was teaching us about faith and healing and about the wounds of Jesus and the very reason Jesus had suffered those wounds. I placed my hands on the baby and prayed for him, while Ron prayed for our entire family.
Consecrate yourselves for tomorrow the Lord will do amazing things among you.
I'm not a Joshua. I don't feel worthy to receive the same message God spoke to Joshua, but I am. I was made worthy by the blood of Jesus. I was recently reminded that I "have more than Joshua did because I have the blood of Jesus, the righteousness of God and the New Testament" (BVOV, May 2013).  And quite some time ago, through studying God's Word, I began to realize the power of Jesus in me, and little by little, I am believing Jesus and understanding what He says – that I, Kathi, who believe in Him shall do great works because Jesus went to the Father and sent the Holy Spirit to indwell me – that I, Kathi, may ask Jesus for anything in His name, and He will do it (John 14:11-14). How awesome is that! I've asked Jesus for healing for Baby Luke and for increasing faith in myself that I might see it every step of the way! In His name!
The healing / miracle service was an amazing step in that journey of faith, for we soon learned that . . . tomorrow, the Lord will do amazing things. And He did! On Tuesday! I'll write about it in my next posting.