Do not park in the front drive.

Complete the "visiting request" form.

Present picture ID.

Do not take anything into the visiting room.

Sit at all times.

Do not touch the glass.
And so we file in – we visitors. I find a spot in the midst of the other broken-hearted visitors, and I wait to see her. She, my precious one, enters the space on the other side. I see her face, once ashen and poxed, now soft and glowing. I see her lips, once parched and cracked, now full and rosy. I see her eyes, once glazed and lost, now radiant and hopeful. My broken heart leaps with joy!
And so we sit, the glass between us. My hand, in motherly instinct, reaches to her. Our hands are near. And I can feel the touch of her soft skin just as if I were holding her hand. We talk through a phone. We speak of love and forgiveness. We speak of redemption. We speak of a future. Joy drops fall from our eyes and creep down our cheeks.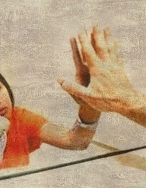 And it reminds me of  the love of God. The love that takes the things in our lives, even the bad, and works those things for the good of us who love him.
And we know that in all things God works for the good of those who love him, who have been called according to his purpose.

Romans 8:28
We rejoice together, my precious daughter and I. Because, you see, nothing can separate the love of a mother and her daughter.
I leave, for now, saddened by our present circumstances but rejoicing in the nearness of God – in the love of Christ. Because, you see, nothing can separate me from His love.
Who shall separate us from the love of Christ? Shall trouble . . . . No, in all these things we are more than conquerors through him who loved us. For I am convinced that neither death nor life, neither angels nor demons, neither the present nor the future, nor any powers, neither height nor depth, nor anything else in all creation, will be able to separate us from the love of God that is in Christ Jesus our Lord.

Romans 8:35, 37-39