A Christmas past:
Ron and I celebrated Christmas with our family yesterday. Five little ones sat around our small breakfast table; two babies were in their little chairs; and twelve of us sat around my big threshing table. The table was lined with various sizes of clear and blue Ball canning jars, each filled with snow (epsom salts) and tea lights or pine cones and red berries – all on a burlap runner. (Got the idea from Pinterest.)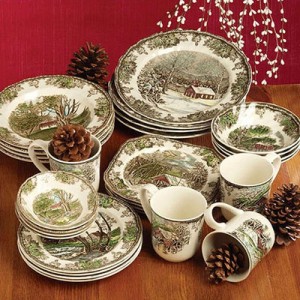 Johnson Bros. "Friendly Village" place settings (a gift from Ron – some years ago) covered the table. The room was filled with tiny white lights on realistic but artificial pine. (One of us is allergic to real pine!) The nativity (collected from our North Woods days) was placed nearby, a ever-present reminder of why we had gathered.
~~  ~~  ~~  ~~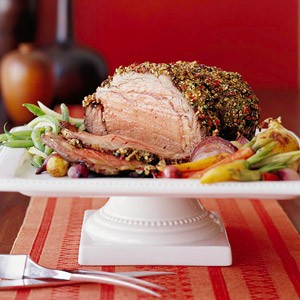 I prepared a ten-pound boneless beef rib eye roast coated with peppercorns and served with horseradish cream. It was the largest and most tender Christmas roast I'd ever prepared. The potatoes were mashed from those I had dug from my garden late in the fall. Along with the salads and vegetables my girls brought, the dinner was delicious!
~~  ~~  ~~  ~~
Ron (Papa) prayed; Matilyn, our 13-year-old granddaughter, read the Christmas passage from the Gospel of Luke, and the children (young and old) rejoiced in the gifts that were shared.
~~  ~~  ~~  ~~
Memories of the day include the "abc" wad of gum I later found stuck on the butter dish, as well as the discovery of the baby crib mattress, taken from a bedroom, which I found in a battered and torn state at the base of the stairway,  where two of the children had used it to slide down the stair steps while we adults sat talking in the dining room! Later, when they all went home, shoes and jackets and tiny pieces of toys were left behind, some small gifts remained to be exchanged, and I knew that the day had passed much too fast.
Sounds like the perfect day?

It wasn't!
The tree was decorated just a few short days before this party! Not every planned recipe was actually prepared and served. I didn't take the photos I wanted. (Photos of the canning jars, dishes, and rib eye roast are taken from online!) Some of the family were late; some left early. Our family has struggled with outside forces and trials throughout the last three years.
This Christmas day was not a perfect day, but it was a "turning point" day. It was the first time we were all together in a year; our hearts were joined in love for each other and unity in Christ; so I felt very blessed! It was the end of another difficult year and nearly the beginning of a new, victorious year; so I was also thankful!
~~  ~~  ~~  ~~
I share my "not so perfect" day because I know that many of you, my readers, have similar Christmas days – or similar Decembers – or perhaps similar, difficult last few years, as we have. Our homes do not look like the photos we see on Pinterest, nor do our lives appear similar to the vibrant postings we read on Facebook!
When I awake on Christmas morning, I think of you women who are alone. My heart aches for you. I think of you who are grieving a recent loss, the pangs of which were replayed in every Christmas carol you heard this season. Things are not always as we want them to be. Our plans do not all come to fruition at the very time we choose. But we can rejoice in our Lord and know that He is faithful all the time and know that what He tells us in His word will be accomplished!
~~  ~~  ~~  ~~
There will be another Christmas in the future – perhaps I'll get a chance to take some photos. Maybe we'll have a bit more time to relax with each other as a family. Perhaps you won't be alone next Christmas. For some of you, another year will buffer the intensity of the grief you now so heavily bear.
Let's speak and believe the word together – the same words spoken by Elizabeth when she met Mary. Let these words remind us that we are and will continue to be blessed:
"Blessed is she who has believed that what the Lord has said to her will be accomplished."

(Luke 1:45)