Trust in him at all times, O people; pour out your hearts to him, for God is our refuge.
Psalm 62:8
In my Bible, in the margin beside this verse, I've written these words: "Ron read this to me, 12-28-08." I don't know why it was so special at that time. Were we going through a difficult time on 12-28-08? I think I made the note because it was so special to me that Ron shared that verse with me – because it spoke to him.
And today, as my heart is aching, that verse speaks to me.
Yes, I do trust in him . . . Yes, today, I have poured out my heart to him . . . And yes, today, I again find that God is my refuge.
Ron and I left the house at 8:17 this morning. I cried until we reached Jackson. That's okay. I'm not ashamed of crying. It does not mean I don't trust God. He understands and He allows it. In fact, the psalmist writes,  ". . . pour out your hearts to him . . . ,"  and crying is sometimes a part of pouring out my heart. My crying led to praying, and my praying led to praise, and my praise led to singing.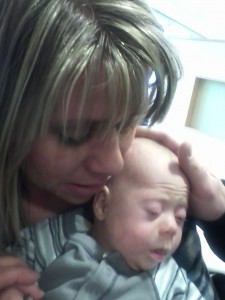 As I write this, Baby Luke is being prepared for surgery. Right now, I'm not singing. I'm crying again.
I've poured out my heart to God. It wasn't the first time, and it won't be the last. God has told me to do so; He knows it's best because in pouring out my heart, I find that refuge I've known for quite some time:
– the shelter in the storm, bringing warmth and the comfort of impending sunshine
– the arms that hold me in the midst of darkness, revealing the coming light of dawn
– the righteous right hand that holds me up and never lets me go
– the ever-present help in trouble, trouble like I'm feeling today
When I think of my little Luke in surgery, my gut wrenches and aches, but
I trust in Him
I pour out my heart to Him
and I find refuge in Him.
And He is ever faithful. (Psalm 145:13b The Lord is faithful to all His promises.)