I have been reminded of your sincere faith, which first lived in your grandmother Lois and in your mother Eunice and, I am persuaded, now lives in you also.
2 Timothy 1: 5
There's a new baby in our family and I am ecstatic! His name is Jackson Matthew Waligora. He is the youngest son of our son, Matt, and his lovely wife, Lynette. And I am his Nana! We are so happy and thankful!
~~ ~~ ~~
We welcomed him yesterday at 10:24 am, 6 lbs. 15 oz., 20.5 in., a beautiful baby who looks like his big brother and sisters and who has darling dimples on his face. When we went at the hospital, we took a card, a soft fuzzy lamb, and a balloon, but his true gift from us yesterday was a blue blanket that his Mommy had washed and ready to wrap around him.
~~ ~~ ~~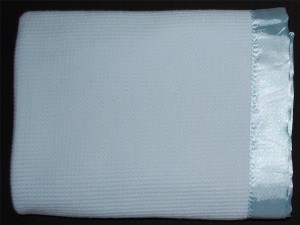 We have a tradition in our family – it's the blue blanket for the boys – the pink blanket for the girls. Not just any pink or blue blanket –  it's a certain blanket – a waffle weave with satin binding – the Morgan or Bright Future brand.
~~ ~~ ~~
The tradition began with our youngest daughter. She had a spot (or "pot," as she called it) on the satin binding of her pink blanket: the place where the the edges of the binding met. She rubbed the "pot' between her fingers while she relaxed and slept. As the months and years passed, the "pot" wore and the beautiful pink faded to a dusty blush, but it was still her special blankie.
The tradition continued with my niece – then passed on to my grandchildren, each having his or her own blue or pink blanket, some cherishing that blankie, some indifferent to it.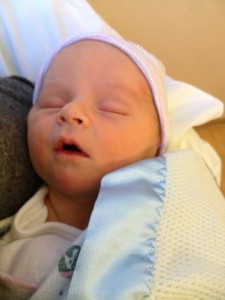 ~~ ~~ ~~
By the time our 11th grandchild, little Jackson, was due, the Morgan and Bright Future blankets were no longer being produced, but his mommy found the Boals Baby Blanket online. It was perfect! And so it became Papa's and my special gift to little Jackson.
I want Baby Jackson to love that blue blanket! I want him to find his special "pot" on that satin binding and snuggle it and be comforted with that blue blanket for years!
But there is yet a greater gift I can give my Jackson.
The apostle Paul referred to Timothy as his "true son in the faith." Paul was "filled with joy" when he was around Timothy and was reminded of Timothy's "sincere faith." And how did Timothy develop that faith? It first lived in his grandmother!
More than the blue blanket, I want to give my Jackson the gift of faith – "sincere faith."
 ~~ ~~ ~~
God's Word promises me that if I have a strong fortress, it will be a refuge for Jackson – a comfort and means of strength (much greater than that of his blue blanket)!
God's Word promises me that if I delight in His commands, my children and generation will be mighty and blessed. (This promise make the blue blanket look meaningless!)
God's Word promises me that if I righteously fear the Lord, my Jackson will inherit the land (Far greater than merely inheriting the blue blanket!)
God's Word promises me that if I am righteous, my children will be blessed. (This gift of faith to Jackson just keeps getting greater and greater!)
~~ ~~ ~~
So I want to be a Nana who has a strong fortress in God, who delights in His commands, who fears the Lord, and who is righteous.  And someday, let it be said to Jackson: I have been reminded of your sincere faith, which first lived in your Nana Kathi . . .
NIV References: 1 Timothy 1:2; 2 Timothy 1: 4,5;  Proverbs 14:26; Psalm 112:2; Psalm 25:13; Psalm 37:25,26