My postings throughout this month of July and early August will vary from the typical, as Ron and I take a lengthy adventure. The northwest has called us, and I invite you to come along!
"Those who contemplate the beauty of the earth find reserves of strength that will endure as long as life lasts."

~ Rachel Carson
June 30 – We drove north about 6 hours today, crossing our favorite bridge in the fog.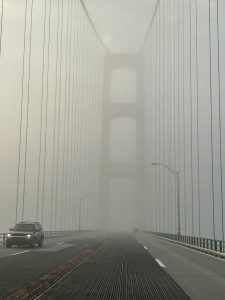 Spent the night at the little Welcome Center – first right over the bridge. I've written about driving north in a recent post. Click here to read it.
July 1 
 This was our true first day: July 1. Day 1. 
We woke to sunny skies; had pancakes on the gas stove and French Press coffee. No electricity needed!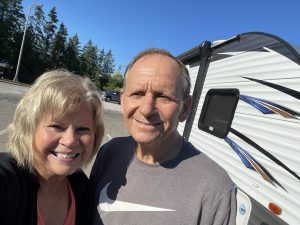 Left St. Ignace and drove west on Highway 2 – our main road for the next ten days!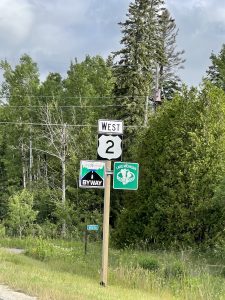 Oh how we love the U.P. It was Thursday before the big weekend, and people were pulling campers and boats, yet the roads were not crowded. There's room for all in the Upper Peninsula, and we relish in it! The birch, whiter than white with deep black veins, catch my eyes as we travel. We are blessed to call Michigan home. I can never get enough of it.
Across this stretch of road in Michigan, a Biden/Harris sign still remains in front of someone's cute little red ranch home  Dozens of faded Trump 2020 signs and flags, are still posted in yards, and on barns, posts, and vehicles throughout this westward trek. On one wayside saloon, an owner had printed "My _______ governor is a wit wit." Today, I reached the conclusion that Yoopers in this area are not at all timid!
We paused two times today – first for lunch and rest at a wayside park. Quiet contemplation at that shaded picnic table was my favorite time today.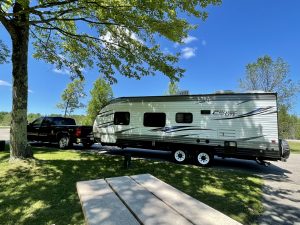 It has become a rarity. Seems I must force myself – think I always need to be accomplishing something. I'm slowly learning that resting and listening to God "is" accomplishing something – something He wants to accomplish!
We paused again late in the day, briefly leaving Highway 2, traveling 20 miles north to see Agate Falls, one we had missed in our 2020 trip north. I wanted to recreate my 3-year-old photo at the base of that falls (I missed it last year – click here to read the post). We walked a viewing boardwalk (was unrewarding)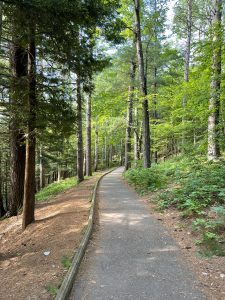 and attempted to hike the deep gorge to the actual base of the falls, but my shoes didn't quite meet the criteria for such a venture today. Seems a lot has changed in the area in the last 66 years. A placard conveyed that the original 125 steps to the bottom of the falls, on which my daddy obviously carried me at the time, burned in the early 1970's, along with a motel on the property. Only a treacherous hike could get one to that location today. It's a hike we'll once again have to save for the future!
We stayed at an RV site at Northern Waters Casino tonight, a first for us and we were very pleased with this first come, first served opportunity. For only $16, we had electricity, water, and internet connection! Was peaceful, and very likely the quietest night we'll have on this lengthy trip!
It's odd – sleeping in this trailer the middle of nowhere, but it doesn't take long to relax in the quiet darkness of this wooded north, a cool breeze tickling my face with scents of pine and cedar, and the man beside me who inspired the theme of our little "home away from home."