As I've written previously, the climate and landscape can change almost instantly when driving through these western states. Today was a perfect example.
We left our perfect campsite in Viento State Park (did you read my last post about perspective? Click here)  and drove east along Interstate 84 for the last time, enjoying every moment: (Pause the website background music when viewing videos.)
We exited south at Hood River, onto Highway 35. We had previously stopped at the Walmart parking lot where I saw this view: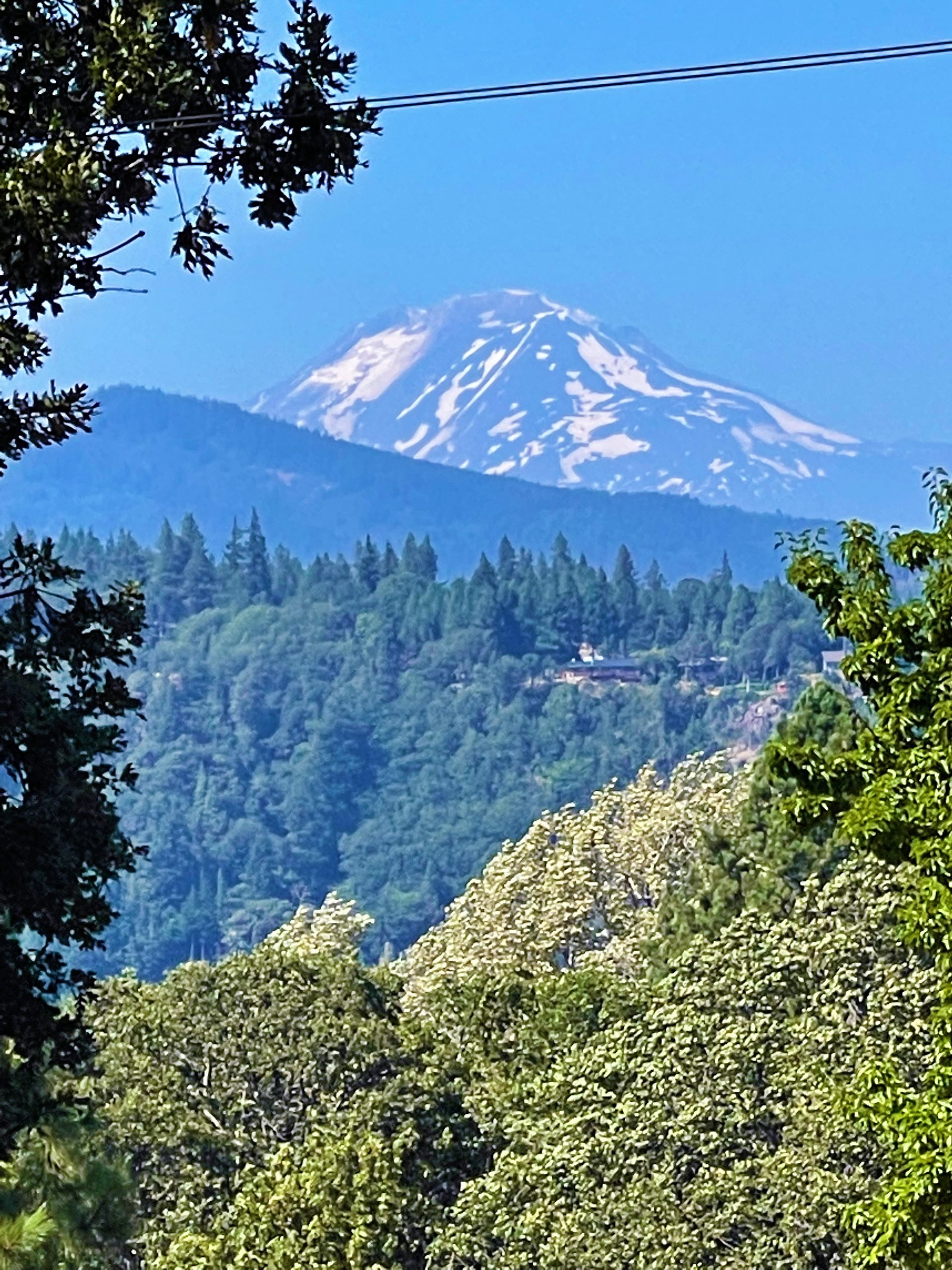 Yes, Mt. Adams, at over 12,000 feet, ruled the northern landscape. I was amazed to think of this view at one's local Walmart! Certainly different than any Walmart parking lot view I'd ever encountered! Probably 40 miles north (by way the crow flies), this is the mountain we had observed throughout southernmost Washington before crossing the Columbia River into Oregon just a few days previous. 
Mt. Adams also reigned in the downtown area of Hood River –  one gorgeous town!  Homes are set in hillsides along narrow streets. The downtown is inviting with some shops open to the street.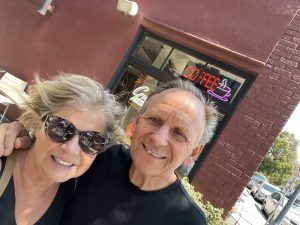 A day or two before, Ron and I  had lunched outside one  cute little coffeeshop – then had coffee outside another. I had decided I could live in this town – if I didn't get "blown away" in the wind. Like every area in the gorge, this town is very windy.  I spent my coffee time writing postcards to some of the grandchildren; the centerpiece on our outside lunch table was a bronze piece called Mama Bear. I knew, in reality, that I could never leave my Michigan kids, no matter how appealing this mountainous area might be! It's the Mama Bear in me! But I certainly would love to spend a couple weeks exploring this town!
But today was our day to move on and head to the Oregon Coast. There was no "easy" route to the coast, except for Highway 84 directly west to Portland, but we didn't want Portland, nor the busy interstates, so we chose a scenic route instead: the Mt. Hood Scenic Byway. And scenic it was – for awhile, that is.
As we drove south, we lost our views of Mt. Adams but gained views of magnificent Mt. Hood, over 11,000 feet high. It was within our sites for hours. (How many pictures of one mountain can a person take! ha-ha)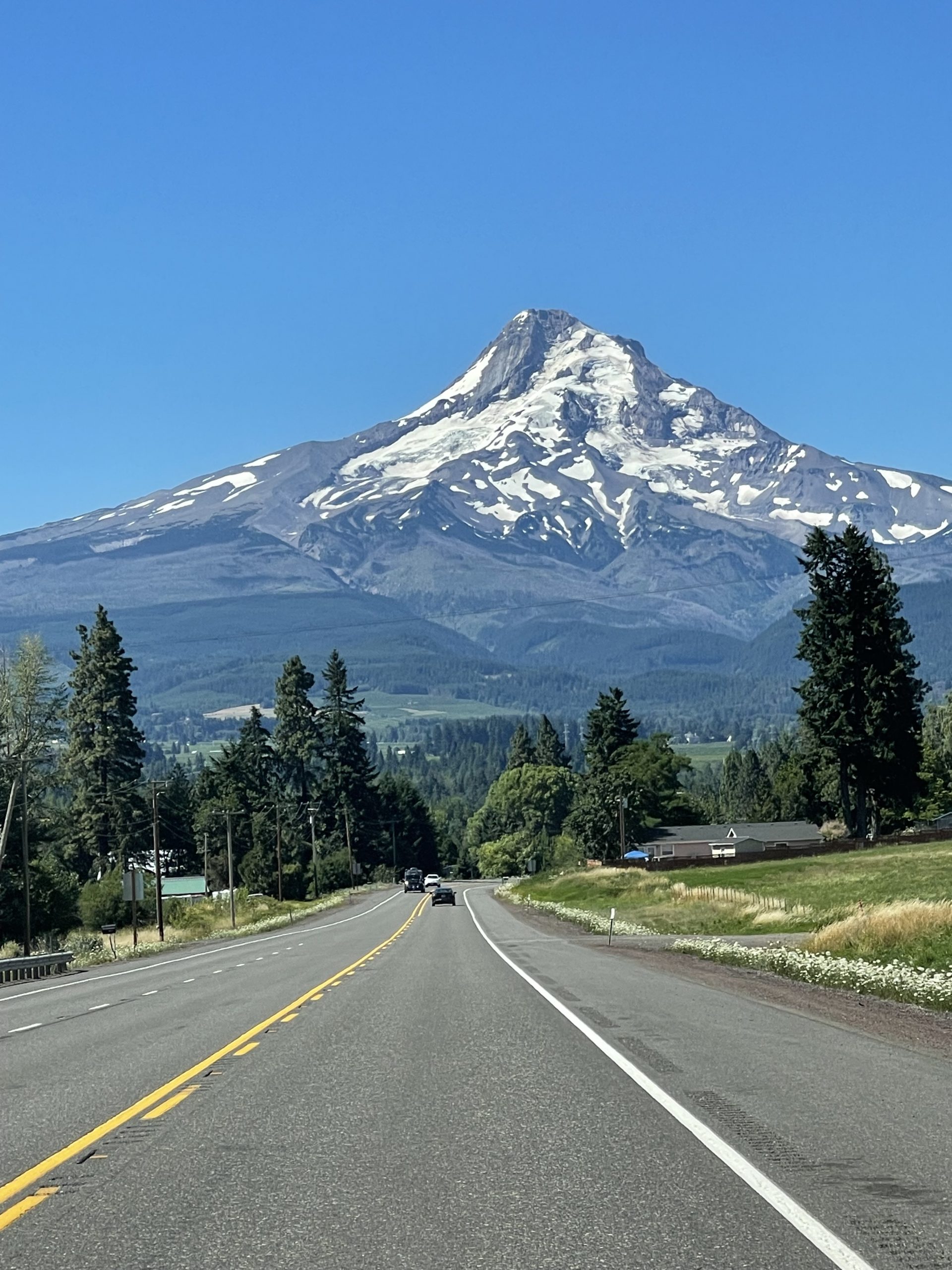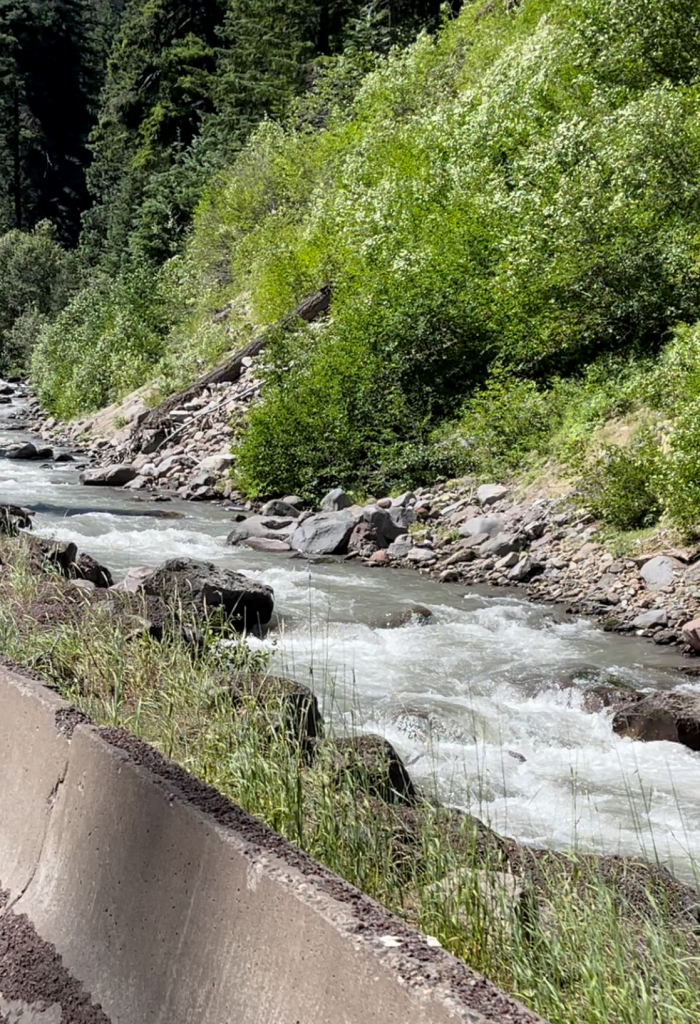 We turned on to U.S. 26, heading south, which took us away from the remainder of Mt. Hood Scenic Byway curving northwest to Portland. This directional and road change also created a landscape change, that of which I wrote at the beginning of this post: "the climate and landscape can change almost instantly when driving through these western states."
Now we observed a different but equally striking view: Mt. Jefferson. Instead of appearing to be nestled in pines, as Mt. Hood had been, it stood beyond dry ground – miles and miles of dry, rocky surface – in all directions. Mt. Jefferson, in the next 100 miles, left our sights, as the dry ground became hammered into palisaded cliffs. As we travel, if I have cell coverage, I do a bit of research about the area we are traveling through. We are now in the middle of The Confederated Tribes of the War Springs Reservation of Oregon. (Click here to read more about this reservation.)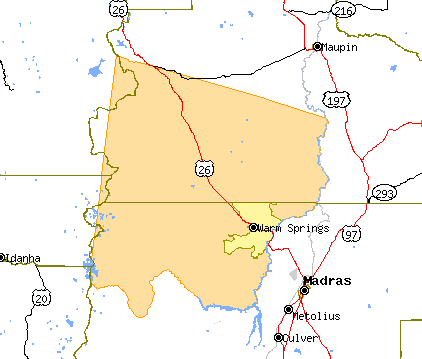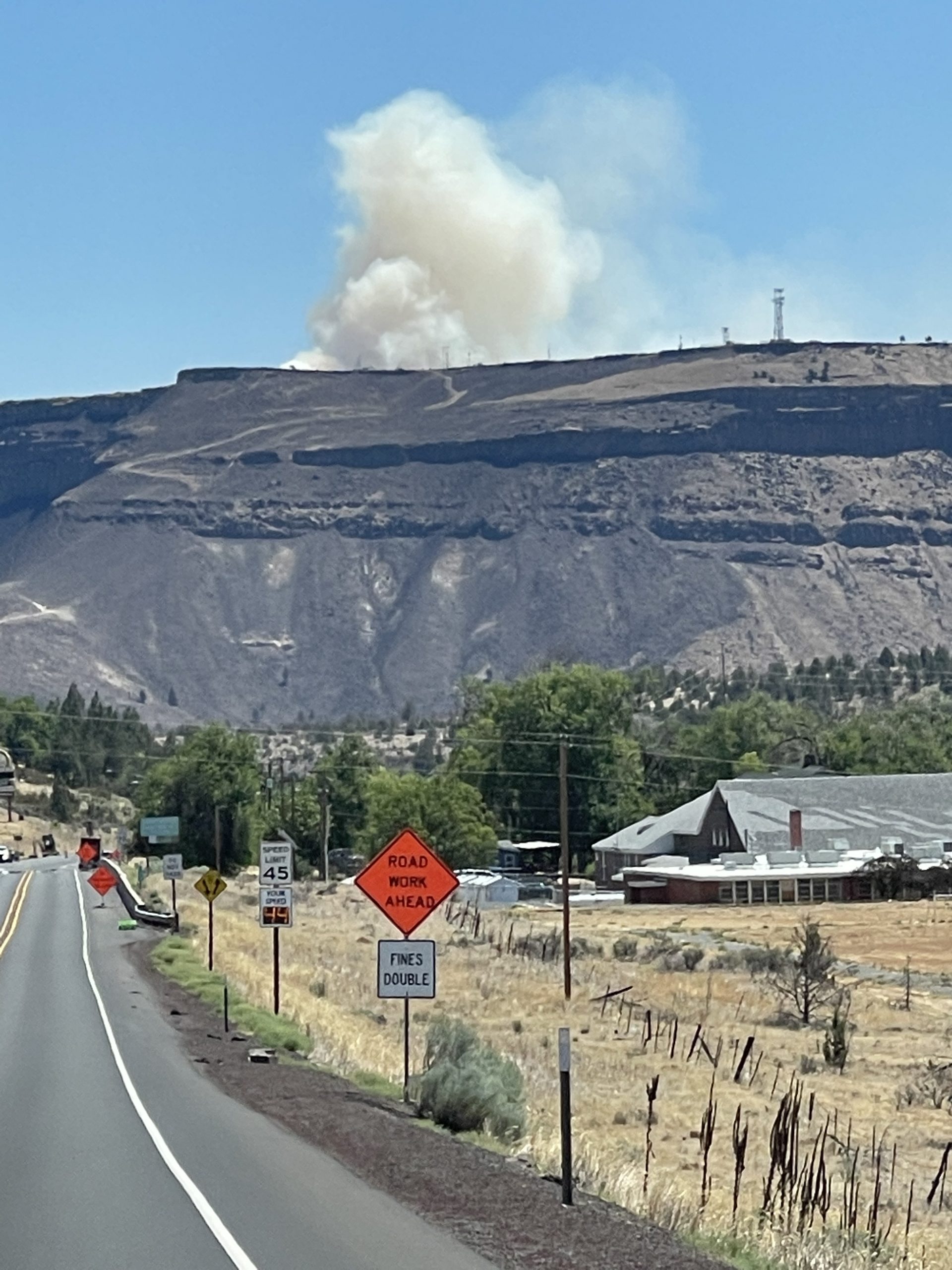 I read that typically, the summers are not "hot" here, but today most definitely was. Hot. Over 100 degrees hot! My fears of pulling the travel trailer around curves above steep edges, in windy areas, and 6% grade descents on hot pavement quickly returned as we neared Warm Springs, Oregon. (Click here to read that previous post: #10 Mountain-Size Fear) Thus, I was quite relieved  when we finally went through West Springs and Madras and turned west at Redmond.  I had become accustomed to looking at the triangles on the map, indicating mountains, by this time having learned that the mountains and their passes surely meant sharp curves and a multitude of ascents and descents! This next route had plenty of both mountains and passes! I wondered what lie ahead between us and the coast. But I was pleasantly surprised.
We were passing through a stunning range of the Cascades, viewing not only Mt. Jefferson now, but Black Butte and Three-Fingered Jack to the north and Three Sisters and Mt. Washington to the south. 
Pause the website music for the video. Use full screen, if possible:
Sage brush and rocky ground gave way to irrigated hay fields. Flat ground soon gave way to mountains.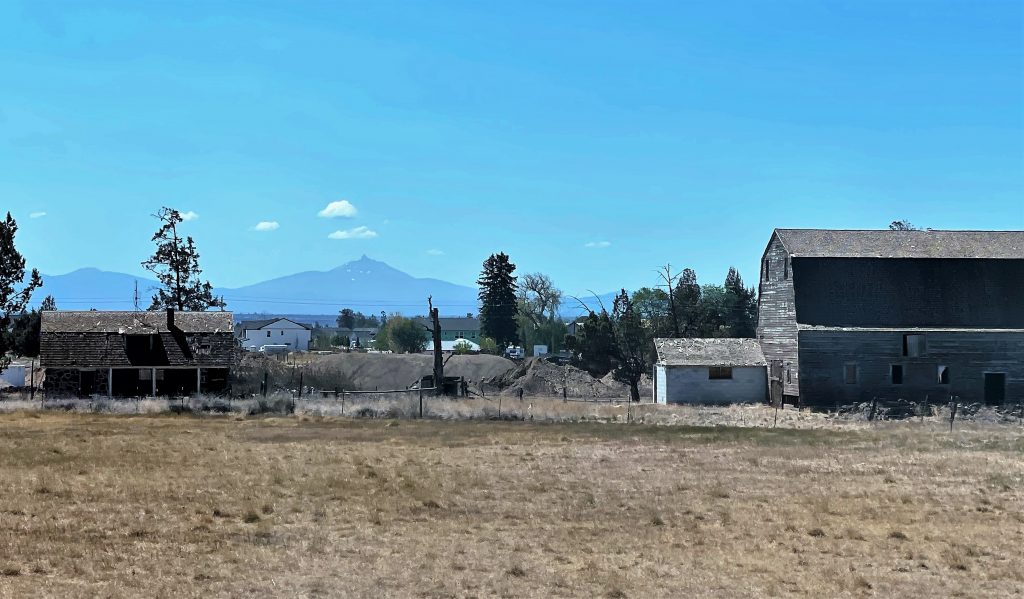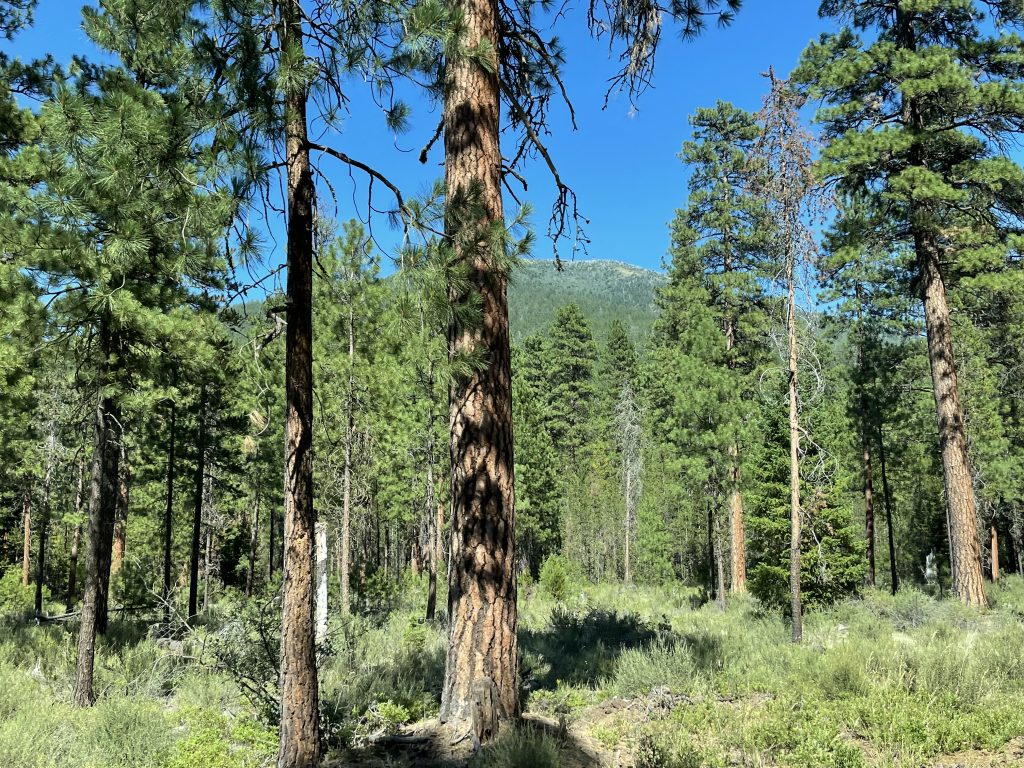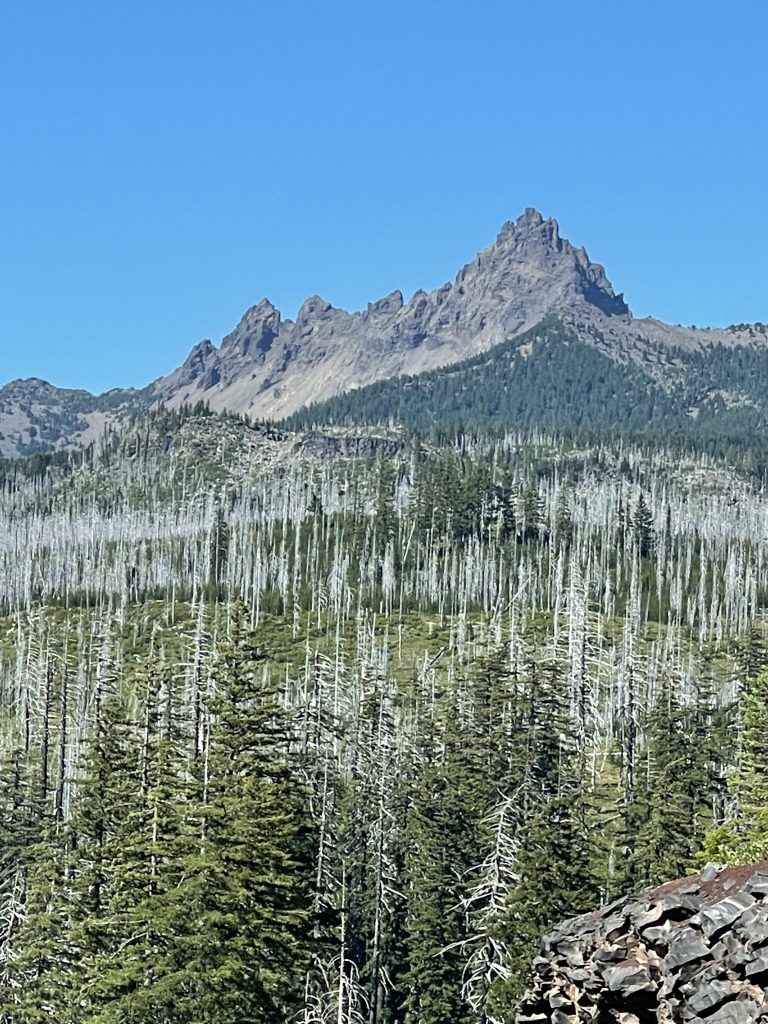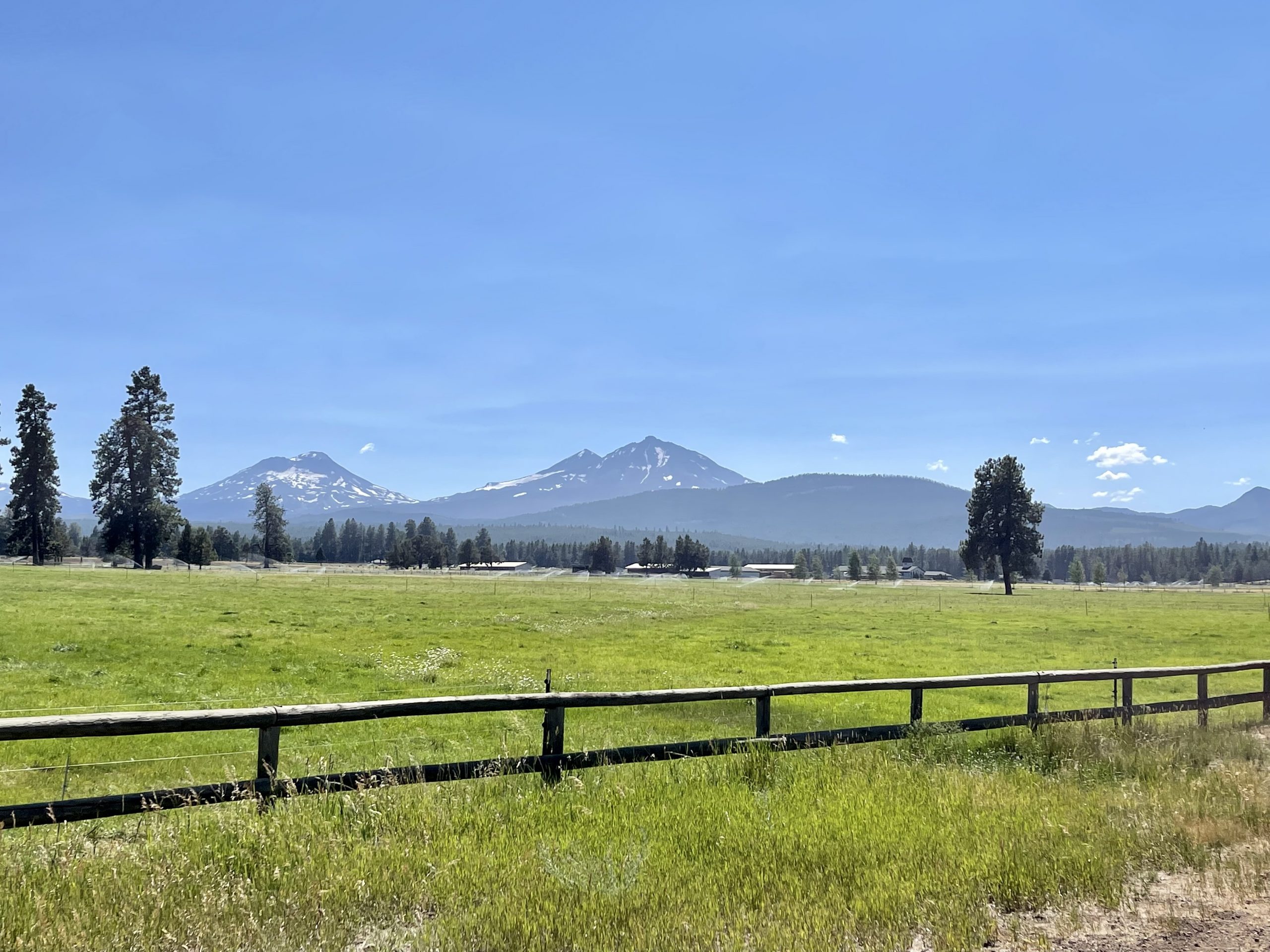 The mountains had one thing in common with the dry buttes we had traveled through earlier: evidence of wildfires. But in the wooded mountain range, the evidence remains for years. Burnt, charred trees and landscape revealed the  large wildfires of 2007 and 2011 – and smaller ones as recent as a month before we traveled through.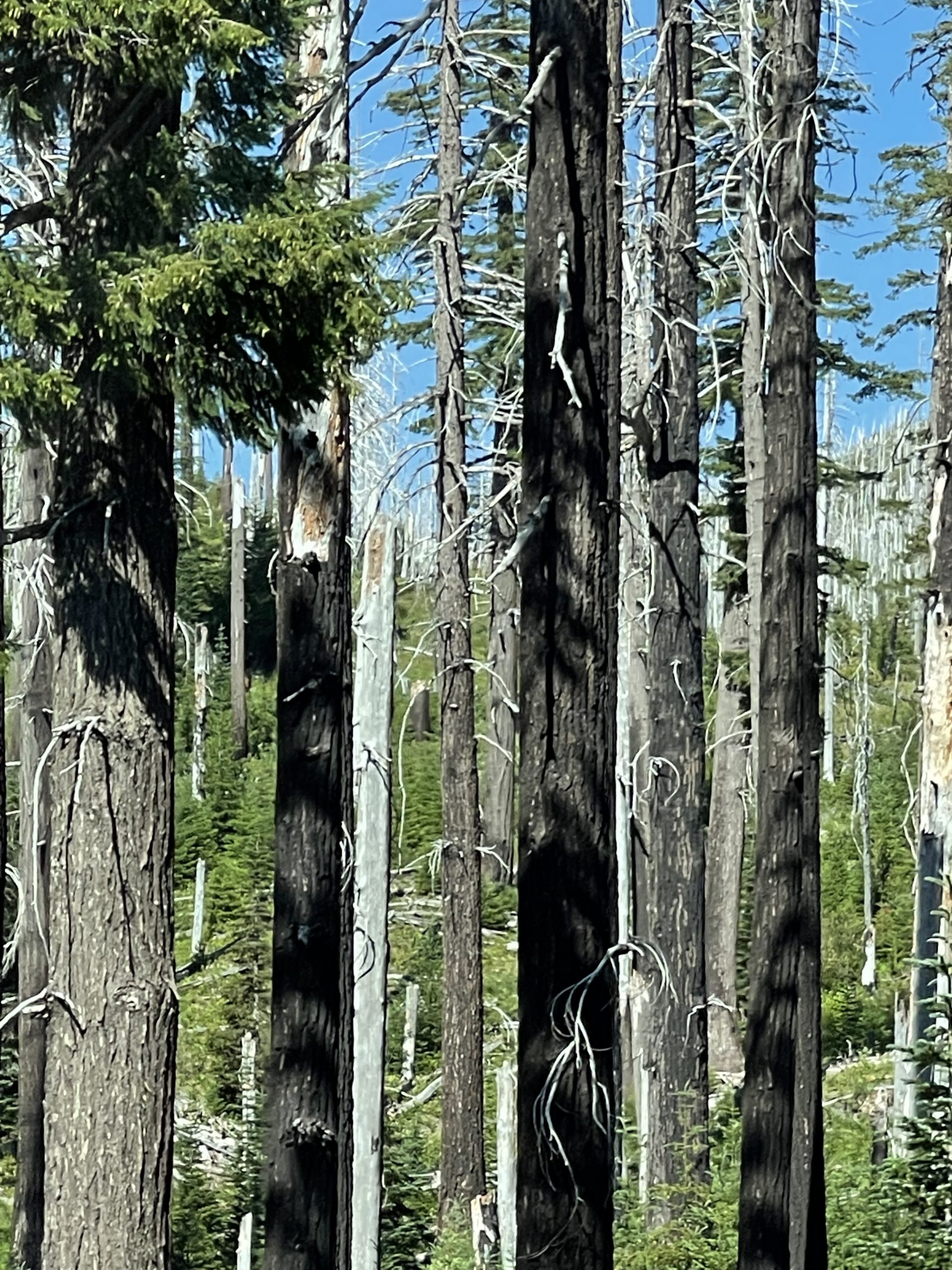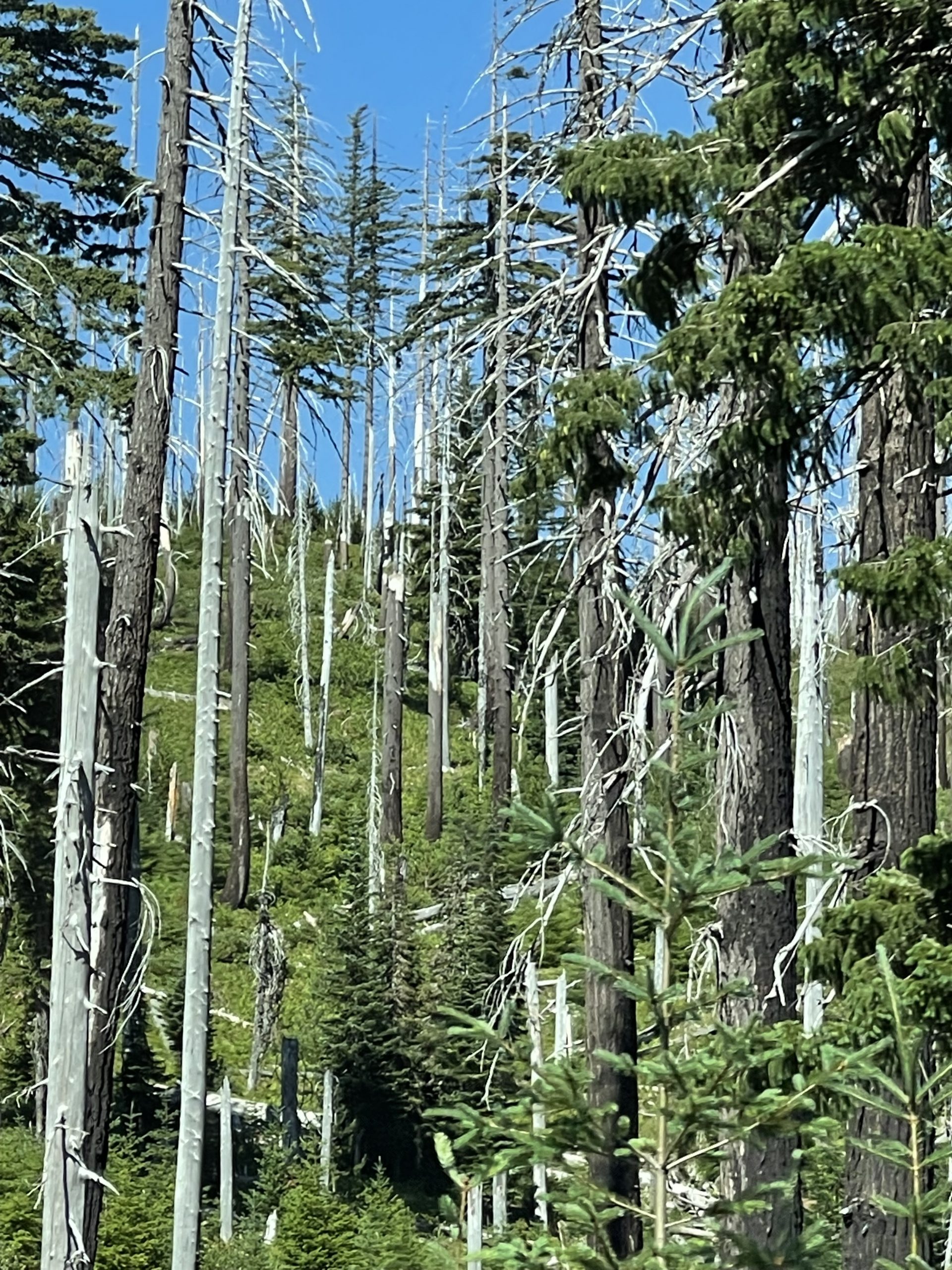 (I hope you're enjoying the background music on this site. )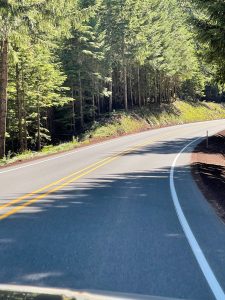 I discovered that a pleasant drive through the Willamette National Forest lay ahead; Yes, it was filled with curves and ascents and descents, but each was surrounded by sunlit green forests – not steep cliffs dropping hundreds of feet beside me. This last stretch we covered today was Highway 20 – the same Highway 20 that runs 2000 miles east through Angola, Indiana, just a hop, skip, and a jump from our Michigan home. Once again, I find connection with the rest of this great country in which I live.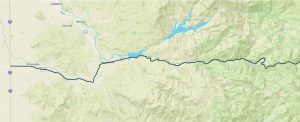 This scenic highway is called Over the River and Through the Woods Oregon Scenic Byway: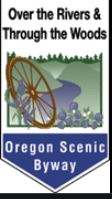 Its very name denotes beauty, pleasant memories, a peaceful future. It is beautiful – this route through the wonderland of The Willamette National Forest. But my new life in Christ is even greater. It's the byway that takes me home. And this new life – this beautiful route – can be yours , as well. Click here to learn about that new life in Christ.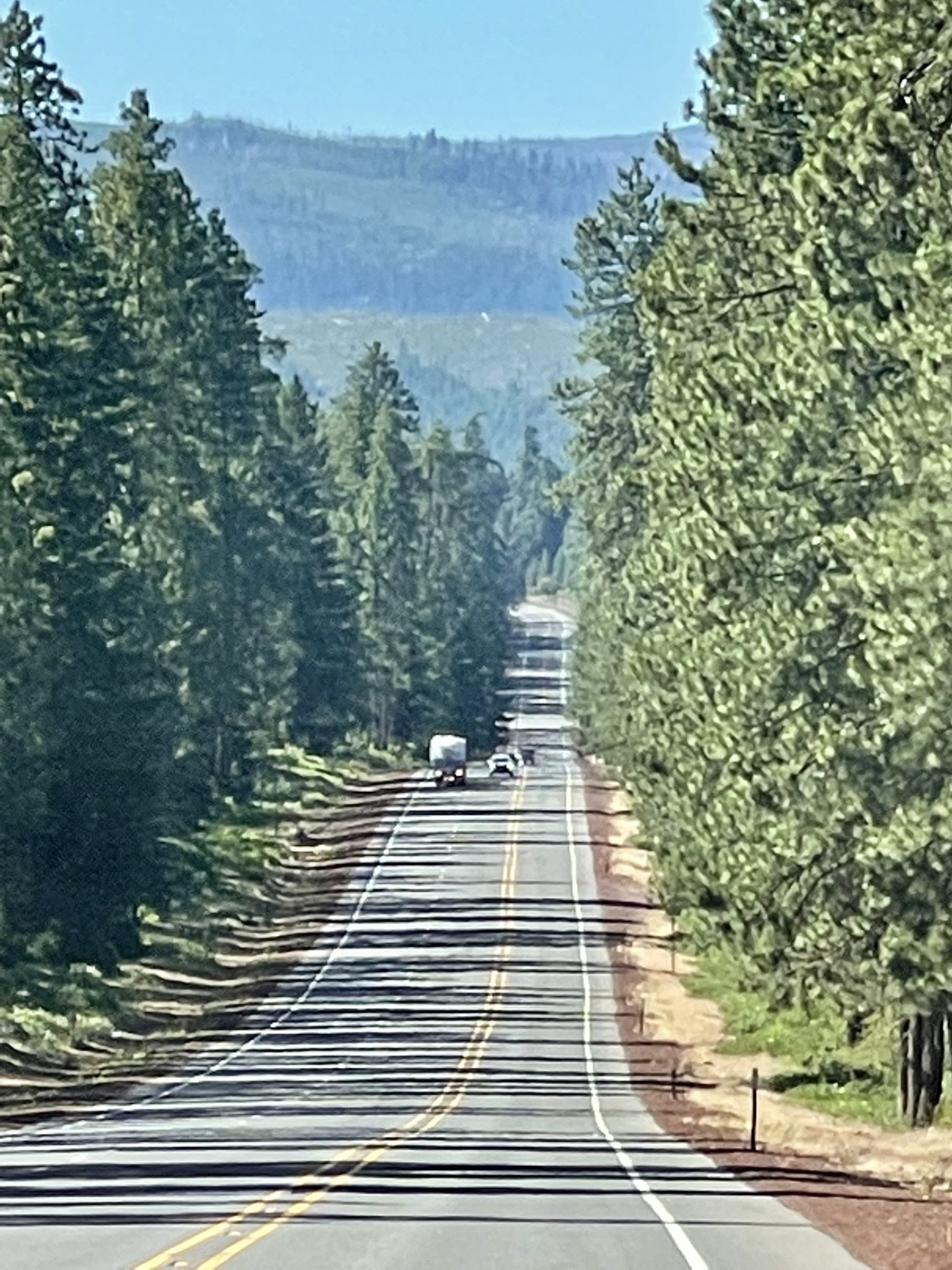 Life is like today's drive – always changing – bringing dry, rough patches – frightening ups and downs – but then times of refreshment. 
We are battered and destroyed – often by our own choices. But our loving Father is waiting, desiring us to seek Him, wanting to restore us to Himself. 
The burnt landscape is
– but a reminder of our lives before Christ 
– or of the damage of our own destruction 
– or the pain and grief the world has brought us.
The new growth arising through the rubbled ground and the freshness of the green, sunlit forests is
– the new life He offers us when we become Christians.
– Or for those of us who are Christians, it's the restoration He brings when we turn back to Him after wandering. Or the comfort and peace He gives when we've been hurt by the world.
We must keep traveling forward:
. . . focus on this one thing: Forgetting the past and looking forward to what lies ahead.

Philippians 3:13
Enjoy this short video:
Please contact me if I can minister to you – speak to your group. Click here.
Click here to read the next post,#16 Reaching the Pacific Waters – and Unleashing Water into the Campground!