We drove just a short distance into California before gps instructed us to turn east onto Highway U.S. 199 toward our destination campground. I had booked three nights here, which I thought gave us two full days to go into the parks to see the beautiful Redwoods: our purpose in coming to this southernmost point of our journey. I assumed we would reach our campsite, set up, and visit the parks the next day, but . . . once we made that turn onto U.S. 199 . . .  we were already IN the Redwoods: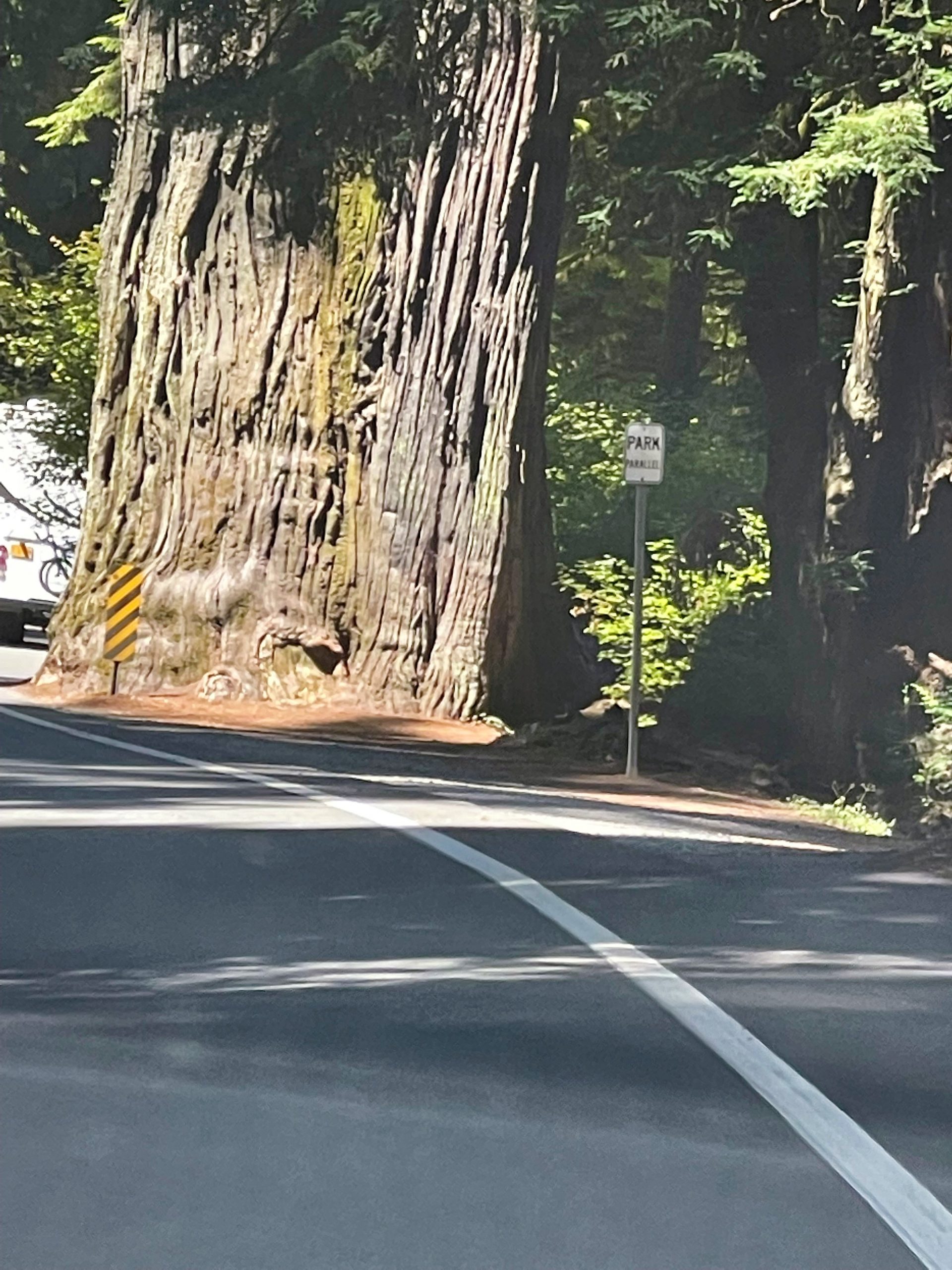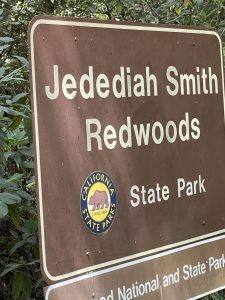 This Highway was cut through the forest – around and between the giants – every turn and curve was jaw dropping. We were in awe of this place!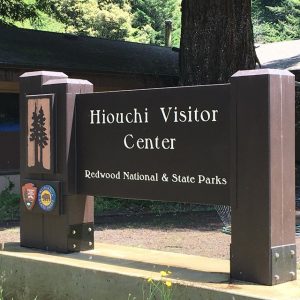 We passed the Visitor Center, which we would visit the next day, where we would not only gain information but I would buy more gifts for the younger grandchildren. 
Even our campground was surrounded by Redwoods!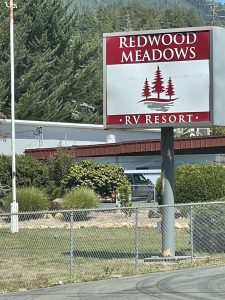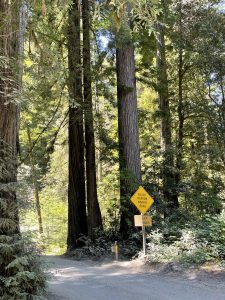 Sometimes, even I am speechless, which was the case for the next two days. You know how it is – you take photos and you show others – and you add, Well, the photos don't do it justice. It was much larger. Or prettier. Or brighter. The photos just couldn't display what you actually saw. Viewed. Absorbed. Several times I asked God  to keep these images in my mind forever. Neither Ron nor I wanted this discovery to end. It was lifechanging. 
Our Redwood Forest Adventure began with a 6-mile drive through the Redwoods on "A dirt road where the Redwoods kiss your car," as the nps site describes it. (Click to learn more.)   Yes, the Redwoods kissed our big black truck, and I reached out the window and kissed them back. It definitely was an immediate love affair.
 Howland Hill Road originally was a stage coach road! The drive alone normally takes an hour or two along the edges of the trees – sometimes wide enough for two cars – other times only one vehicle can slip through. People take turns. No one is in a hurry. In fact, you rarely are conscious of anyone else – because you are in awe.
It took us much longer, all morning, in fact, stopping along the way to hike deeper into the forest, trying to embed visions of these monstrous groves deep into our memories.
And into the forest I go

to lose my mind and find my soul.

~John Muir
At first we seemed to play the "big, bigger, biggest" game, amazed each time we saw a tree bigger than we'd seen before: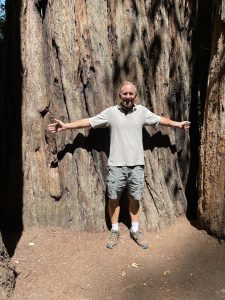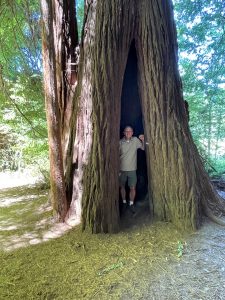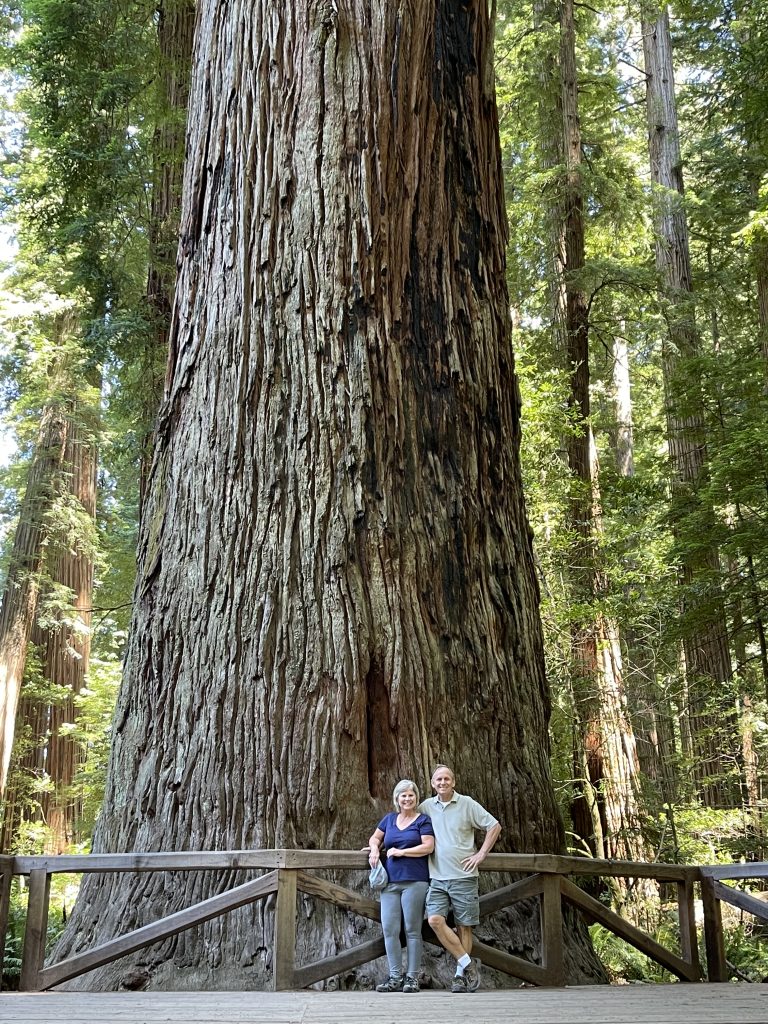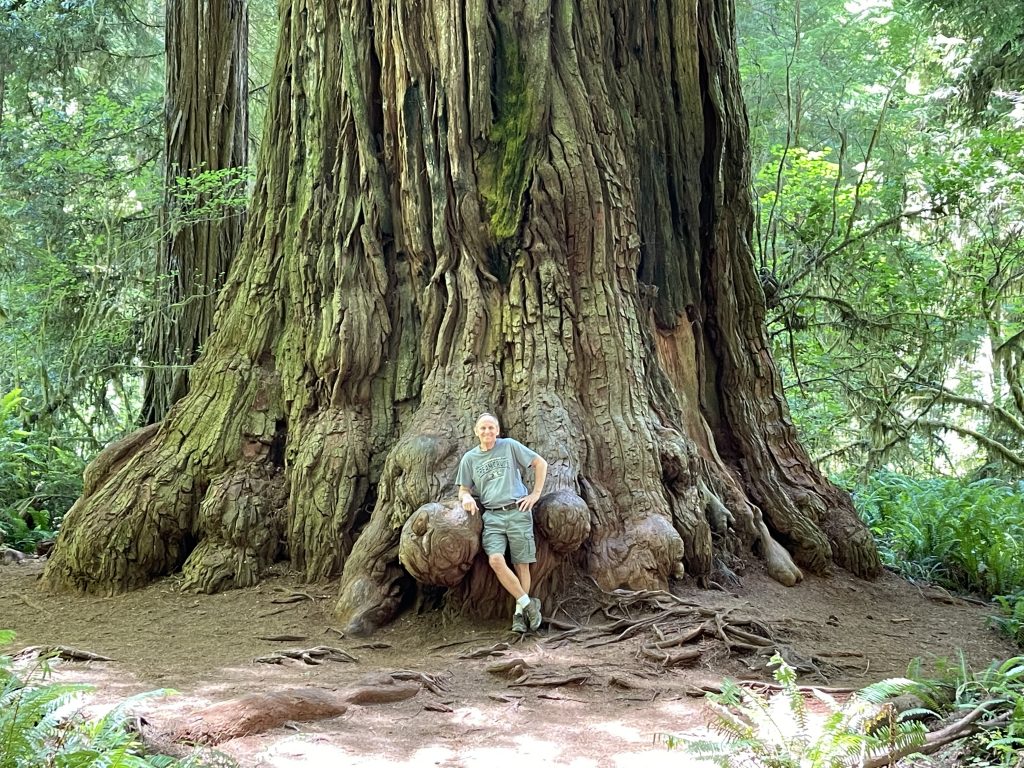 But the next two days really wasn't about the size of the Redwoods. It was about the Forest itself ~
~  walking among the 1000-year-old giants.
~  banana slugs and moss and plants and ferns as tall as a man.
~ discovering connections between the past and present – between the east and west – between myself and this forest.
And . . .
It was about gaining new insight into the importance of roots – yours and mine,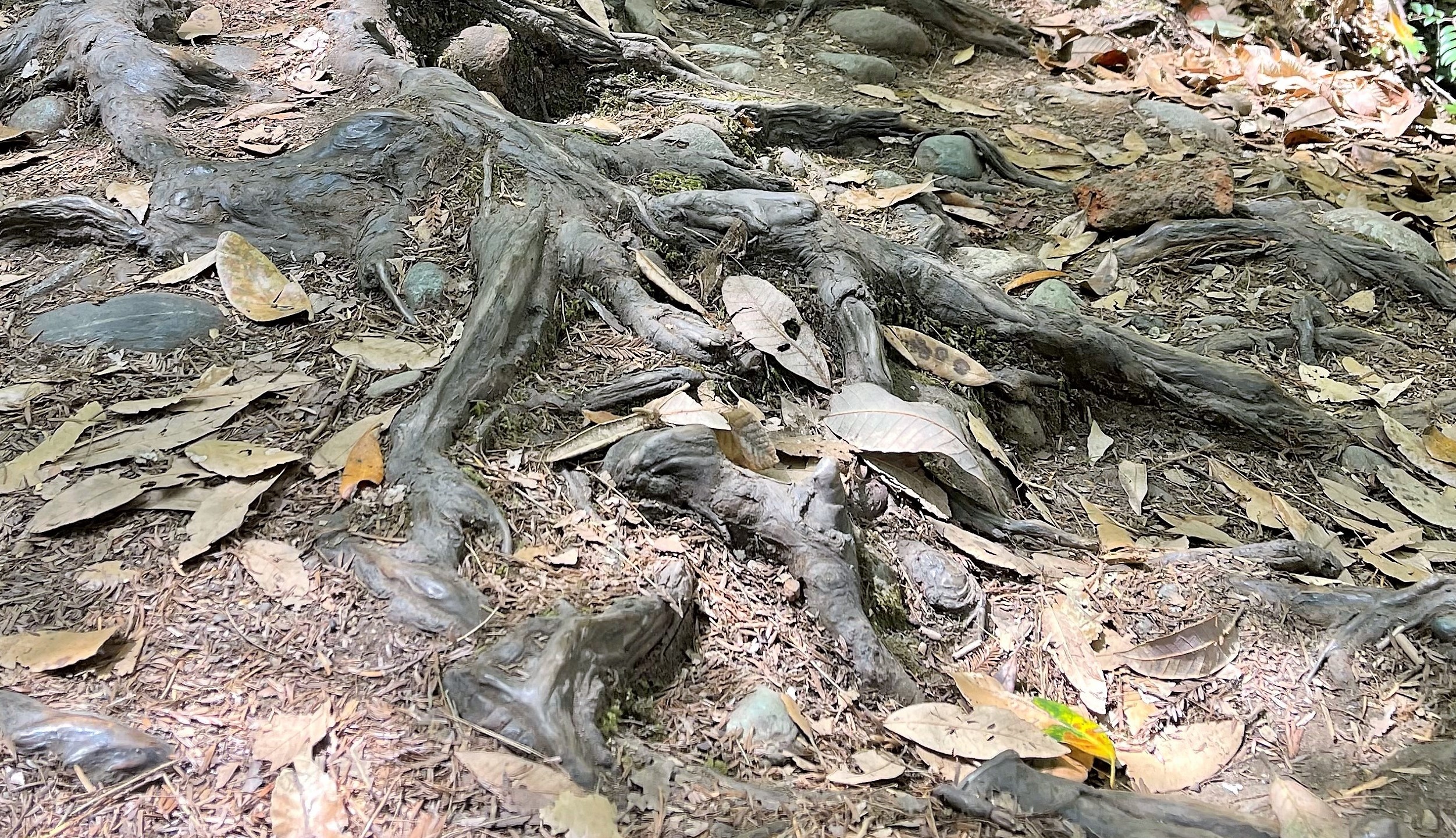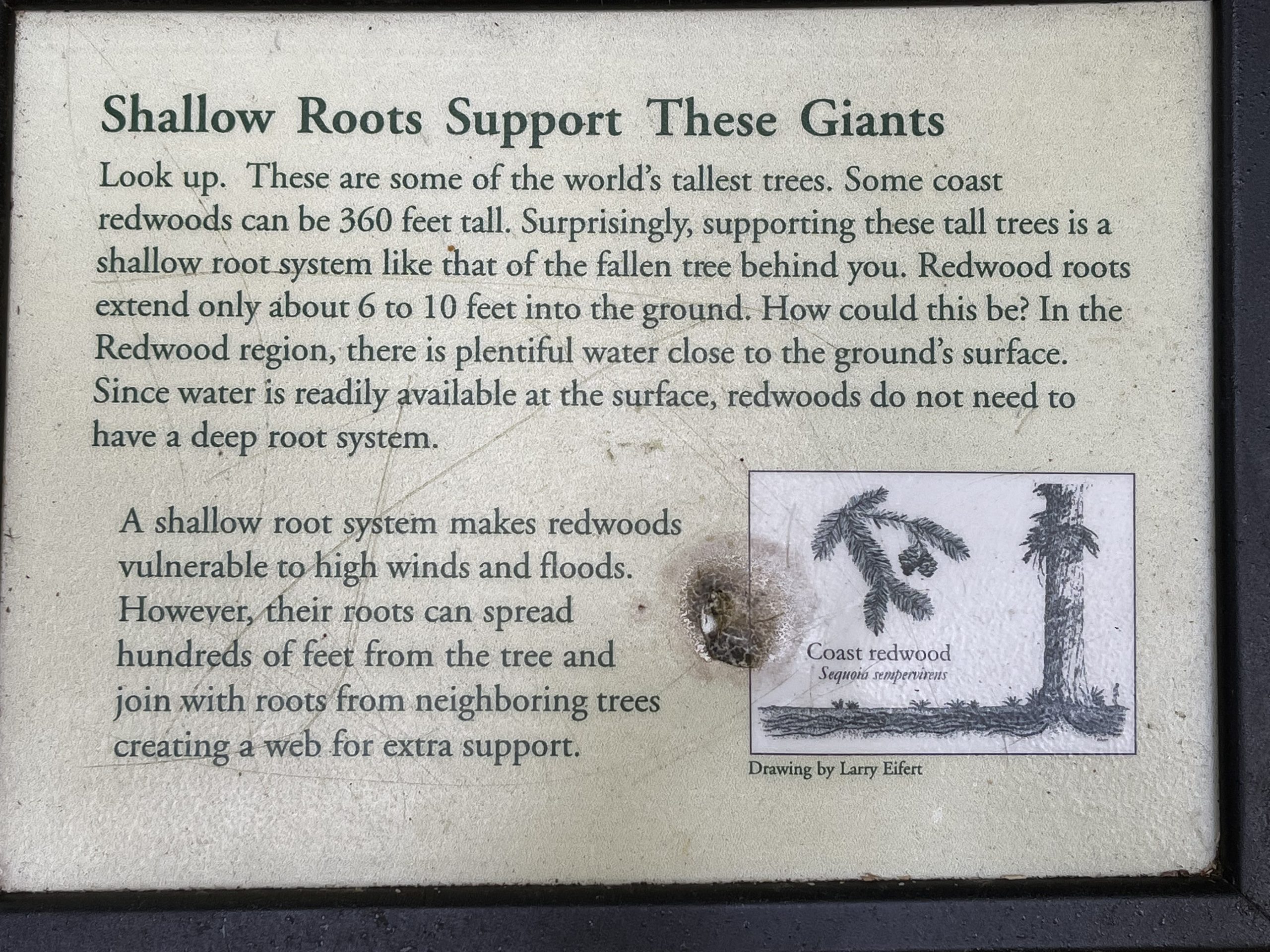 If you've followed my previous posts, you know I've contemplated the value of our roots being deep. See post #7.  Today I learned about the root system of the Redwoods, and it quite surprised me. They have shallow roots! In Michigan, we know it's important for trees to have deep roots in order to obtain the water they need, but here, along the west coast, these monstrous trees get all the water they need close to the surface of the ground! There's quite a difference in the climate and the geological features of this area compared to that in Michigan!
When Ron and I built our home in Michigan years ago, Daddy helped Ron  transplant trees, usually the size of broomsticks, from the woods into our yard. It was important, he said, to dig deep enough to keep the "tap root," intact so that the tree might remain upright and be stable in the wind. But now I discovered that these huge Redwoods have no "tap root." I wondered what keeps these huge trees upright in the wind and the storm, especially in this windy area. I soon discovered that their roots, although shallow, are widespread – sometimes extending 100 feet in all directions, and always intertwined with other Redwoods. They have tremendous stability – because they are all connected. They literally hold each other up. 
What or who holds you up? With whom are you connected?
A lot of memes go around Facebook and Instagram about getting rid of "toxic" friends and surrounding yourself with "true" friends who stick with you and support you. That's good. But we believers have even greater instruction!
The Bible instructs us believers to be connected with each other – to hold each other up: (see references at end of post)
". . . encourage one another
. . . build each other up
. . . encourage each other with these words
. . . look to the interest of others
. . . let your talk be helpful for building others up
. . . pray for each other
. . . forgive each other
. . . be kind, tenderhearted to each other
. . . talk with each other
. . . bear with each other
. . . carry each other's burdens
. . . meet together with others . . ."
There are a lot of "each others, " aren't there? And they're all referring to believers. God knew we needed each other – we needed to be connected and hold each other up. In fact, the very instruction of meeting together with others is so that we might encourage one another. (Hebrews 10:25) We are brothers and sisters in Christ, and as the body of Christ, our roots must connect – gathering in church – or Bible Study – or worship – with other believers. Intertwined . . . 
. . . like the Redwoods!
There's something special

about the body of Christ.