My soul sank deeper each day. Into a place I recognized but didn't want to be. I tried to find a different place, a place of happiness, a place I hadn't seen in over six years. But I couldn't find it.
There is a place of joy. I know that place. It is pleasant place and one which sustains. My soul, protected by my comforter, the Holy Spirit, exists in that place of joy. It is His promise. I don't have to do anything to attain it. It is mine. But joy is quite different than happiness. I know.
The days passed. The weeks passed. The years passed. Until the point I could barely remember that place of happiness, that place I yearn for.
And recently, for a short time, I began to lose hope – the hope of healing for my grandson, the hope of peace for my family, and the hope of happiness once again.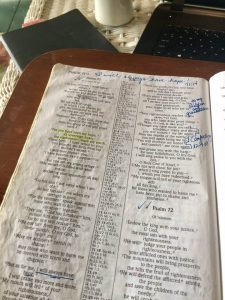 One morning last week, I looked at my Bible, open from the night before, where I had been studying Psalm 73, reviewing and remembering God's goodness in the midst of the oppression in the world and His faithfulness in holding my right hand and guiding me.
But that morning my eyes were drawn across the page to notes and highlighting made throughout the years, of chapter 71. My eyes fell upon the words I had written:
I will always have hope!

Psalm 71:14
And then He reminded me, as He whispered to me through His word,
"I am your hope, Kathi, and I have been since your youth. Even when you are old, I will not forsake you. I want you to reaffirm me to your children and to your grandchildren. Though you have troubles, I will restore you and will lift you up. I will restore your honor and will comfort you. Always have hope, Kathi, always have hope." Psalm 71
And once again, I was strengthened by His Word. Not by my doings or by happenstance, but by His Word. I remember His faithfulness in the past, and my hope is renewed for the future. My joy is in the Lord and His faithfulness. My hope is in Him – the hope of healing, of peace, and of happiness.
The whispers are not for me alone; the whispers found in His Word are for you, my friend. You'll find them in His Word.
Let the message of this song speak to you today.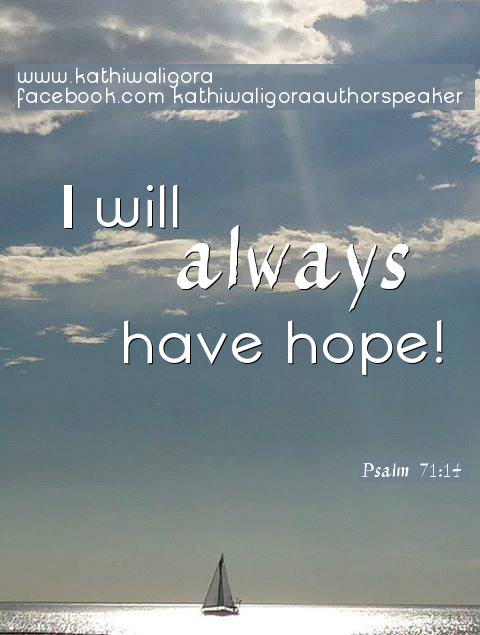 Click here to order Kathi's book, When Life Roars, Jesus Whispers.