On Sunday, the day before the sentencing, the kids spent the afternoon visiting their parents. Before they had to separate and say their goodbyes, from a distance, we observed Amber and Jesse seriously and gently talking to the children. Later, we learned that they were explaining that in the morning, they would likely be sentenced to jail.
I was uncomfortable, knowing they were speaking about jail. I hated the word.
But I had begun to trust our sweet Amber and renewed Jesse, and I had also began to trust that as parents, they knew best for their own children. It was with anxious hearts that we tucked our children into bed that night, and with tender souls that our children prayed for their Mommy and Daddy and for the sentencing to take place the next day.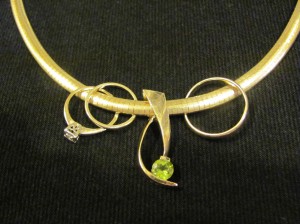 Monday, November 19 arrived. It was a most difficult day for us all. I wore my mother and father's wedding rings on a necklace chain around my neck. The rings lay close to my heart. I was glad my parents weren't physically there, to see and feel my pain, but so glad their rings were close, for their rings, once a symbol and a promise in their marriage, were now a symbol and a promise of their commitment and fidelity to me and to my family. It was a reassuring reminder of the heritage in Christ they had begun and which now continued in our family, finally including our once-wayward Amber and Jesse.
Ron drove the kids to school but of course didn't go on to work, as usual. Instead, he came back home, where we prayed and then drove to the court house. . . .
(Excerpt from When Life Roars, Jesus Whispers)