"How glorious a greeting the sun gives the mountains!" ~ John Muir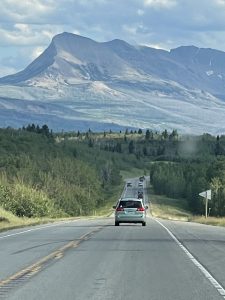 The sun gave us a glorious greeting the morning we drove into Glacier National Park. I had cried when I first saw the mountains from the distance yesterday; I cried when we drove Highway 2 around the south side of the huge park; and I cried when we entered the park this morning. All cries of delight.
(Click here to read yesterday's post.)
Ron and I talked about our parents, four wonderful people, who have all passed now. We knew they would love this vast mountain range we were entering, but for whatever reasons – various reasons – life itself – they had never made the long trip. We decided we were doing this for them, as well, and it felt as though our souls were a bit fuller this morning.
As much as we enjoyed the drive thus far – the green forests of the Upper Peninsula, the south shores of Lake Superior, the vast fields of wheat and hay and canola, the buttes, and the prairies themselves – this day seemed to be the peak – no pun intended of this part of our trip.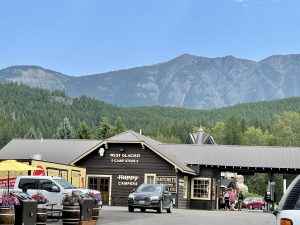 West Glacier welcomes the visitor with the touch of Alpine one could only hope for. The line of cars and the number of people are significant but not crowding.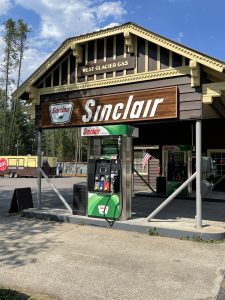 It is the true northwest, and tradition and history of generations of nature and of people penetrate the atmosphere like a mist.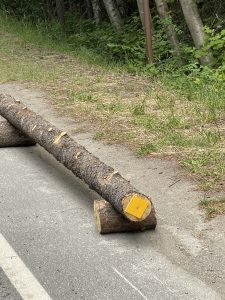 Again, I'm listening to a story – told by nature itself and the people who have heard it and now share it. It's a story to which I eagerly listen.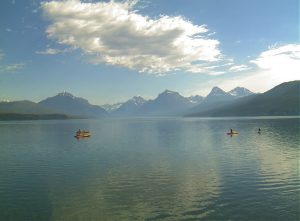 We drive past Lake McDonald, the largest lake in the Park, and certainly the longest, spreading nine miles – nine miles of sheer beauty. This road is lakeside, and we are looking across the aqua blues of its enormous depth, viewing various ridges once destroyed by wildfire but now rejuvenating themselves and teeming with life – continuing life – just as Ron's and my parents' lives continued in us and are reflected in our children and grandchildren.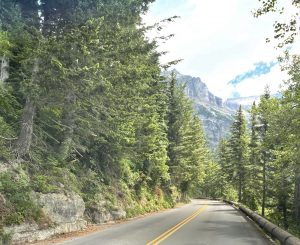 We see trails and lookouts and we sense the presence of first nation peoples who walked this land and lived off this land.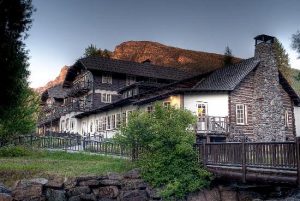 We pass the beautiful Lodge, the structure and design unchanged since its beginning.
And we begin to slowly ascend the sides of these mountains, each turn in the road revealing plush green valleys with turquoise rivers running through them, some of which we drive beside. Water flows from streams on the edge of steep green mountains, snows still melting, glaciers slowing dying. We stop as often as we can to capture each mural scene, trying to embed it in our minds, as my 12 Pro Max is unable to digitally duplicate.
The water flows in streams beside us. The water is turquoise. I would love to drink from these rocky, cascading streams.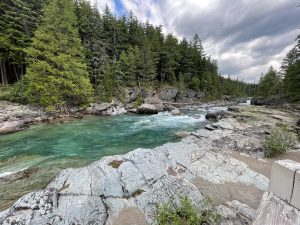 A pull off allows us to stop and take in such beauty as I have not seen since I visited the Swiss and Austrian Alps so many years ago.
Water streams the mountainside from thousands of feet above. A deer wanders close by.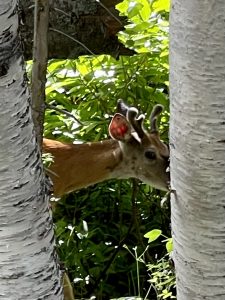 This deer is more golden than those in Michigan.
We climb. And we climb. And we climb. The pressure builds and our ears pop.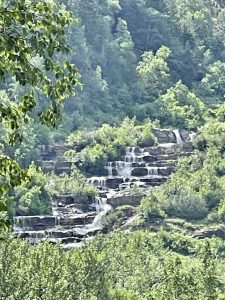 We have travelled all this time on "Going to the Sun Road," but now we read a sign: No passing for the next 12 miles in the Alpine Area.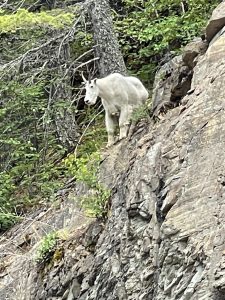 At one pull-off, Ron has spotted a white Mountain Goat on the rocks quite near. The mountain goat stares. We stare. We feel blessed to see this wild creature so closely. I take many pictures and a video or two.
At another pull-off, we stop and look. Gaze. 360 degree views. I see people moving very high up the mountain on my right. I can't imagine how anyone could ever get up that high. They're on the edge of what appears to be a trail. I tell Ron, "I hope that's not where we're going!" But as you can imagine, we are going there! We will later look down from that spot to this.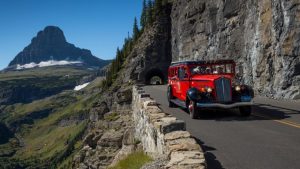 I love the red bus. It is nostalgic of days gone by. Because  the sun is shining, the top is uncovered, like a convertible. I wonder if these people are holding on for dear life like I am.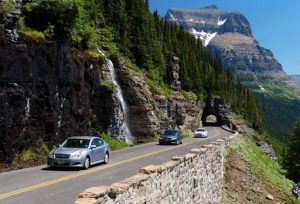 The road becomes narrower. The rock mountain is so close to my open window, I think I could touch it. The pull-offs are now all on Ron's side, at the edge of the mountain.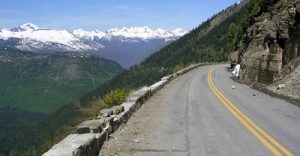 The manmade rock border is only one rock deep in spots. Sometimes maybe 8 inches high. I am so glad we are on the mountain side of this steep winding road. We never know what is around the next hairpin curve. It is always beautiful, always displaying more and different mountains, sunshine from varied angles – always more of God's glory. Even these mountains praise Him, I am reminded. It is quite humbling to be amongst these bits of creation.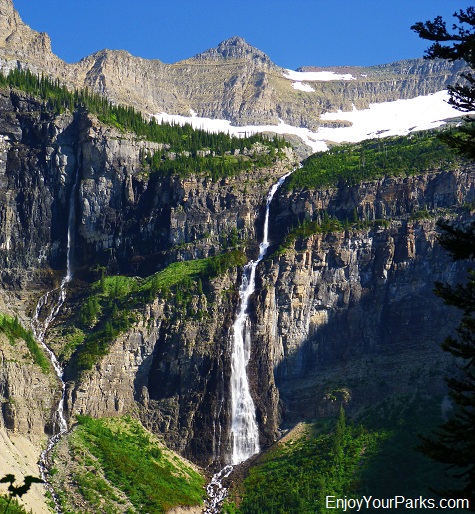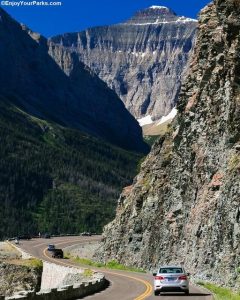 Suddenly we encounter what they call a switchback. Now, we are driving on the outer lane of these vast mountains and the signs reveal the greatest distance is yet to come. I often grab the hand support of the door beside me, pulling so hard I wonder if it will loosen the inside panel. I look to see my seat belt is fastened knowing it doesn't make one bit of difference. The viewing pull offs are always on the outside lane, as they could never be in the rock mountain wall, so we avoid stopping at most of them, although we had agreed to stop at each one!
We want to stop at Logan Pass – there is a Visitor Center there, and by this point, we'd like to step out of the truck and take some deep breaths. It is the only open, large area on this road. It marks the Great Continental Divide. But the parking lot is full. No more cars are allowed. Disappointed, we continue, nonetheless; I know that we are only halfway through this 50-mile road and this middle Alpine stretch. I know that we make the entire descent on the outer lane. I ask Ron to drive as though we are just creeping along. Well, sometimes I slightly scream, asking him to creep along and slow down, although he is not going fast. Our entire lower bodies are both needled with the fright of height. I wish we hadn't drank so much coffee earlier on the route.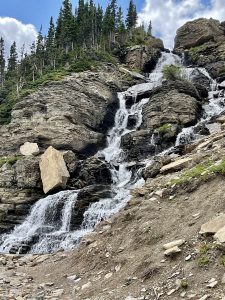 Still in the area of the pass, we are able to stop for a slight waterfall. We see the Weeping Wall, where water steadily drips off the mountain.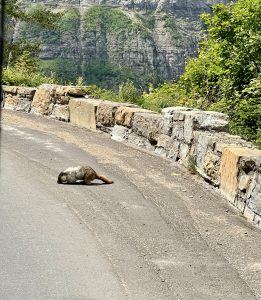 A Hoary Marmot crosses the road in front of us and lays flat, kerslpat, on the rock border rail. These furry creatures are quite common here. This one is yet unafraid of the occasional vehicle it meets.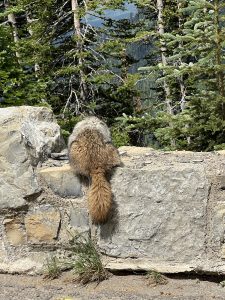 A family has stopped, their young teens standing on glacier on the side of the road. I am frightened for them.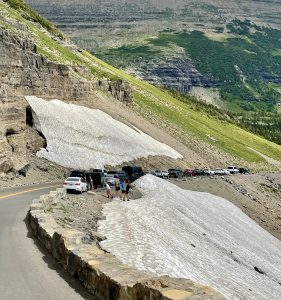 The road further narrows. We enter a tunnel.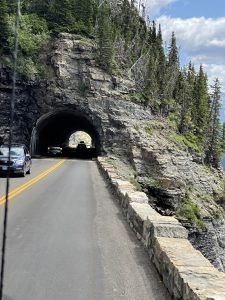 When I cannot bear to look out the side window, I aim the lens of the phone camera to the directions of the valleys below me so I can look at the view later! As I take videos, the view in my camera, draws me to the edge and makes me feel as though we are edging off the mountain.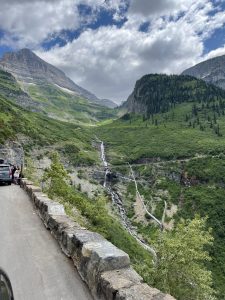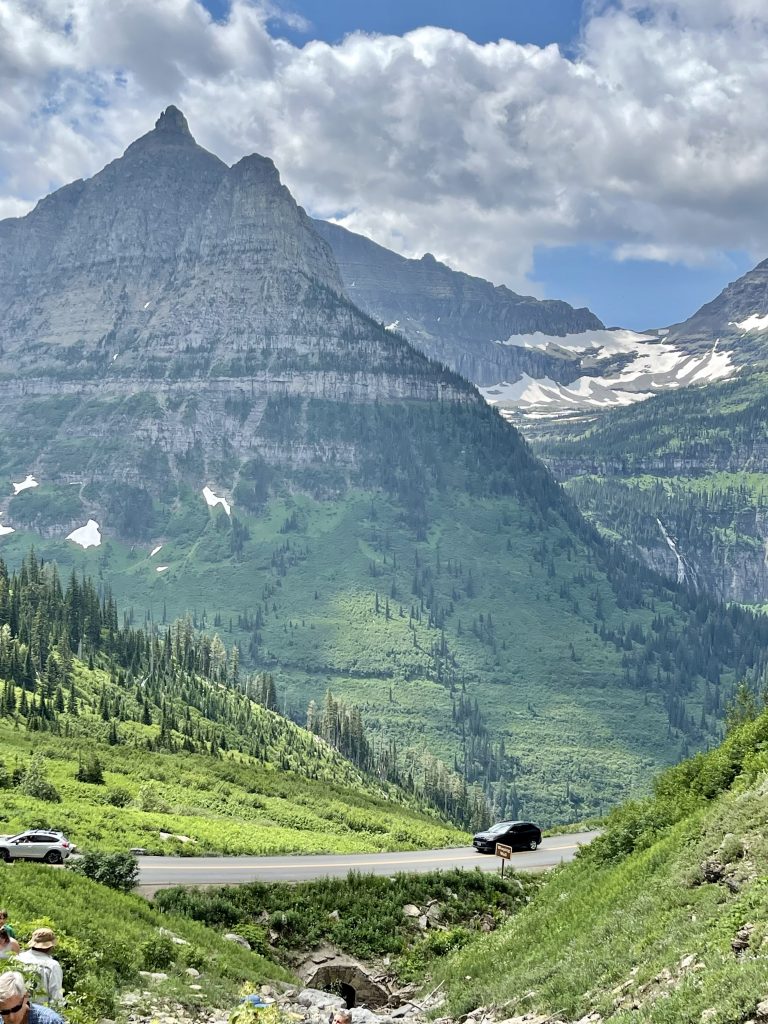 It is frightening but it is glorious to be on this road! Once we have completed the Alpine section, the remaining ascent is relaxing, and I breathe easier.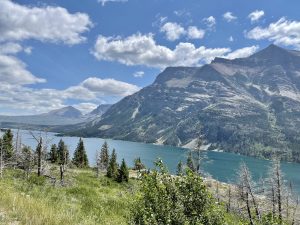 We drive past St. Mary Lake and I photograph its beautiful Wild Goose Island. The wild flowers and green plants of this beautiful National Park capture me. I want every scene, every moment to be embedded in my mind.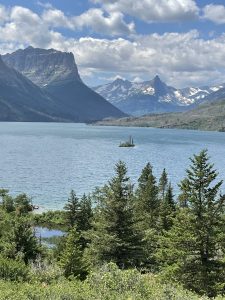 .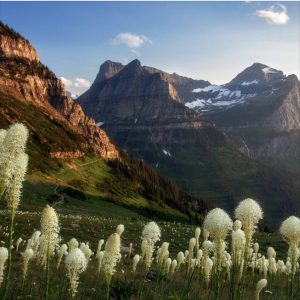 We have travelled from West Glacier to St. Mary. And the first thing we do is head for the rest rooms in the visitor center!
We have lunch at a mountain lodge restaurant with huge logs constructing the walls and a true grizzly encased in glass, with a printed story of her demise some years ago as she had been hunted because of killing numerous cattle and chickens!  I purchase a cute little stuffed wolverine for my grandson, Luke, who like the wolverine, is quite a fighter in this life.
We rejoice in our experience of crossing this vast mountain range on the road made years ago. Now we head further north and enter the park road to Many Glacier. This road is gravel and rough, under repair. We have many delays when we simply shut the motor off and wait, along with a dozen cars ahead of us and another dozen behind. Finally, the small road crew moves us forward. This continues a few times as we travel beside a mountain stream.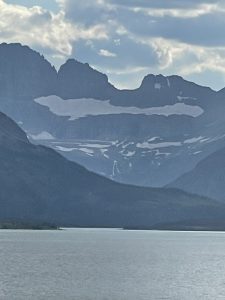 Then the road opens up and we see Salamander Glacier ahead and a large lake with some kayakers and canoes. It's a beautiful scene with an Alpine Lodge set in one corner.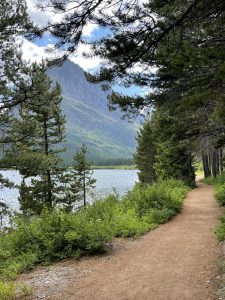 We drive the area and realize we are not prepared to hike here late in the afternoon. Unlike the state parks in which we have hiked, the trails here are not clearly marked, and I have not prepared us by researching trails, so we choose not to venture out at this time, and begin the drive back the gravel road. The traffic is stopped.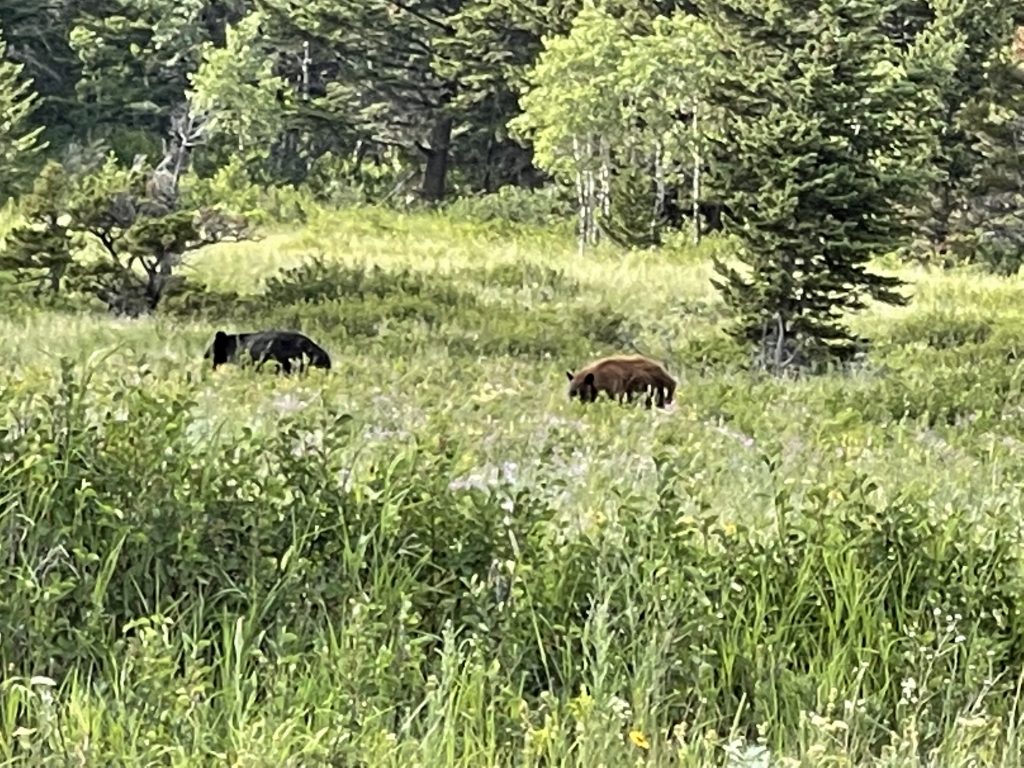 Two bears are browsing the meadow for food. It is a beautiful site, and I think I might cry with delight. The ranger tells everyone to pull off the road. I take a dozen photos and several videos. I estimate they are 50 yards from us. One is black and one is brown – both Black Bears. I have learned to differentiate Black Bears from Grizzlies.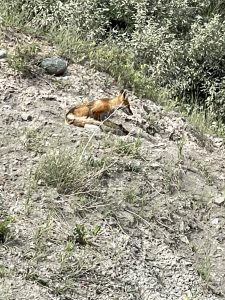 Further down the road, we stop for the repairs, and we see a beautiful fox. He seems to be sunning himself in the last remnants of today's sunshine. He is larger than any fox I have seen in Michigan.
We finally reach the end of the road, so very satisfied with our day, feeling a sense of accomplishment, but the most frightening, stressful stretch of our day yet lay ahead this early evening. . .
Click here to read my next post, #10 Mountain-Size Fear
If you haven't read my Travel Posts, Click here to start at the beginning! You can read all my posts on "Home Sweet Home" window.
Click here to read the next Post, #10, Mountain-Size Fear. Before you read "Mountain-Size Fear," you might want to see this lovely video, and be sure to see the map of Glacier below: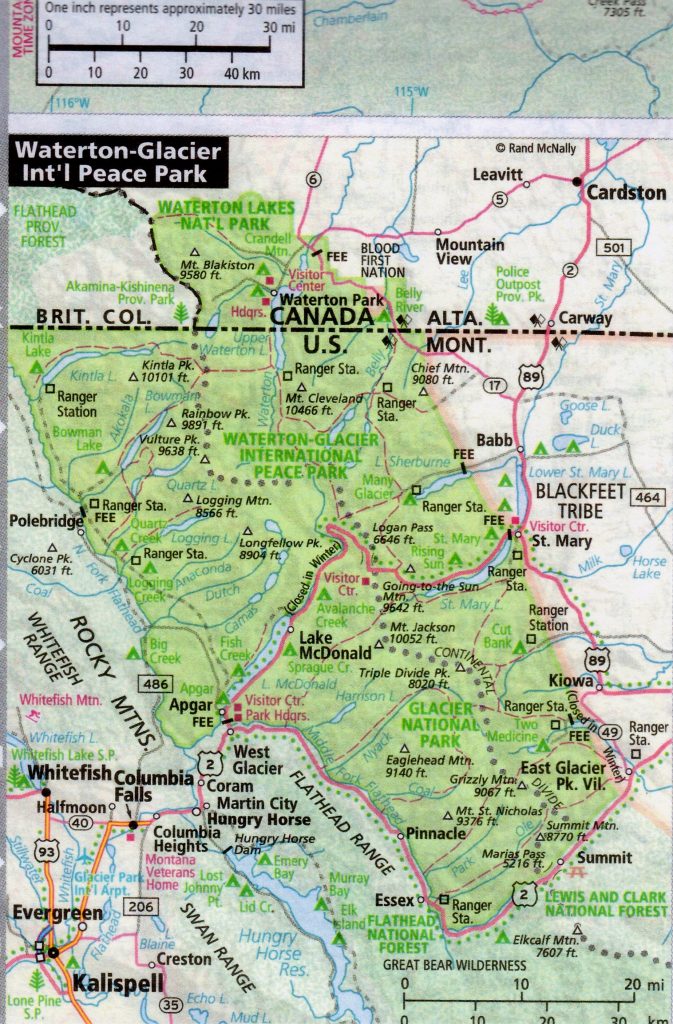 H