This is not your typical "Christmas letter." Instead, I'm opening up, which isn't always easy for me, sharing  a composition of my thoughts late in this beautiful Christmas season of this dreadful year of 2020.
First, I must clarify – every year is "blessed" – none can truly be "dreadful," if one is alive to tell about it. But we all know what 2020 has been, and it is not at all pleasant. So, even though as a Christian, I find blessedness in all the Lord has provided and brought us through this year, I also find dreadfulness in the year itself. Why? Because our enemy has twisted and maligned, and – well, Jesus stated it so well in John 10:10, when He told us that our enemy, the thief comes to steal, kill, and destroy. That's just what the enemy has done this year. Every heartache, trial, illness, death, separation, loneliness, divisiveness, turmoil – all fit in the categories of at least one of those three words: steal, kill, and destroy.
Woe! And whoa! This piece of writing is becoming dreary and seemingly hopeless.
But Jesus . . .
My friend, our Jesus turns this terrible year completely around – totally inside out – from darkness into light – from death to life. It started when He was born, it continued when He saved me, and it's happening right now. He makes all things new. He is our hope. His promises are true. He is unchanging. He is all faithful. He will never leave us or forsake us. Never. He is with us now – at the end of this dreadful 2020 – in the midst of this beautiful Christmas season.
This is our Jesus.
He came to give us life. LIFE! Not just a sense of "living" but a LIFE abundant! (Also John 10:10) Jesus refers to that life as rich and satisfying (NLT) – as full. NIV).
This is our Jesus.
So at this Christmas time, we can rejoice in singing of Jesus as Immanuel, the Prince of Peace, the Newborn King. We can rejoice in singing of the hope and peace He brings.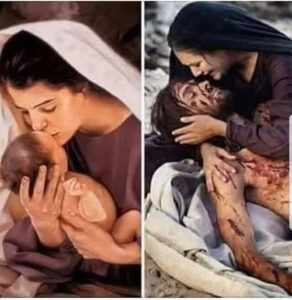 Recently, I saw these pictures of the Baby Jesus and as our Savior Jesus, dying for us:
He came for all. He died for all. And He rose from the grave for all. But He is not yours if He is only your Christmas Baby Jesus. He cannot be your peace and hope if you have not trusted Him as your Lord and Savior. This year – this dreadful year – may you realize the fullness of His love for you. May you realize why He truly came.
I'm sure this is a strange Christmas for many. It is different for me, too.
Ron and I were blessed to celebrate Christmas with most of our children and grandchildren in Michigan – early. They all had other plans around the actual "Christmas Day," so my home was decorated early – and for just a short period of time. It was different. It didn't seem like Christmas time that early, so I did not deck the house as usual.
Although the nativity was set in a prominent place, the remainder of Nana and Papa's Michigan home didn't change much from Thanksgiving to Christmas. Only the lighted church was set up – not the many lighted houses, the tiny ice skating pond the little ones so love, or the snow and mini fences completing the beautiful little village. No wreaths adorned my doors this year; no garlands embellished the fireplace mantles; only one tree was decorated instead of two. I'm not sure why. Was it the mindset of an altered year? Or was it because of an altered mindset?
On a Monday, nearly three weeks before Christmas Day, Ron and I "took down" Christmas and packed it away for another year. We headed south.
Once settled into our southern Florida home, we scouted the local stores in hopes of finding the perfect little Christmas tree and the most meaningful Nativity set. In hopes of establishing a new little tradition of Christmas with just the two of us. Because we must. It is different. Many of you know. More than I. You've been alone. Perhaps single. Perhaps divorced. Perhaps widowed. This year, isolated by the evils of a virus. It is different yet. And most often unwelcomed. You try. You bake cookies and place at another's front door. You send cards and encourage others. You mail packages. Sometimes you cry. You often pray. You find Jesus sufficient. More so than you ever realized. You have found Christmas. 
You have probably learned what I am now discovering. The truth about Jesus. The truth of meeting him in the manger. The truth of looking ahead to His suffering and death and resurrection. The truth of peace and joy – that only He can bring. The truth of knowing why – why He came as a baby. The truth that we sometimes can only learn at the end of a dreadful year.
And it is a blessed understanding. One that needs not a lighted tree or even a beautiful Nativity. One that needs only the Word – the Carol – the Worship.
If Jesus is your Savior, as well as your Christmas baby, you understand. If you are uncertain, click here to read how to make certain – to receive Him as your Christmas gift – as your Savior.
Turn from thoughts and anxieties and pain and fear of the killing, stealing, and destroying brought by the thief – turn to the abundant, full life promised by Jesus!
Join me in the true celebration of Jesus' birth. Together, we'll sing,
"Glory to God in the highest, and on earth peace to men on whom his favor rests."
And His favor rests on us, His children,
because of our Jesus.